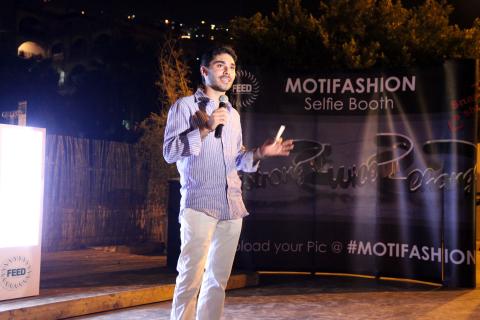 Beirut, September 1, 2014: As the sun set to the rhythm of soothing music, a friendly gathering joined on the festivity on the golden sands of U-bay Beach, Jounieh, to celebrate the launch of an unprecedented innovative initiative by FEED, the Non-Governmental Organization powered by the concerted aim of breaking both the poverty cycle and the poverty mindset, so that the disadvantaged may be empowered to leave the trappings and identifications of helplessness behind, which would in turn lead them to become independent and self-sufficient members of the society.
200 of FEED's friends gathered to celebrate the launch of #Motifashion bracelets designed by renowned Lebanese designer Jean-Paul Karadjian.
Instead of going about it the old fashioned way, FEED will be raising awareness and gathering moral support through fashion, in encouragement to all those suffering from injustice in Lebanon and in neighboring countries.
The organization will be introducing its latest product: the #Motifashion Bracelet. As the name suggests it, the purpose of this bracelet is an amalgamation of fashion and motivation, reminding fashionistas that they can bring a touch of goodness to the world, through their passion for fashion.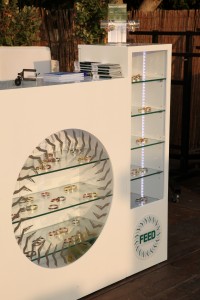 Ralph Rahme, President of FEED gave a speech during this event, and commented about the #Motifashion project: "Although the situation in the country does not allow for celebration, our aim in this initiative is doing its utmost to stand by people who suffer from aggression and unfairness. At FEED, we believe in using each person's talent – inspiring and guiding generations old and young – in a collective strength of motivation and inspiration. By gathering, blending and unifying our efforts, we can most effectively cater to the needs of our society. Thus, we can extend support in matters of nutritional aid, medical aid, legal aid, education, housing and last but not least, employment which is the most important entity into leading a family or individual into becoming independent members of society and move forward into aiding other individuals who are in need. Furthermore, our aim is not only to help local residents, but all individuals in need; FEED's help is extended without discrimination by religion, by ethnicity or by country. We do not believe that we must wait for danger to knock on our door in order for us to take action.
However, and with the crisis that is going on, we thought of putting together a great project in order to cope with the exceptional situation that is upon us. We have collaborated with designer Jean-Paul Karadjian to create our first FEED bracelet that will be available in many stores around Lebanon. We hope that this bracelet will go viral, to show support and solidarity. Moral support is highly needed nowadays so we can lift everybody's spirits up, in a time where desperation and gloom seem to reign. We will be coming up with new designs and bracelets every 3 to 6 months in collaboration with different renowned Lebanese designers, in order to create an unstoppable wave of hope and joy!"
FEED is an organization that aims to extend quality contributions to the Lebanese society, as it is working on assisting 10 underprivileged families at a time so as to allow them to reach socioeconomic independence.
In the #Motifashion project, FEED's main focus was to provide motivation and emotional support to people affected by the current crisis which is currently a much deeper need and a more serious injustice from our regular and normal operations.
Categories