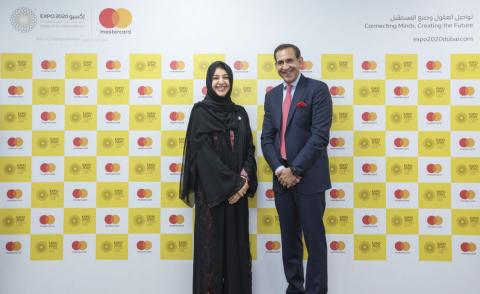 Mastercard becomes Expo 2020 Dubai's Official Payment Technology Partner
Facial, fingerprint recognition payment systems among those to be used at Expo
Visitor experience to be enhanced with personalised, seamless cashless payments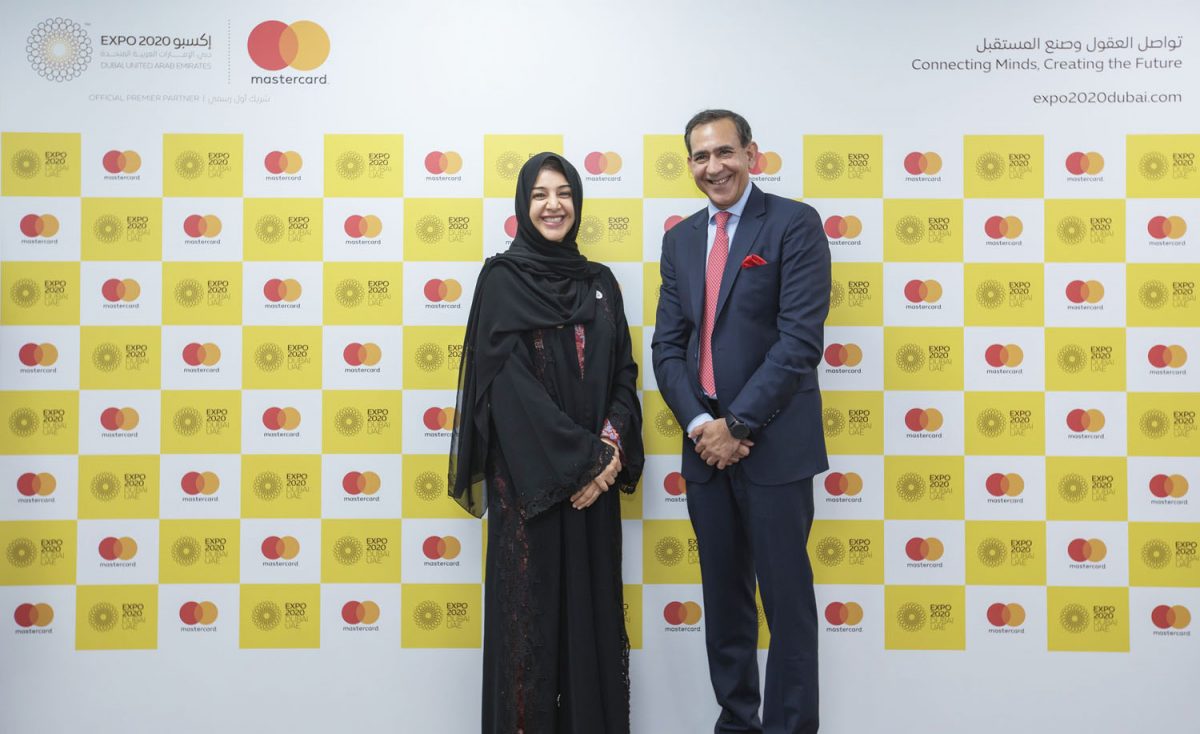 HE Reem Al Hashimy & Raghu Malhotra
Expo 2020 Dubai's unique visitor experience will be enhanced, thanks to a new premier partnership with Mastercard that includes exploring the use of payment technologies from virtual reality to biometrics and voice shopping.
The company was today revealed as Expo 2020's Official Payment Technology Partner at Mastercard's 'Connecting Tomorrow' Forum in Barcelona, Spain.
The partnership includes developing innovative payment solutions that help deliver a personalised, seamless and cashless experience for millions of visitors from around the world. Global payments technology firm Mastercard will use technology including augmented and virtual reality, and biometrics such as facial and fingerprint recognition, as well as new payment methods including contactless and wearable technologies.
Her Excellency Reem Al Hashimy, UAE Minister of State for International Cooperation and Director General, Dubai Expo 2020 Bureau, said: "World Expos have always offered people their first experience of technologies that will go on to change their everyday lives.
"In the future, people will grow to expect seamless experiences whenever they make a payment. Our partnership with Mastercard will not only make cashless payments easier for our visitors, but also allow them to try new and exciting innovations that enhance and become part of their Expo experience."
Raghu Malhotra, President, Middle East and Africa, Mastercard, said: "For more than half a century, Mastercard has been transforming everyday experiences through the power of innovation. Our expertise, strategic partnerships and global network have enabled us to empower citizens, make cities more livable and contribute to a sustainable future and inclusive communities.
"Our collaboration to reimagine the ease of payments as part of a seamless visitor experience at Expo 2020 Dubai represents the beginning of the next era of innovation, where new opportunities in technology are unlocking doors to a priceless tomorrow."
With 25 million visits expected at Expo 2020 Dubai, new and innovative payment solutions will play an essential role in delivering a seamless experience. Expo's partnership with Mastercard will ensure a fast, intuitive and reliable payment experience.
Expo 2020 Dubai is a celebration of human ingenuity, guided by the belief that innovation and progress are the result of people and ideas combining in new ways.
To date, Expo 2020 Dubai has announced 11 Premier Partners, including Mastercard, and four Official Partners. There will be further partnership announcements in the coming months.
---
About Expo 2020 Dubai 
Expo 2020 Dubai is guided by the belief that innovation and progress are the result of people and ideas combining in new ways. For six months from 20 October, 2020, Expo aims to bring together 180 countries and millions of people to celebrate human ingenuity: 'Connecting Minds, Creating the Future'.
During the six months from 20 October, 2020 to 10 April, 2021, we expect millions of people to visit Expo
About 70 per cent of all visitors are anticipated to come from outside the UAE – the largest proportion of international visitors in Expo history
We aim to create and deliver an inclusive and global Expo with more than 200 participants, including nations, multilateral organisations, businesses and educational institutions
Expo 2020 also has an ambitious volunteer programme, which aims to include more than 30,000 volunteers from a wide range of ages, nationalities, cultures and backgrounds
The Expo site covers a total of 4.38 sqkm, including a 2 sqkm gated area. It is located adjacent to Al Maktoum International Airport in Dubai South
Expo 2020 Dubai is the first World Expo to take place in the MEASA (Middle East, Africa and South Asia) region
Visit: www.expo2020dubai.com
Follow: Twitter: @expo2020dubai | Facebook: @Expo2020Dubai | Instagram: expo2020dubai
About World Expos
In 1851 the Crystal Palace was the centrepiece of London's Great Exhibition – the first World Expo. It celebrated the man-made industrial wonders of a rapidly changing world. Architecture, contents and a theme, 'Industry of All Nations', were combined to create a big idea of nations meeting nations in shared technological and commercial progress. In more recent years, participants in World Expos, including governments, international organisations and companies, have gathered to find solutions to universal challenges and to promote their achievements, products, ideas, innovations, their national brand, and their nations as destinations for tourism, trade and investment.
World Expos are held under the auspices of the Bureau International des Expositions (BIE), the intergovernmental organisation responsible for overseeing and regulating international exhibitions ('Expos') and for fostering their core values of Education, Innovation and Cooperation. Today, four types of Expos are organised under the BIE's auspices: World Expos, Specialised Expos, Horticultural Expos and the Triennale di Milano.
About Mastercard
Mastercard (NYSE: MA), www.mastercard.com, is a technology company in the global payments industry.  We operate the world's fastest payments processing network, connecting consumers, financial institutions, merchants, governments and businesses in more than 210 countries and territories.  Mastercard products and solutions make everyday commerce activities – such as shopping, traveling, running a business and managing finances – easier, more secure and more efficient for everyone.  Follow us on Twitter @MastercardNews, join the discussion on theBeyond the Transaction Blog and subscribe for the latest news on the Engagement Bureau.