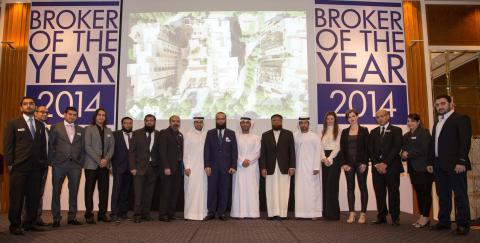 UAE, February 3, 2015 –
Dubai Properties (DP), a leader Dubai-based real estate developer, recently held a special ceremony to honor its partner real estate brokers for their valuable contributions towards the promotion and sales of commercial, residential and mixed-use DP projects during 2014. The event was attended by DP's senior managers and officials who discussed the latest real estate projects planned for 2015 and highlighted new approved plans for further strengthening ties with real estate brokers and other strategic partners.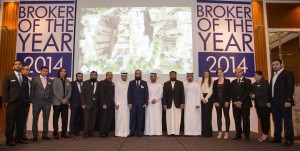 Abdulla Abushabieb, Executive Director for Sales and Customer Service at Dubai Properties, handed over the 'Best Broker of the Year' award to "Property Networks" in recognition of their success in posting the highest sales in terms of value and number of units. DP also awarded certificates of appreciation to FAM and Noor Al Fajr Real Estate Broker which placed second and third, respectively.   Abushabieb explained that the awarding ceremony is in line with DP's efforts to forge strong relationships with real estate brokers who are considered genuine partners in the company's pursuit of excellence and leadership in Dubai's real estate sector. He added that valuing the contributions of brokers had the greatest impact in achieving a banner year, particularly in terms of volume and sales value. On receiving the award, Furqan Tabani, Chairman and CEO, Property Networks, said: "It is a flourishing time for the UAE's real estate sector as reflected in the increased property sales last year. We had a successful year and receiving the award for being the 'Best Broker of the Year' by DP is an affirmation of our remarkable sales. Such recognition motivates us to excel further in our work and we assure of an outstanding performance in sales and customer service to achieve our targets in 2015."   "Last year, Dubai Properties made remarkable progress in enhancing its market presence as reflected in the strong sales we enjoyed primarily due to our productive collaboration with our extensive network of real estate brokers. Our sustained success serves as a strong motivation for us to continue launching more leading real estate projects that will serve as important additions to Dubai's urban landscape. We aim to capitalize on the very promising investment and growth opportunities currently available," said Abushabieb.   Dubai Properties was recently named 'Best Commercial Real Estate Developer in the UAE' at London's International Real Estate Forum. The company has delivered some of the most popular residential and mixed-use developments in Dubai, including the Jumeirah Beach Residence, The Villa, Mudon and Layan in Dubailand, as well as The Executives Towers, Vision Tower and Bay Square in Business Bay.
Categories