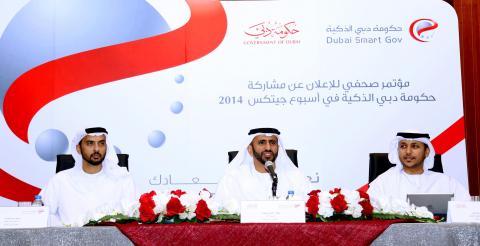 37 government entities to showcase their smart services under one roof
]UAE, September 23, 2014[ - Dubai Smart Government Department (DSG) has completed its technological, media and administrative preparations for participating in the 34th edition of GITEX Technology Week 2014 to be held in Dubai International Convention and Exhibition Centre (DICEC) between October 12 and 16.
DSG announced that as many as 37 government entities are participating in the event after 5 new government entities joined this year's list of participating entities at its 3,800 square-metre stand in Sheikh Saeed Hall 3. The stand, the largest of its kind in the history of DSG's participation in the event is 1,100 square metres larger than last year's stand. Apart from their eServices, the participating entities will showcase their latest smart solutions and apps under one roof in addition to many surprises pertaining to new and distinguished smartphone apps.
This was announced during the press conference held by DSG on 23rd September, at its headquarters in HH Dubai Ruler's Court. The press conference was conducted by H.E. Ahmad Bin Humaidan, DSG Director-General; Wesam Al Abbas Lootah, Asst. Director General; Marwan Bin Haidar, Executive Director of Planning & Development; departmental directors and heads of sections and a number of  mass media representatives.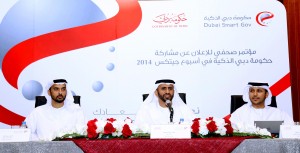 H.E. Ahmad Bin Humaidan said: "Our commitment at Gitex 2014 is to provide a fully equipped platform for the public and visiting delegations to be familiar with the practical steps followed by DSG and government entities for transformation into smart government in implementation of the initiative launched by HH Sheikh Mohammed Bin Rashid Al Maktoum, Vice President and Prime Minister of the UAE and Ruler of Dubai, and the directives of HH Sheikh Hamdan Bin Mohammed Bin Rashid Al Maktoum, Crown Prince of Dubai and Chairman of Dubai Executive Council, for the prompt shift to smart government by displaying the latest smartphone solutions and apps and conducting an on-site experiment as part of the connected smart government, which will contribute to positioning Dubai as an integrated, creative and knowledge-based smart city in the 21st century for the convenience and happiness of the citizens, residents and visitors of the emirate."
Bin Humaidan added: "Our stand will witness a unique event where an independent part of the stand will be dedicated to displaying a realistic model that simulates smart services in the government of the future and the city of the future and where the smart services provided by Dubai Government to three segments: tourist sector, business sector and individuals (citizens and residents) will be showcased. The model has been designed in such a manner that allows the stand visitors to make a live tour that will enable them not only to explore a bouquet of smart services provided by Dubai Government but to apply them in effect and interact with them as well as part of an exciting experience that allows the prospects of the government and city of the future to be explored. The new lifestyle steered by the two concepts of easing the life of people and making them happy when getting government services will also be explored during the tour."
In line with its strategy of engaging directly with its customers, DSG will operate a "user experience lab", for customers to prioritize their needs for services. Customer feedback will be fed back to government entities to design smart apps that are based on customer instead of government needs. The user experience lab is in line with global best practices towards a sustainable smart city that fulfills Dubai Government's vision for easing the lives of people.
At Gitex 2014, DSG will showcase the services of the government entities participating under its umbrella through a unified connected platform, which will have the latest data and updates on the emirate's transformation into a smart government. The stand has been furnished with modern technologies and devices including a high-speed Internet, laptops, display screens, and dedicated spaces for lectures, press conferences, media centre for journalists and welcome areas for visitors.
Throughout the five-day event, the stand will feature daily raffle draws for instant prizes including smart devices from all government partners. On its part, DSG will give out smart devices to raffle winners, random visitors and winners of various social media and survey contests. To keep track of all that's happening and build up towards the event, DSG has launched a daily TV programme entitled "Smart Government" to be transmitted on Sama Dubai channel after Al Multaqa programme at 8:40pm. DSG has also created a dedicated website http://gitex.dubai.ae, while the social media team will publicize the event on Twitter (@SmartGov_Dubai), Facebook (dubaismartgovernment) and Instagram (dubaismartgov). 
About Dubai Smart Government:
Dubai Smart Government is a pioneering initiative in the region to provide government online services across the spectrum of corporate and community life in the emirate. Dubai Smart Government officially directs and supervises the implementation of the process of eTransformation in over 30 government entities and is one of the world's only governments to have established an official eGovernment branch in the capacity of an independent department.
Dubai Smart Government utilizes multiple innovative electronic channels to facilitate interaction and transaction with government services for citizens, residents, visitors and businesses with the goal of making the life of people much easier in their dealings with the government. The official Dubai Government public portal (www.dubai.ae) highlights government initiatives and facilitates the customers' access to more than 2000 service from the services of several government departments, while the official corporate portal of Dubai Smart Government (www.dsg.gov.ae) provides information on the strategy, goals and achievements of the department.
Categories