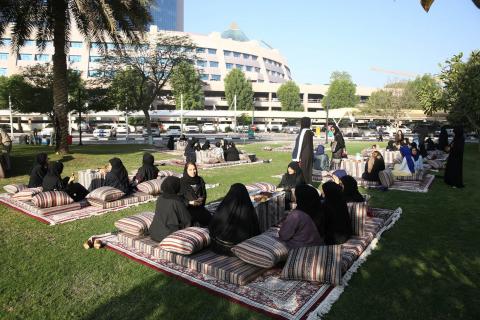 Dubai Electricity and Water Authority's (DEWA's) Women's Committee has launched the 'Happier, Healthier, and Prettier Employee' initiative for its female staff. The initiative was launched at the Women's Committee's meeting at DEWA's main office in Zabeel East. It was chaired by Khawla Al Mehairi, Vice President of Marketing & Corporate Communications at DEWA, and Chairperson of DEWA's Women's Committee.
The initiative features a host of health-related, cultural, and social activities that the Women's Committee will organise over the next two months to make DEWA's female staff happier. The activities will focus on the importance of good health for women's inner and outer beauty.
"This initiative supports DEWA's ongoing efforts to provide a positive and inspiring work environment for female staff, and support them to achieve a balance between their professional and social lives, empower them, and promote their satisfaction and happiness. This supports the vision of His Highness Sheikh Mohammed bin Rashid Al Maktoum, Vice President and Prime Minister of the UAE and Ruler of Dubai, who has observed that, 'Our job is to provide an environment that unlocks women's potential – one that protects their dignity and femininity, helps them create the necessary balance in their lives, and values their talents and potential. Given this environment, I am confident that women will perform nothing short of miracles,"" said Al Mehairi.
"By launching such initiatives, we are creating a platform that encourages positive interaction with our ladies, raises their awareness on the importance of managing the balance between their careers with and their personal lives, and promotes their roles in social activities inside and outside DEWA," added Al Mehairi.
"The initiative involves various activities, events, workshops, and lectures that focus on three main themes. Under the 'Healthier Employee' theme, the Women's Committee will organise lectures on women's general health, skin health, and nutrition. There will also be an open sports day for female staff. Under the 'Happier Employee' theme, DEWA will host prominent female figures to talk about happiness, positivity, marriage, and achieving a balance between work and home. The Women's Committee will also organise the Happy Mothers' day, which will feature a lecture for mothers, after working hours, while their children are being looked after by dedicated professionals. Under the 'Prettier Employee,' theme, there will be workshops on fashion and skin care. Fashion designers and prominent Emirati business women will also address DEWA's ladies. There will also be an activity where DEWA's female staff can share their abilities with their female colleagues," said Fatima Deemas, Vice Chairperson of DEWA's Women's Committee.
Categories