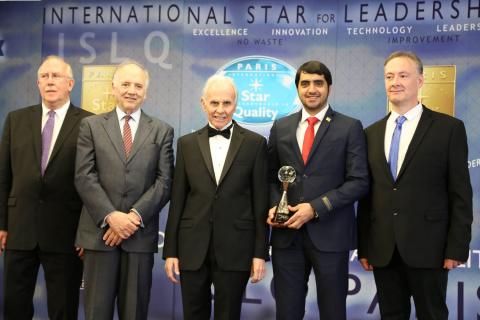 Dubai Electricity and Water Authority (DEWA) has won the International Star for Leadership in Quality in the Gold Category from Business Initiative Directions (BID) for outstanding excellence and quality, in accordance with the QC100 criteria, for economic growth, leadership, technical development, and innovation. The Award was received by Marwan Al Zaabi, Vice President of Corporate Excellence at DEWA, on behalf of HE Saeed Mohammed Al Tayer, MD & CEO of DEWA, during the 20th International Star for Leadership in Quality Award ceremony held in Paris, France. A large number of organisations, companies, businessmen, experts, academics, specialists in quality and excellence, and diplomats from around the world attended the event. HE Saeed Mohammed Al Tayer expressed his gratitude on winning the award, and stressed that DEWA believes that quality is a major element required to improve, and enhance competitiveness.
"As part of our efforts to achieve the vision of HH Sheikh Mohammed bin Rashid Al Maktoum, Vice President and Prime Minister of the UAE and Ruler of Dubai, in relation to sustainable excellence, DEWA promotes a culture of quality among employees, suppliers, and the community as a whole. This is supported by a comprehensive quality management model, as well as our belief that quality is a major element required to achieve positive results, and the satisfaction of our customers. DEWA adheres to the QC100 quality standard to enhance teamwork, decision-making, and exceed expectations, as well as the needs of customers and stakeholders. We provide our employees with technical and economic support, to achieve continuous development, while simultaneously preserving the environment. DEWA strives to continue to develop its human resource management, to achieve the best results," said Al Tayer.
"DEWA strives to enhance Dubai and the UAE's level of excellence and competitiveness, while working to provide the best government services by adopting the best international practices, to achieve the satisfaction and happiness of all our customers. Innovation plays a major role in our daily operations to further develop our performance, and the efficiency of our services, while adhering to the highest international standards. Winning this award reflects DEWA's commitment to optimise its services by promoting a culture of organisational excellence in all our operations. DEWA continuously launches initiatives and activities to further develop the innovative abilities of employees," added Al Tayer.
DEWA also recently won the Gold category in both the Dubai Human Development Award and the Dubai Quality Award, organised by the Department of Economic Development. DEWA also won 6 awards at DGEP 2016 in the categories of Distinguished Government Entity, Financially Distinguished Performance, and Distinguished Entity in Government Communications. The International Star for Leadership in Quality Award was launched in 1986 to promote a culture of quality and excellence among organisations across the globe.
BID awards organisations according to the same standards applied to the Deming Prize, the Malcolm Baldrige Quality Award, the Quality Management Programme of the European Union (EU), and honours Japanese, American, and European organisations for their achievements. The Award has honoured organisations from 178 countries from around the world.
Categories