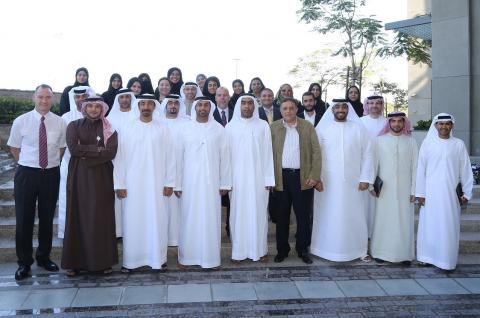 Dubai Electricity and Water Authority (DEWA) has successfully organised a series of innovation camps, at the Hyatt Regency hotel in Dubai, to improve its services and explore new ways of providing innovative services in a more efficient, and comfortable way based on the highest international standards of achieving happiness for all people. The move comes in line with the National Innovation Strategy to make the UAE one of the most innovative countries in the world.
The camp was attended by a host of DEWA's presidents and directors, in addition to 38 employees from its various divisions and departments. DEWA's excellence team supervised the discussion, which touched on current services and the potential opportunities to further develop them according to the highest standards. The discussion paved the way for a number of ideas involving transforming these services into new initiatives, to adhere to the wise leadership's objectives to provide connected, pioneering, and integrated services, capable of facilitating quality of life for all the residents of Dubai and the UAE.
"As part of our vision to become a sustainable innovative world-class utility, DEWA strives to enhance the UAE's and Dubai's excellence and competiveness. DEWA works to provide the best government services by adopting the best international practices, to achieve the satisfaction and happiness of all its customers. We work hard to develop performance and efficiency, to meet the highest international standards. DEWA enhances the government's overall performance by adopting a culture of innovation. The launch of these Innovation Camps reflects DEWA's ongoing commitment to enhancing Dubai's position as an international hub to spread knowledge, making DEWA a role model for adopting the highest international standards and practices with regards to sustainable development, and creating a knowledge-based economy," said HE Saeed Mohammed Al Tayer, MD & CEO of DEWA.
"DEWA continues to find new, innovative ways of providing smart services to make the living standards in Dubai among some of the best in the world. All of our services are offered through modern, smart, and innovative technologies, exceeding expectations, and meeting needs in all categories. DEWA develops systems and integrated services to meet the daily needs of customers," added Al Tayer.
"The launch of these camps exemplifies the role of innovation as a major element of development in all our work, especially when providing services, executing projects, increasing the efficiency of procedures, and keeping updated with modern techniques. The camps also highlight the role of Emirati staff, creating innovative ideas, and developing new innovative ways of communicating with customers," said Moza Al Akraf, CIO of DEWA.
DEWA realises the importance of keeping up to date with changes in society and the emergence of technological advancements, by providing an innovative and inspiring environment, capable of encouraging solutions. DEWA adopts an integrated strategy to implement creative ideas, suggestions, and research in different fields. DEWA is also committed to adopting the best methods of research across all of its operations and services in order to enhance and maintain its leading position.
Categories