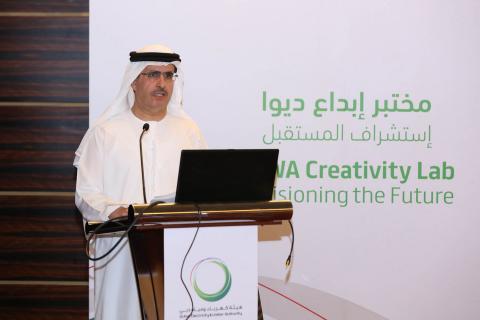 Dubai Electricity and Water Authority (DEWA) has today organised a Creativity Lab workshop at Raffles hotel in Dubai. The workshop whose theme is Envisioning the Future, discussed innovative solutions and industry solution in the energy sector, 3D printing, and the Internet of Things (IoT) and Big Data. It also highlighted DEWA's efforts to enhance these matters.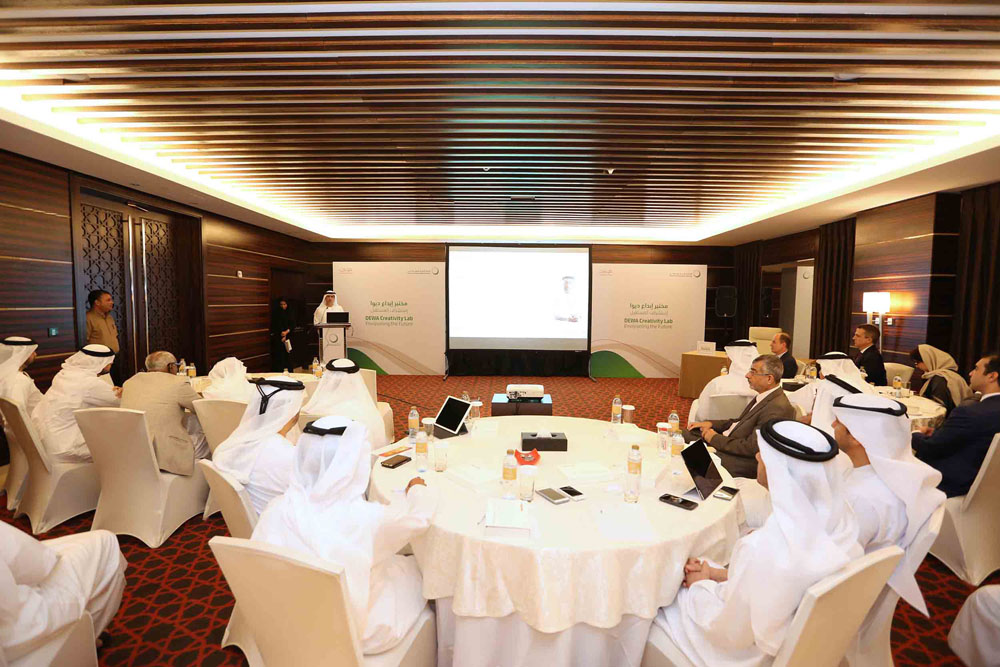 HE Saeed Mohammed Al Tayer, MD & CEO of DEWA, delivered the keynote speech at the workshop, which was attended by DEWA's Executive Vice Presidents, Vice Presidents, and senior management. Rudolph Lohmeyer, Director of Global Business Policy Council at A. T. Kearney, talked about Global Megatrends Outlook. Sameer Areff, Chief Operating Officer, SAP Middle East and Africa, talked about future of utilities in light of developments in the IoT and Big Data.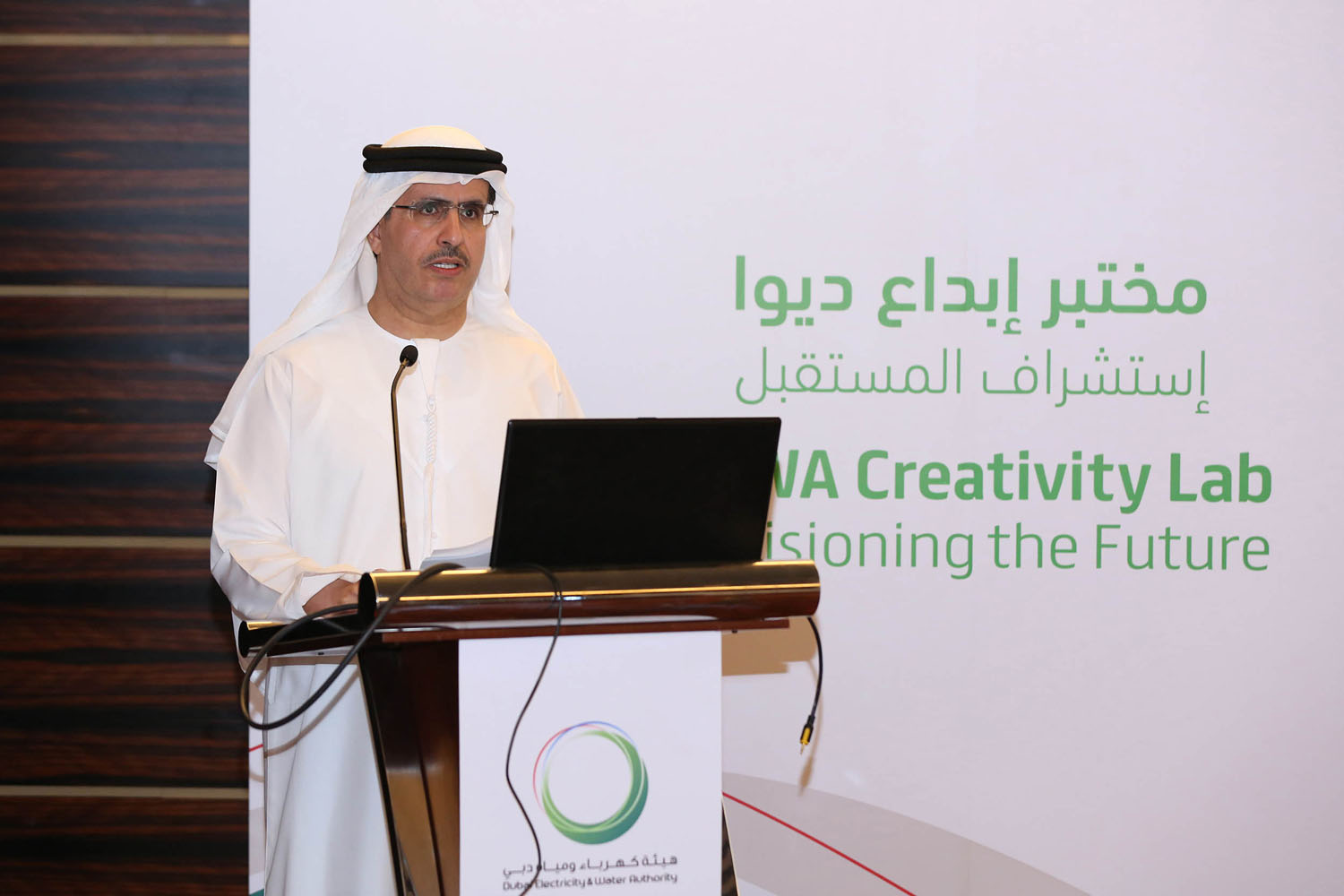 "I am pleased to welcome you to the Creativity Lab workshop, under the theme 'Envisioning the Future,' in adherence with the vision of HH Sheikh Mohammed bin Rashid Al Maktoum, Vice President and Prime Minister of the UAE and Ruler of Dubai, to transform Dubai and the UAE into a global hub to explore and develop the future. HH Sheikh Mohammed bin Rashid Al Maktoum adopts a clear vision that predicts what the future has in store, enabling the dawn of a new era based on innovation and creativity. HH Sheikh Mohammed bin Rashid Al Maktoum once said, 'The role of government is to create an environment in which people can achieve their dreams and ambitions, not to create an environment that government can control,'" said Al Tayer.
"In our efforts to enhance Dubai's position as an international platform for innovation and creativity, and to achieve the Dubai Innovation Strategy to transform the Emirate into the most innovative city in the world, and to support the Dubai Plan 2021 to enhance Dubai's competitiveness, DEWA is working to enhance the Dubai Future Agenda, to establish the most efficient government in the world. We adopt a clear and integrated approach based on innovation, and work to achieve all objectives set by Dubai Government, while supporting ongoing Research and Development into new technologies to streamline government work. We have established a number of teams, under the theme of 'Teams of the Future,' to discuss the future of various sectors, and implement the latest technologies, ensuring innovation, to lay down the foundations for the future of the Emirate," added Al Tayer.
"We work to develop the skills of innovative individuals in different sectors, to transform the UAE into an environment that embraces innovators. The Innovation Centre, located at the Mohammed bin Rashid Al Maktoum solar park, is equipped with the latest renewable and clean energy technologies to improve the skills and capabilities of UAE Nationals. The centre also aims to improve competition in the market by incubating start-ups that innovate on technological models and solutions, develop renewable energy technologies, and continuously adopt the best practices and the latest ideas in the Internet of Things. This will achieve DEWA's vision and strategy in different areas, including smart grids for electricity and water. DEWA is exploring innovative solutions that use technology and big data, to study and plan for the behaviour of customers. And DEWA is also using Unmanned Aerial Vehicles (UAVs) to support our electricity and water supply," said Al Tayer.
Al Tayer noted that DEWA is implementing the Dubai Clean Energy Strategy 2050, to provide 7% of Dubai's total power output from clean energy by 2020. This target will increase to 25% by 2030 and 75% by 2050. DEWA is also reducing the carbon footprint of Dubai and the UAE. It supports the Dubai 3D Printing Strategy, which is a unique global initiative to use technology for the service of humanity and promote the status of the UAE and Dubai as a global hub for 3D printing technology, by 2030.
"In adherence with the Smart Dubai initiative, to transform Dubai into the happiest and smartest city in the world, we launched our three smart initiatives. These include Shams Dubai, which encourages building owners to install photovoltaic solar panels on rooftops to produce solar energy and connect it to DEWA's grid. The second smart initiative is Smart Applications via Smart Meters and Grids, which leads the transition towards using smarter electricity and water systems to provide additional services to customers. Our third smart initiative is the Green Charger, which builds the infrastructure to facilitate electric vehicle charging stations across Dubai. These smart initiatives reflect DEWA's ongoing efforts to transform Dubai into the smartest city in the world. DEWA's Smart Grid is the first network in the world to cover all operations from generation, to transmission and distribution systems. This will significantly improve living standards in the Emirate," noted Al Tayer.
Within the first phase, DEWA is currently installing 200,000 smart meters. DEWA plans to install over one million smart meters by 2020 across Dubai, and replace all mechanical and electromechanical meters during the next few years. The smart meters project complements the smart grid project by DEWA to implement a number of technical features in electricity networks, using the latest SCADA systems, smart monitoring and control automation systems to provide electricity and water services to the highest standards of availability, efficiency and reliability.
"DEWA contributes to building a smarter Dubai that uses integrated electronic data, connected with each other through IT systems and synchronised network using the Internet and Cloud Computing. This will contribute to organising the city's work and management, and promote its infrastructure and services including education, healthcare, security, transportation, and utilities. Facilities will be more efficient and reliable with new technologies and sensors in all major and vital locations in the Emirate," concluded Al Tayer.
"DEWA has included strategic objectives within its strategy map with a focus on envisioning the future, innovation, and the happiness of stakeholders. This is achieved by organising workshops that promote innovation. DEWA has developed an integrated strategy to stimulate innovative ideas and suggestions, which are major components of DEWA's corporate values. DEWA's Creativity Lab events are ideal platform to exchange expertise and share best international practices, in collaboration with international experts," said Waleed Salman, Executive Vice President of Strategy & Business Development at DEWA.
Categories