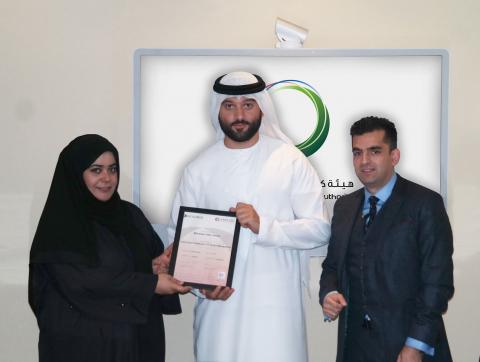 Dubai Electricity and Water Authority (DEWA) honoured 15 employees from its IT division for receiving the International Expert ITIL (Information Technology Infrastructure Library) Certificate. They were awarded the certificates for applying the best international practices in IT service management. This supports DEWA's ongoing efforts to improve the skills of employees.
"This recognition reflects DEWA's commitment to continuously encourage its employees to continually learn, according to the directives of HH Sheikh Mohammed bin Rashid Al Maktoum, Vice President and Prime Minister of the UAE and Ruler of Dubai, to enhance the UAE's position as model of excellence. This also supports DEWA's vision of becoming a sustainable innovative world-class utility," said Saeed Mohammed Al Tayer, MD & CEO of DEWA.
"DEWA adopts a clear integrated strategy to always develop work methods, and provides a workplace that supports and motivates its employees by allowing them access to the latest international training programmes, improving their performance, positively affecting different divisions and departments, and the quality of services. DEWA also spreads a culture of excellence, and encourages a positive spirit among employees, appreciating their hard work and efforts to complete their tasks perfectly," added Al Tayer.
Al Tayer noted that DEWA's approach is based on the vision, and the directives, of the wise government to enhance the UAE's position by adopting the best strategies, to achieve the happiness of all its citizens and residents.
"We are glad to honour this group of employees who have been awarded the International Expert ITIL certificate. We take priority in developing the abilities of our employees, enabling them to become active and innovative pioneers in their respective fields. DEWA is committed to enhancing knowledge through providing a positive work environment, capable of encouraging individual, and corporate efficiency. We are responsible for adopting programmes to develop the performance of our employees, to unify individuals, teams, and departments in their efforts to achieve DEWA's objective to become a pioneer in all its operations," concluded Al Tayer.
Moza Al Akraf, CIO of DEWA, and Abed Ismail, CEO of ITIL, presented the certificates to the employees, with DEWA senior managers and managers present.
DEWA received the ISO/IEC 20000-1:2011 certificate in 2015. the certificate is based on the third edition of the ITIL, which is the highest certificate in the world for IT service management.
Categories