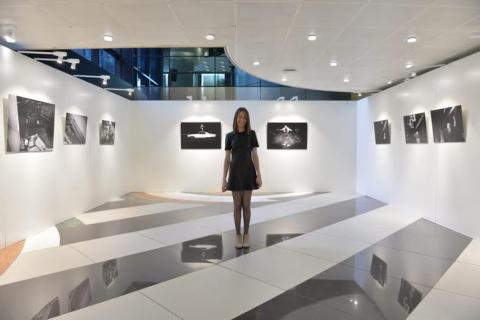 Byblos Bank launched
Nightshift
, a photo exhibition by Myriam Boulos, winner of the 2014 Byblos Bank Award for Photography, in the presence of a large number of guests including renowned photographers, gallerists, and members of the media.
Curated by Beirut Art Fair (BAF), the exhibition features unique photographs unveiling the nocturnal world of Lebanese youth through the artistic eye of Myriam Boulos. Through her exhibition the young photographer highlights the wild, mysterious, dark and yet innocent faces of this world. Nada Tawil, Head of Group Communication Department at Byblos Bank, said: "Byblos Bank believes that supporting photography as an art form and helping to create a self-sustaining market enriches the community as a whole by creating cultural cohesion." She added: "The Bank initiated its Photography program in 2012 with the mission to place emerging Lebanese photographers at the heart of the photography market. This is mainly achieved by several focused activities including organizing their first solo exhibition and bringing them closer to the key players in the field".
For his part Pascal Odille, Artistic Director of BAF said: "Since the late 19th century, the camera has been one of the key tools in attempting to explore reality and make instant observations of a society at any given historical moment." He added: "Through her photographs, Myriam Boulos gives us a glimpse of the nocturnal world of a young generation in search of an identity, of a new universe, and of a present day still in the making." Commenting on her first solo exhibition, Myriam Boulos said: "Factories, train stations and warehouses have become "in" spots where Lebanese youth meet up to dance, listen to music, party, and live. These parties are a world of their own". She added: "I am seduced by this world, for these spaces are the ones in Beirut I can identify with. This attraction, however, is accompanied by apprehension vis-à-vis the exterior world. Photography gives me the chance to enter this universe, where I cast my subjects in full light to express my own vision. I capture a moment, a story."
Myriam Boulos holds a degree in photography from the Lebanese Academy of Fine Arts (ALBA). In 2014, she was one of the youngest candidates to reach the final stage for the third edition of the Byblos Bank Award for Photography. Hailed for her remarkable talent by a jury of world-class experts in the field, she ended up winning the Award despite some very tough competition. The exhibition is the culmination of her months of professional mentoring under award-winning photographer and 2014 Byblos Bank Award jury member Jack Dabaghian, and BAF.
Nightshift will remain open to the public from Wednesday, 22 April 2015, until Sunday, 26 April 2015, from 4:00 PM till 9:00 PM on weekdays, and from 10:00 AM till 9:00 PM during the weekend.
Categories