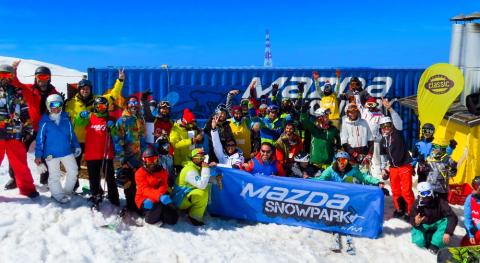 Beirut, March 10th, 2015:
Combining speed, majestic views and the thrill of soaring above the ground, A.N. Boukather, the exclusive distributors of Mazda, KTM and other automotive brands in Lebanon, recently launched the Mazda Snow Park, a first of its kind in Lebanon, featuring professional designed rails, ledges and jumps on the Jonction slopes of Mzaar's ski resort.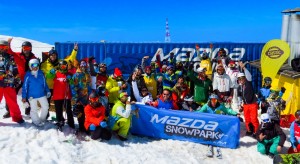 Officially unveiled on January24, 2015, until April 15, 2015, the park employs the latest equipment and highest safety measures,in an approximate space of400 meters in length and 200 meters in width. The new set up targets snowboarders and skiiers, where both beginners and pro riders can safely enjoy their acrobatic figures and free style rides under the supervision of highly professional instructors. Designed by specialised European designers, the park accommodates a large number of people simultaneously on its track, while enjoying a thrilling day of fun and adrenaline-packed excitement. Commenting on the occasion, Anthony Boukhather, CEO of A.N. Boukather automotive, explains,"The idea behind the Mazda Snow Park is to spread fun and thrill to all of our company's customers and friends by providing the same fun and exhilaration our products and services deliver," emphasizing that riders' safety, amongst all, is the most important concern in the park. The Mazda Snow Park welcomes guests 7 days a week and is perfectly maintained all winter long, offering hot food and beverages as well as live music and entertainment. On March 7, 2015 the Mazda Snow Park hosted its first Farm Jam slope style contest, where snow lovers competed with a variety of obstacles, including jumps, rails and other terrain features, and were judged based on amplitude, originality and quality of tricks. Setting new standards in the riding experience, A.N. Boukather continues to offer the Lebanese adventurous yet highly safe experiences, on the roads and on the slopes. This heart pumping Snow park, charged with the pleasure of adrenaline rush is key in A.N. Boukather's understanding of passion, innovation and imagination.
Categories