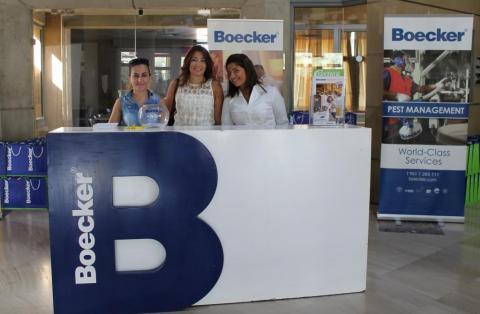 Beirut, September 23, 2014: Boecker®, the region's largest Pest Management, Food Safety and Biosecurity solutions provider, took a special approach to inspire women at the "Supermommy Beirut 2014". Held at the Sagesse University in Furn El Chebbak, on September 20th, 2014 from 10am till 6pm, this full-day event, loaded with informative workshops inspired and empowered women in different areas of life, and allowed them to socialize, meet women oriented NGOs and acquire new vital knowledge.
Given its importance and relevance to the company's mission, Boecker® actively participated in the "Supermommy" schedule of events by leading a main workshop by the company's Food Safety experts. Further to this, Rasha Hteit, Food Safety Manager at Boecker, conducted a presentation highlighting the essential steps to keep the family's food hygienic and safe. Her educational session, 'Let your family eat safe', covered topics such as food hazards and contamination with special tips on dining out safely, shopping, preparing, cooking and serving food the right way.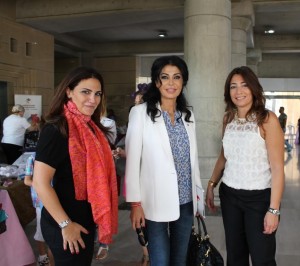 Mrs. Bana Kalash Kobrosly, Country Manager of Boecker® Lebanon, stated on this occasion, "We have always supported education and awareness on safe and healthy living. Women, and especially mothers, play a great role leading their families in issues related to hygiene and sanitation; a knowledge we share in the best way possible. At "Supermommy", our workshop gave attendees key information about their everyday life, specifically when dealing with food safety and disinfecting".
Boecker is the region's largest specialized public health company which follows the highest international standards, and is a member in the finest international agencies.
About Boecker
Boecker, the region's largest Pest Management, Food Safety and Biosecurity services, provides World Class services for the most demanding commercial, food service and residential sectors.
Founded in 1994, Boecker has been positioned as the Reference in the field of public health with a well founded expansion in the Middle East region operating in UAE, Lebanon, Saudi Arabia, Kuwait, Qatar and Nigeria.
Boecker has been committed to provide high quality Pest Management Services for Residential and Commercial Customers.
Boecker Food Safety, a registered training center with Royal Society for Public Health - RSPH and Chartered Institute of Environmental Health – CIEH, provides food hygiene training recognized by the leading regulatory bodies worldwide. Boecker's professional consultancy services cover the delicate aspects of building safe food systems like the GCP, HACCP, ISO22000, and QPA.
Boecker services are ISO9001:2008 certified, and all of its used products are EPA approved and licensed by local authorities.
Categories