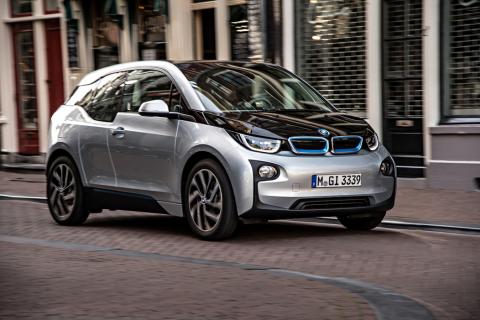 20 May 2014 - BMW i3 and BMW i8 delivers sustainability in revolutionary designs
Beirut - Focused on developing sustainable mobility solutions, the BMW i sub-brand puts the revolutionary approach into action. BMW's all-electric BMW i3, is BMW Group's first series-produced car for urban areas to be driven by electric power alone. It also just won two of the most prestigious international awards soon after its market launch at the New York International Auto Show: the World Car Design of the Year Award 2014 and the World Green Car Award 2014. Its sister i-brand, the BMW i8, is the world's most progressive 2+2 seater sports car that is set to revolutionise the automotive industry when it goes on sale in June 2014. It is the second model to be unveiled by the new BMW i sub-brand and comprises BMW LifeDrive concept, the worlds' first body architecture specifically designed and purpose-built for series production of electric cars.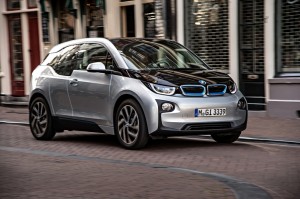 The BMW i3 features a large number of technological innovations – such as a carbon-fibre passenger cell and a chassis made of aluminium – and sets new standards in the field of lightweight construction. With a curb weight of 1,195 kilogrammes, it is lighter than most vehicles in the compact segment, yet offers significantly more space for up to four occupants. Its low weight contributes to the agility and dynamic performance of the BMW i3. The car's electric drive-train generates output of 125 kW/170 hp and peak torque of 250 Newton metres, which is immediately available from a standing start. The BMW i3 sprints from 0 to 60 km/h in 3.7 seconds and from 0 to 100 km/h in 7.2 seconds. Its top speed is limited to 150 km/h for efficiency reasons.
The 2+2-seater BMW i8 features LifeDrive architecture developed specifically for BMW i, aerodynamically groundbreaking body design and visionary interior design deliver an intense driving experience; Life module passenger cell made from carbon-fibre-reinforced plastic (CFRP); drive system technology, high-voltage battery, chassis, and crash and structural functions integrated into the aluminium Drive module; kerb weight: 1,485 kilograms; Cd: 0.26; very low centre of gravity at less than 460 millimetres; well-balanced weight distribution.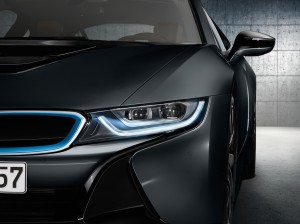 The BMW i8 combines the BMW TwinPower Turbo and BMW eDrive technology plus intelligent energy management producing a maximum system output of 266 kW/362 hp which give the BMW i8 the performance characteristics of a pure-bred sports car (0 – 100 km/h / 62 mph in 4.4 seconds) accompanied by fuel economy and emissions figures more familiar from a small car; EU fuel consumption: 2.1 litres per 100 km (approx. 135 mpg imp), CO2 emissions: 49 g/km; exceptional efficiency in everyday driving too, with actual fuel consumption figures that are around 50 per cent lower compared to conventional sports car concepts; "glued-to-the-road" AWD driving experience with torque distribution geared towards optimised dynamics.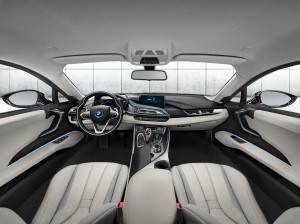 The BMW i8 also features a wide range of BMW ConnectedDrive features: options include BMW Head-Up Display and Driving Assistant package with High Beam Assistant, rear view camera, Surround View, Speed Limit Info including No Passing Info display and Collision and Pedestrian Warning with City Braking function; also available are BMW Online Entertainment and internet access; standard features include Intelligent Emergency Call, BMW ConnectedDrive Services with Concierge Service and Real Time Traffic Information along with mobility services developed specifically for BMW i, such as the BMW i Remote app, BMW TeleServices including Battery Guard and intermodal route guidance.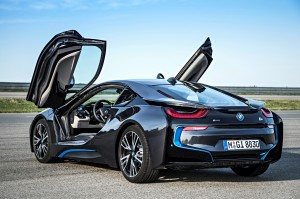 BMW i symbolises visionary vehicle concepts, inspirational design and a new take on the meaning of "premium", with sustainability as a key defining element.
BMW is always commited to providing sustainable mobility solutions and with its i sub-brand, the BMW Group reaffirms its leadership as the most innovative and sustainable premium car company.
Bassoul-Heneine sal
Bassoul-Heneine sal is the exclusive importer of the BMW Group in Lebanon, and the oldest BMW importer in the world. Throughout its illustrious history, dating back to 1951 with the establishment of Bassoul-Heneine & Co., the company has built a wealth of expertise, knowledge and trust among its loyal customers desiring BMW and MINI automobiles.
For questions please contact: 
Bassoul-Heneine sal
Email: nkhalife@bashen.com
Categories