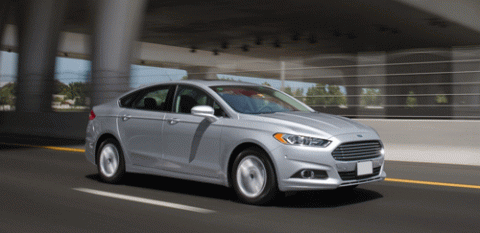 All-new Ford Fusion carries a wide array of driver assist technologies, including Lane-Keeping System with Driver Alert, adaptive cruise control and collision warning, and active park assist
These technologies form the basis for Ford's research and development of future personal mobility solutions, including autonomous assist driving capabilities
Awards include Car of the Year by Saudi Auto, Best Midsize Car for families by the US News & World Reports and Top 10 Best Family Cars by Kelly Blue Book
(Dubai, United Arab Emirates, 21 July, 2014) – The award winning Ford Fusion leapfrogs its main competitors with an unprecedented suite of driver assist technologies usually found only in luxury cars costing twice as much. And since its introduction in the Middle East, Ford's latest mid-size sedan has seen great feedback and increasing demand, as more and more customers realise the tremendous value package it offers in its highly competitive segment, combining value for money with a rewarding driving experience.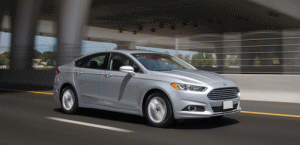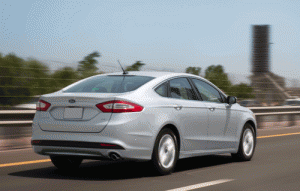 A package of radar, ultrasonic, optical and motion sensors adds a new level of convenience for midsize sedan customers by transitioning beyond passive safety technology to offer drivers Lane-Keeping System, Driver Alert System, Blind Spot Information System (BLIS ®), active park assist, cross-traffic alert, adaptive cruise control, collision warning and a rear view camera.
"With an impressive list of game-changing technologies and class-leading engines as well as head-turning new designs, smart technologies and superior quality, the Ford Fusion truly stands out from the rest", said Kalyana Sivagnanam, director of Ford Middle East & North Africa.
Fusion's suite of driver assist technologies are the result of the addition of new sensors, including cameras and radar combined with existing technologies, such as electric power-assisted steering (EPAS) and data from the anti-lock braking and stability control systems.
"These new sensing technologies help extend the driver's own senses, providing a level of assistance never before available to the family sedan buyer," said Adrian Whittle, Ford Fusion chief engineer.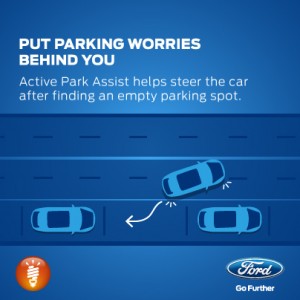 Lane-Keeping System
Lane-Keeping System uses a forward-facing camera that can scan the road surface for lane markings. The Lane-Keeping System can evaluate if the car is drifting out of its lane and then alert the driver by vibrating the steering wheel. If the driver does not respond to the vibrations, the system provides steering torque to nudge the car back toward the center of the lane.
Driver Alert System
Driver Alert uses the front-facing camera to detect a pattern of vehicle motion consistent with a drowsy driver, and provides a series of alerts to suggest the driver stop and rest for a while. The visual alert includes a coffee cup icon appearing in the instrument cluster display indicating that pulling off the road and taking a break is a good idea. In a survey conducted by AAA Foundation, more than 40 percent of Americans acknowledge they have fallen asleep or nodded off while driving. 
Pull-Drift Compensation
Pull-Drift Compensation is built into the electric power-assisted steering to counter the effects of steeply crowned roads or steady crosswinds. It can detect if the car is changing direction even if the steering angle sensor indicates the driver is not commanding this change. The Pull-Drift control then uses EPAS to provide gradual steering corrections that keep the car moving to where the driver wants to go. 
Adaptive cruise control with collision warning
Adaptive cruise control uses a radar sensor that measures the distance and speed to the vehicle ahead.
With this extra information, the same engine power reduction and brake application techniques that are used to limit wheel spin by the traction control system can now be used to automatically slow the car and maintain a safe following distance when the adaptive cruise control is active. If the sensors detect the following distance is shrinking too quickly and a collision is likely, the system will provide a visual and audio alert so the driver can respond by steering or braking. 
Active park assist
With available active park assist, the electric power-assisted steering and ultrasonic sensors at the corners of the car work in concert to help make parallel parking a breeze. The sensors measure the gap between parked cars to see if there is enough room, and then the car is automatically steered into the space. The driver just has to apply the accelerator and brake.
Blind Spot Information System with cross-traffic alert
No matter how careful drivers are, the physical constraints of sitting inside a car means there always will be places they cannot see. Rearview mirrors help, but the Fusion is available with radar sensors in the rear corners that can monitor the spaces beside and just behind the car.
On the road, these sensors trigger a warning light in the mirror indicating there is another vehicle in the blind spot the driver may not be able to see when changing lanes. When backing out of a parking space, these same sensors can see vehicles coming down the aisle while the back-up camera provides a view directly behind the rear bumper.
What's next?
The driver assist systems in the new Fusion mark Ford's near-term next steps in the development of future mobility technologies. Sensing systems similar to what will be installed on the new Fusion are the foundational hardware that will help further progress active safety technology in the future including autonomous assisted driving in the long-term.
"The new Fusion is a showcase of how we will use sensors and vehicle data to enhance the driver's own capabilities when behind the wheel," said Paul Mascarenas, chief technical officer and vice president of Ford Research and Innovation. "Driver assist technologies will continue to provide increasing levels of convenience in the near-term. In the future, they also will help us manage issues such as traffic congestion and CO 2 reduction."
The all-new Ford Fusion is available for sale at all Ford dealerships across the Middle East.
About Ford Motor Company
Ford Motor Company, a global automotive industry leader based in Dearborn, Mich., manufactures or distributes automobiles across six continents. With about 180,000 employees and 65 plants worldwide, the company's automotive brands include Ford and Lincoln. The company provides financial services through Ford Motor Credit Company. For more information about Ford and its products worldwide please visit www.corporate.ford.com. 
Ford's history in the Middle East goes back more than 60 years. The company's local importer-dealers operate more than 155 facilities in the region and directly employ more than 7,000 people, the majority of whom are Arab Nationals. For more information on Ford Middle East, please visit www.me.ford.com 
Ford Middle East is also a responsible corporate citizen with currently three CSR initiatives running in the region including the Ford Motor Company Conservation & Environmental Grants, Ford Warriors in Pink® breast cancer awareness campaign and Ford Driving Skills for Life safe driving awareness programme for young drivers and teens. 
The Ford Grants is a grass-root level initiative that has offered US$1.3million in grants to more than 150 Middle Eastern environmental projects since 2000. Ford Warriors in Pink® is a breast cancer community-based awareness initiative recognising the strength and courage it takes to deal with the everyday challenges of battling breast cancer throughout the year.  Ford Driving Skills for Life is a free programme designed to impart safe driving practices to students to help improve their road safety record.
Categories