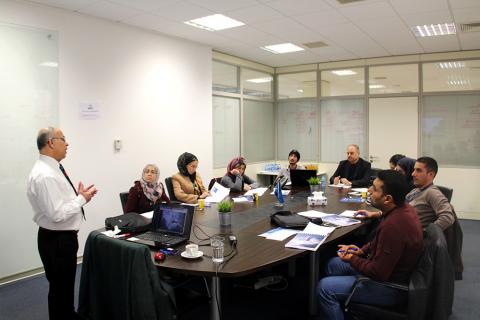 A group of employees from the Agrometeorological Network at the Iraqi Ministry of Agriculture have completed a training course on agriculture-meteorology given by a number of experts from ArabiaWeather Inc., the leading and specialized provider of business solutions' weather data to various sectors across the Arab World. The eight-day course, which took place at the Company's headquarters, comprised detailed explanations on agricultural meteorology including numerical weather prediction models, satellite images, climate archive, seasonal weather forecasts, meteorological services management, among other subjects.
 ArabiaWeather Training and Research Consultant, Jamal Al Mousa, emphasized the Company's keenness on sharing its expertise in the field of meteorology with personnel working in the agricultural meteorology sector. This step underscores ArabiaWeather's firm belief in the importance of training and rehabilitating workers this sector, and introducing them to services and technologies relevant to weather forecasts, all of which allow them to professionally deal with and serve their businesses.
 In turn, participants in the training course expressed their gratitude toward ArabiaWeather, praising its cooperation and commitment to providing information accurately, scientifically and systematically. On his part, climatologist Ali Sa'adoon Zaji from the Iraqi Ministry of Agriculture pointed out the course's great benefits to him and his colleagues, stating, "This session has helped us to become proficient in reading weather maps and to develop in-depth knowledge on numerous weather concepts."
 In addition to owning the biggest network of automatic weather stations in the Arab World, ArabiaWeather is the first and only company of its kind in the Arab World, and one of the most advanced in the world in the areas of weather forecasting technologies and remote sensing systems. It is also the first company in the Arab World to become a member of the Association of Hydro-Meteorological Equipment Industry (HMEI) working with the World Meteorological Organization (WMO). More than 50 employees work at ArabiaWeather's offices in Amman, Jordan; Riyadh, Saudi Arabia; and Dubai, United Arab Emirates. Offering its services to individuals via Internet, media outlets and social media channels, the Company provides its business solutions to government entities and a number of municipalities where flash floods occur. ArabiaWeather also serves various business sectors such as agriculture, construction, energy, insurance, transportation, water management, in addition to major airlines, airports, and marine companies, which include shipping, oil and gas entities and ports, as well as local and regional TV channels, and many others.
 Based in Amman, Jordan, ArabiaWeather's regional meteorological and weather forecast center is the largest regional meteorological center in the Arab World. It is equipped with the latest equipment and technologies, which are compliant to the standards of WMO and the International Civil Aviation Organization (ICAO). ArabiaWeather extends meteorological services in an accurate, high-quality and innovative manner that is on par with international services. ArabiaWeather also seeks to raise awareness about weather conditions in order to increase national output and prevent material losses and losses of life.
Categories