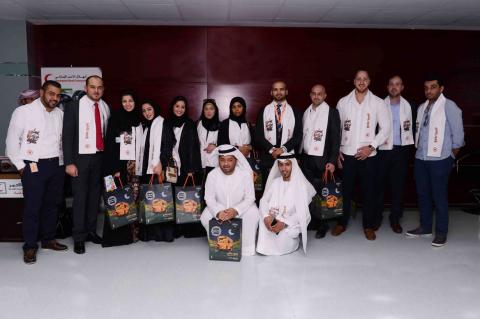 'Forsan Al Khair' team brings joy & hope to children & elderly across the country
August 02, 2014
Al Hilal Bank, the progressive Islamic bank, once again celebrated Ramadan with a special campaign called 'Jood Bil Khair' ('do good') which eventually donated AED 1 million to over 10 charities across the UAE.
Each year, Al Hilal Bank introduces unique charitable initiatives in keeping with both the Holy Season and the bank's innovative spirit. For 2014, the bank decided to adopt the theme of 'doing good' with the help of employee volunteers calling themselves 'Forsan Al Khair' ('heroes of welfare'). Among the related activities were a television appearance, a major social media donation drive, and visits to charities around the country.
Part of the campaign involved the placement of in-kind handout boxes at all branches and the acceptance of cash donations which the bank collected and forwarded to the several charities in UAE. In acknowledgment of television's role as a powerful medium for financial education and social responsibility, the bank also formed a partnership agreement with Shaabiat Al Cartoon, a popular Emirati animated TV show, to air a special episode on the advantages of bank savings, aiming to educate children about the importance of saving their own money through an "Al Hilal Seghaar account"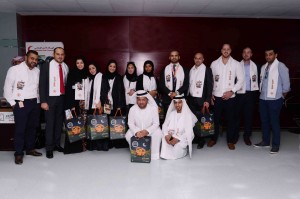 Another campaign highlight was an online initiative that matched (10) dirhams with each public post, hashtag or shared videos at Al Hilal Bank's social media network.  This initiative achieved a wide participation to come up with an AED 1 million donation pool where part of this amount refers to the electronic participation (around 400,000 shares) through social media. The amount was transferred from a special 'Al Hilal Charity' account to over 10 local charities.
Al Hilal Bank's 'Forsan Al Khair' team personally visited some charities during the third week of Ramadan. The volunteers stopped by Tawam hospital and the Al Ain Center for Care and Rehabilitation in Al Ain, Dubai Charity Association and Beit Al Khair Society in Dubai, Sharjah Home for the Aged, and Sheikh Khalifa Medical City in Abu Dhabi. During the bus tour the employees distributed gifts and interacted with children and the elderly.
The affection the Al Hilal team gave and the smiles they brought out were in partial fulfillment of the four main pillars of this year's Al Hilal Bank Ramadan 2014 campaign which includes 'Jood Bil Khair' ('do good'), Joy, Health and Religion.
"We thank all the people who donated to our campaign and shared our social responsibility activities throughout Ramadan. We would also like to express our great pride in our 'Forsan Al Khair' team who were very eager to spread the spirit of joy and hope in keeping with the season of Ramadan. It was very fulfilling to see people respond warmly to our visits and take our encouragements to heart. Al Hilal Bank has always presented itself as 'a bank like no other' so we will continue to take extra steps to make sure that our charitable Ramadan activities are always unique, memorable, and meaningful," said Mohamed Jamil Berro, Group CEO, Al Hilal Bank.
Al Hilal Bank is renowned for its charitable works during Ramadan. Last year, it organized an innovative 'Donate My Smile' campaign that matched smiles collected using special machines in monetary donations to various charities. It also offers various promotions to help its customers to better experience, respect, and enjoy the holy month.
About Al Hilal Bank:
Al Hilal Bank was established in June 2008 with an authorized capital of AED 4 billion and is fully owned by the Abu Dhabi Investment Council, the investment arm of the Government of Abu Dhabi. The bank is Shariah compliant and operates through a network of 22 branches strategically located across the United Arab Emirates as well as 3 other branches in major cities of Kazakhstan. Al Hilal Bank aims to become the leading financial institution in the region and is committed to increase the growth of Islamic banking by providing new direction, new technologies and special services.
For more information:
Al Hilal Bank
mail: myahli@alhilalbank.ae
Categories