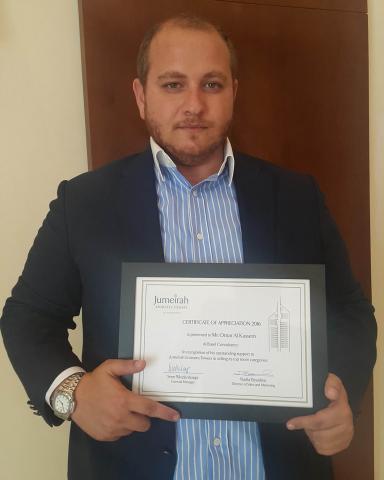 Leading hospitality consultancy firm recognized for its contribution of over AED 2 million in sales for premiere Dubai luxury hotel for the last three months
Al Basel Consultancy, a prestigious and high end consultancy firm and a member of Al Basel Group of Companies, has recently received a 'Certificate of Appreciation' from Jumeirah Emirates Towers, a leading luxury hotel in Dubai. The award was given in recognition for the consultancy firms exemplary performance in helping turn over sales of more than AED 2 million for the premier hotel for the last three months.
According to the company's senior executives, the certificate demonstrates the strong relationship between Al Basel Consultancy and Jumeirah Emirates Towers. The company has just recently concluded its six-year of corporation with the hotel--promoting Jumeirah Emirates Towers to its customers in the Middle East and GCC region and the rest of the world. The hotel has become a highly preferred place of stay for visitors to the UAE, which offers key amenities and facilities like 400 luxurious rooms and suites; 16 extraordinary dining and nightlife venues; retail therapy, dining and styling at The Boulevard; four treatment rooms; shopping arcade and a floatation pool at Talise Spa and the fitness facilities through its fully equipped gym.
"We are honored with this recognition from the management of Jumeirah Emirates Towers. Over the last six years, we have been able to successfully leverage the hotel's unique offerings across both high-profile clients and regular travellers who are looking for an ideal place that provides excellent services and high-quality accommodations. Our hard work has paid off as we were able to help the hotel in turning over more than AED 2 million in sales. We look forward to continuing to work closely with Jumeirah Emirates Towers and help position them as a highly-preferred hotel to stay in while visiting Dubai," concluded Omar Al Kasem, VIP in Charge, Al Basel Consultancy.
Categories