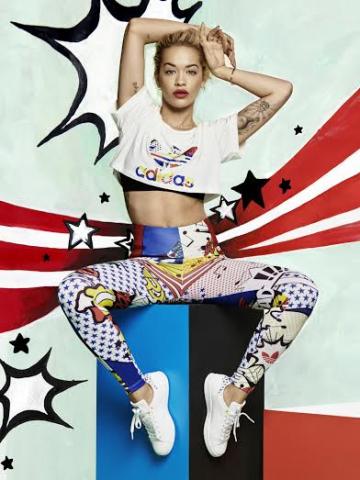 For SS15, once again the brand with the three-stripes unites with one of the planet's brightest rising stars: muse, actress, style icon and musician – Rita Ora. Encapsulating the power, energy and optimism of her lifestyle, Rita turns her creative talents to a unique collection comprising four enigmatic ranges. Just like the spirit of all those that wear Adidas Originals, Rita is defined by her constant quest to achieve fulfillment and success on her own terms. Equally talented, beautiful, grounded and hardworking, Rita represents the spirit of creative courage that Adidas Originals champions. Delivering a bold newness to a much-loved range of classic silhouettes from a sportswear icon, Rita faces the coming season with courage, delivering a collection that covers apparel, accessories and footwear. Directly influenced by Rita's passions and creative inspirations, this new collaboration is alive with fresh thought and at the forefront of the season's trends. Every item brings Rita's own personal style and passion to the fore as custom prints and bright colorways sit shoulder to shoulder with on trend fabrics and cuts.
COLLECTION OVERVIEW – Super – Adidas Originals by Rita Ora 
Unstoppable, bold, brave and in bold Technicolor: Rita Ora collaborates with Adidas Originals once more on a range that packs a punch. Pop art graphics explode across a pack that screams optimism, confidence and positivist.
The iconic Superstar sneaker meets an audacious All In One via a gold Visor united by a dynamic color palette of playful primaries and a burst of exuberant personality. The brand with three stripes brings 'Kapow' to a series of comic book inspired graphics that draw on Rita's unmistakable features: signature red lips, feline eyes and platinum-blonde hair which explode across shiny tricots, slinky mesh and super soft jerseys.
Categories