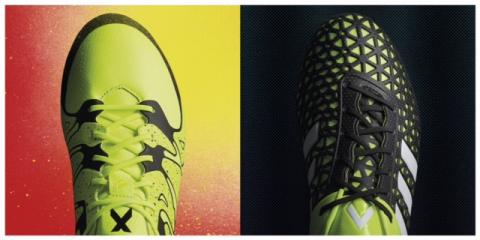 Only two types of player define the modern game
there are only two types of players - those that cause chaos and those that control everything. The game changers and the play makers. The best managers, players and minds have spoken – football has changed.
The new Adidas X15 & Ace15
In the words of Pep Guardiola: "It's chaos or control. There are players who think more about what the team needs and what is the best solution for the team. This kind of player is an intelligent player who has a vision about what the team needs. He controls."
"Then there are the ones who cause chaos. The ones who play on instinct and on talent. They are a little outside of the field. They can create absolutely everything and you can't control that. You cannot limit that."
For the first time, these two distinct types of player will have their own boots. The old Adidas silos have been discontinued. No more F50, no more Predator, no more 11pro and no more Nitrocharge. There is only chaos and control. There is only X and ACE.
INTRODUCING ACE15
The new Adidas Ace15 Some players are born to control. They are the ones that pull the strings and set the pace.
Every great team needs the players that keep it on track. That bring the coaches plans into action. They bring order to a chaotic game. Players like Mesut Özil, James Rodríguez, Oscar, Manuel Neuer and Ivan Rakitić are the glue of some of the world's best teams. For these players, Adidas has designed ACE15.
ACE15 is built to control. The revolutionary CONTROL WEB gives ultimate ball control, thanks to an engineered 3D material. A 3-layer compound combines with grippy EVA for an unbeatable touch. A ground breaking new stud configuration puts more studs on the ball during foot-over moves to allow for complete ball control. The unique NSG (Non-stop grip) skin uses 3D dots for perfect control in all conditions. The players that run the show now have the boots to dominate.
Categories