UAE, February 15, 2015 -
Aafaq Islamic Finance, a leading provider of Islamic finance products and services in the UAE, has been awarded ISO 9001:2008 certification for its quality management system. The company's implemented system has been recognized for its aim to satisfy Aafaq clients through its services--meeting client expectations as well as the requirements needed in developing the quality management system continuously. The ISO, which covers the set international standards on quality management systems within organizations, was awarded after a strict review and evaluation conducted by the British Standard Institute (BSI), the assessing body assigned by the International Organization for Standardization to grant the ISO Certificate of Conformity.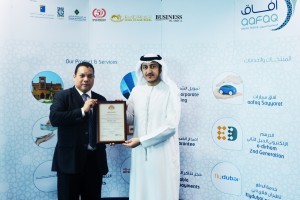 Aafaq was granted this certificate as a result of providing Quality standards and high quality products and services continuously to its strategic partners and clients and for its role in providing Islamic Finance products and governmental services through its more than 54 branches across the country. Sheikh Faisal Bin Saoud Al Qassimi, Managing Director of Aafaq Islamic Finance, said "Being granted ISO 9001:2008 certification is a reward for the hard work and a result of the team work of Aafaq employees. This award will serve as an inspiration for us to continue with our hard work and exert our efforts to develop various products and services that meet our client's demand and expectations. This certification also reflects our continued commitment towards adopting best practices for both operational and administrative aspects of our operations. We are happy to have this prestigious international acknowledgement, which will motivate us to achieve the highest levels of quality and uniqueness, as well as aiming to receive many more achievements in the future. Dr. Mahmoud Said Abdulaal, Chief Executive Officer of Aafaq Islamic Finance, shared that" the ISO 9001:2008 certification marks the start of long journey for the company and is a result of the great efforts exerted in ensuring that best practices and high standards in workflow procedures are followed along with the execution of external and internal reviews from certified experts". ISO 9001:2008 represents a set of basic international standards, which include principles followed in the implementation of a quality management system. These guidelines are issued and maintained by the 'International Organization for Standardization.' The certificate sets a number of quality indicators including how the clients are being treated, support of the executive department, and focus on operation management systems, management and commitment of continuous development, which covers integral approach for managing all business activities.
Categories