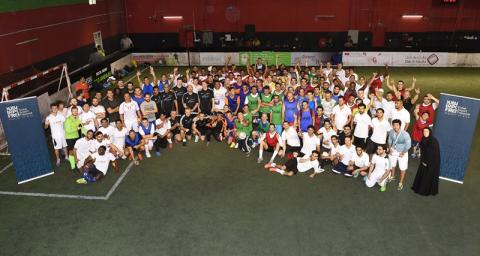 As part of its CSR activities, aiming to raise sports awareness among local community members
Dubai, UAE – November 27, 2014 – Dubai Airport Freezone Authority (DAFZA) recently organized a sports tournament for its clients, partners, and employees. More than 280 people representing various companies competed in the tournament held at "Ahdaaf" Sports Club in Dubai. The tournament featured various competitions including football, foosball, football tennis and table tennis.
Shuaib Al Mulla, Manager of Customer Partnership section, DAFZA, said: "Our sports tournament is an important and integral part of our commitment to strengthen our relations with our clients, implement our corporate social responsibility programs, and raise sports awareness. The tournament has attracted a wide participation from companies operating in the freezone, further boosting our support for the sports industry and enhances its role in building a sound, healthy and sustainable society. We are pleased by the performance of all participating teams. All of them demonstrated great sportsmanship and morals. Due to its success, we will continue organizing more sports events in the future to consistently reinforce our ties with our partners and customers."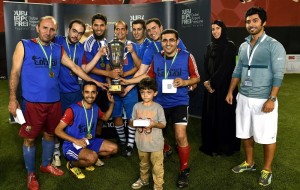 The winning teams were honored with medals, trophies and other prizes at the tournament's conclusion. In the football cup competition, the GET Group won first place followed by SIG Combibloc Obeikan FZCO and DAFZA team. The AVSCO team also delivered a strong performance as it dominated foosball and football tennis competitions.  The Prosoft Technology team was crowned the champion of the table tennis competition.
About Dubai Airport Freezone Authority (DAFZA)
Established in 1996 as a part of the Dubai Government's strategic plan to become an investment-driven economy, DAFZA is one of the fastest-growing premium free zones in the region. It is currently home to over 1,600 companies from various industry sectors, including aviation, freight and logistics, IT and telecommunications, pharmaceuticals, engineering, food & beverage, jewellery, and cosmetics. Located strategically within the boundaries of the Dubai International Airport, DAFZA offers a wide range of modern facilities with state-of-the-art infrastructure.
International investors can enjoy dynamic growth through DAFZA's excellent incentive packages – including 100 per cent tax exemption, 100 per cent foreign ownership, and no currency restrictions.
DAFZA has also won many regional and international awards. It received the prestigious Dubai Quality Award (DQA) for 2013 and has been awarded the titles of Global Free Zone of the Future (2012/13) and top Middle East Free Zone of the Future (2013/14) by Foreign Direct Investment (fDi) magazine.
DAFZA's commitment to quality is also recognized by worldwide ISO certificates for Quality, Environment, Health & Safety, Information Security Management, and Complaints Handling.
Categories