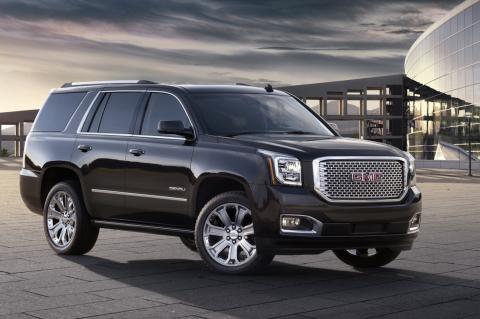 Beirut June 25
th
, 2014 – The all-new 2015 Yukon - the 'Next Generation SUV', which has long been GMC's onslaught release, kicked off recently in the Lebanese market, unleashing its outstanding performance and capabilities. The full-size SUV is already a hit and out of stock, therefore pre-booking is preferred.
All-new exterior and interior designs advance GMC's Commands Respect credentials with elements designed to be bold and functional. The exteriors are sleeker and more aerodynamic, enhancing efficiency on the highway and contributing to the new Yukon's quiet ride.
Bold styling cues include highly detailed, chrome-accented grilles matched with GMC's signature C-shaped light-emitting diode lighting motif, front and rear. Projector-beam headlamps are standard on Yukon models. The distinctive Denali models are instantly identifiable by their signature chrome grille and unique exterior appointments, including exclusive high-intensity discharge headlamps.
Inside, the all-new 2015 Yukon's precisely crafted interior features a quiet cabin, authentic materials and premium infotainment choices. Examples include soft-touch instrument panel, console and door panel materials with French seam stitching and purposeful use of ambient lighting in functional areas, including first- and second-row foot wells and the center console. All models have a standard Bose sound system, seats with dual-firmness foam and an ambient air vent designed to enhance comfort for front-seat passengers.
Denali models feature active noise cancelation technology to make the interior quieter.
There are more storage options in the new Yukon lineup, including a compartmentalized center console large enough to store a laptop or iPad and has provisions for organizational features.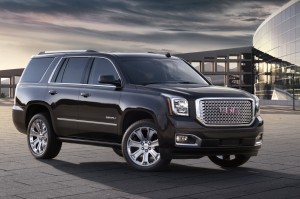 The 2015 Yukon lineup delivers greater capability and greater refinement through new and enhanced chassis and suspension systems. A fully boxed frame – composed of more than 75 percent high-strength steel – supports a quiet and controlled ride. New shear-style body mounts attached to the frame significantly improve stiffness and contribute to the Yukon's smooth ride.
The all-new Yukon family is more powerful and efficient than before, thanks to the new EcoTec3 engine family, which debuted in the all-new 2014 Sierra. A 5.3L V-8 is standard in Yukon models and an exclusive 6.2L engine is standard in Denali models, delivering the segment's best horsepower and torque – SAE-certified 420 horsepower and 624 Nm of torque. 
ABOUT RYMCO:
Rasamny-Younis Motor Company S.A.L. (RYMCO) is a joint stock company, ISO certified 9001:2008, that was established in 1957 in Lebanon and is the only automotive dealer to be listed on the Beirut Stock Exchange since 1998. RYMCO is one of the leading vehicle retail dealerships in Lebanon where it holds majority market share in the new vehicle retail industry, and commands a considerable portion of the used vehicle market. RYMCO operates a chain of independent showrooms and stores, a bonded warehouse as well as state-of-the-art servicing and maintenance facilities. The company has an automotive dealership arrangement with auto manufacturers in the US, Japan, Europe and China that include the likes of automotive giants Nissan Motors (Nissan, Infiniti), GM vehicles (GMC), Renault trucks, UD Trucks within the commercial department ,  Kawasaki and Peugeot Scooters under the Powersports division which also incorporates many other international brands for motor sports accessories and gear, while expanding to many other sectors related to the automotive industry. RYMCO marine is another unit within the RYMCO operations specialized in the servicing of boats under the brand name of RYMCO Marine.
In 2009, RYMCO UK was granted the right to distribute the Infiniti brand of cars in London. It will cover distribution for the area through three SSS IREDI facilities in Reading, Chiswick and Hatfield; along with a boutique in the centre of London in Piccadilly. 
Categories