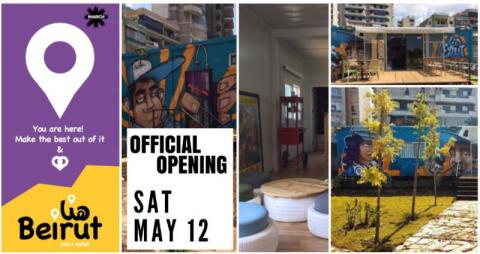 Under The Patronage of the Governor of Beirut, Judge Ziad Chebib, MARCH, with the support of the British Embassy in Lebanon, has the pleasure to invite you to cover the Official Ribbon Cutting Ceremony and the unveiling of its new peace-building project, cultural hub and garden "Hona Beirut".
Hona Beirut follows the resounding success of Kahwetna, MARCH's cultural cafe and hub on the former demarcation line between Jabal Mohsen and Beb el Tebbeneh in Tripoli. Hona Beirut will open exactly one year after the first performance of the "Hona Beirut" play produced by MARCH and written and directed by Yehia Jaber. Hona Beirut starred young men and women from Beirut's most marginalized neighborhoods, many of whom are part of the Hona Beirut Cultural Hub and Garden now!
The space promotes a unique environment through its public garden, access to a recording studio, where nascent talents from Beirut can create, edit and master their music. Hona Beirut will also offer a wide range of intensive workshops, free of charge, that include languages (Arabic, English, French, German), graphic design, computer skills, life skills, photography and videography. To give the environment a community based flair and to encourage a vibrant dynamic the café is run by young men and women who have partaken in the volunteer-based play "Hona Beirut". Regular events, exhibitions and themed nights (outdoor movie screenings, art exhibits, live performances and more) are planned to reinvigorate the youth with new perspectives and new interests that promote progress and creativity.
After having witnessed great success in Kahwetna the second cultural café "Hona Beirut" stands for giving individuals from different communities who so often come from marginalization and separation a space to coexist with each other. A space where people do not have to feel threatened but can enjoy and create an environment of tangible respect, creativity and the well- deserved attention. Ultimately, by creating these spaces MARCH aims to diminish potential for conflict and instead generate potential for reconciliation and dialogue through communities that go beyond what separates them and focus on what unites them.
MARCH's tireless commitment to freedom of expression, especially as a tool for reconciliation between communities at war, has made MARCH embark on a nationwide campaign to bridge the gap between communities that sectarianism, neglect and a lack of hope has created over the past few decades. 
Time & Place:
On Saturday, May 12, 2018 From 4:00 p.m. to 9:00 p.m. Place: "Hona Beirut" located at the junction of Sayed Hadi Nasrallah Highway & Jamal Abdulnaser Street - Opposite Horsh Beirut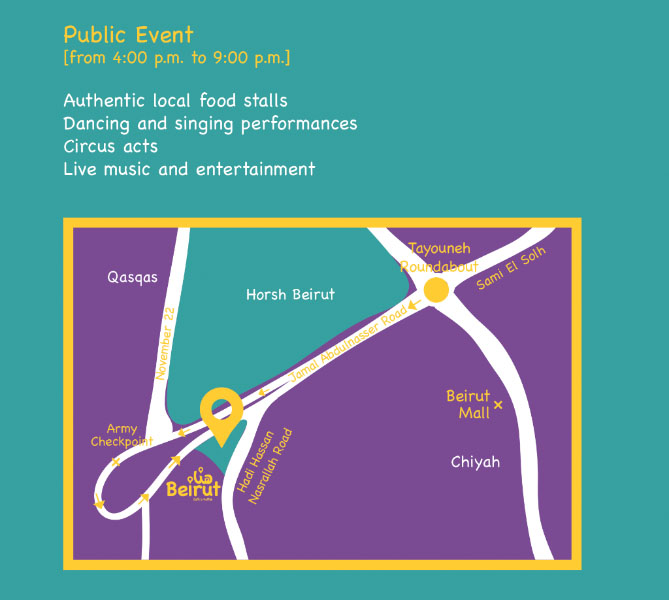 For more information: Contact us on 01-208101 / 03-734289
Categories