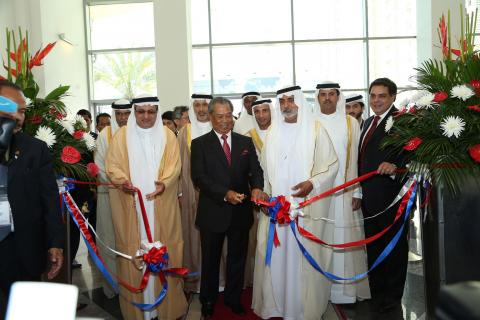 Around 35,000 students to learn about 2,500 featured programs offered by around 350 global academic institutions
UAE, April 9, 2014 - H.E. Sheikh Nahyan Bin Mubarak Al Nahyan, UAE Minister of Culture, Youth and Community Development, inaugurated the Gulf Education and Training Exhibition (GETEX) today, at the Dubai International Convention and Exhibition Center. Among the esteemed guests at the Opening Ceremony of the event were H.E. Humaid Mohammed Al Qutami, UAE Minister of Education; Dr. Saeed Al Hassani, Undersecretary of the Ministry of Higher Education and Scientific Research and Dr. Abdulla Al Karam, Director General and Chairman of the Board of Directors at Knowledge and Human Development Authority (KHDA). Also attending the ceremony was H.E. Tan Sri Muhyiddin Bin Yassin, Deputy Prime Minister and Minister of Education, Malaysia, whose attendance was intended to demonstrate support for the several Malaysian Universities participating at GETEX this year. The event, which runs until April 11th 2014, showcases a diverse selection of over 2,500 academic, training and vocational programs from some of the leading universities and academic institutions worldwide to an estimated 35,000 visitors.
This 26th edition of GETEX builds on previous editions, with a strong focus on four key segments – General Education, Higher Education, Vocational & Occupational Training, and Professional Development, in addition to special add-on features such as the Counsellors Forum, and the popular Open-Forum Seminars.
Upon holding a dialogue and interacting with various education institutes participating at the event, H.E. Sheikh Nahyan Bin Mubarak Al Nahyan, emphasized that the UAE leadership identifies education as a key priority, expressing his pride in what the UAE has achieved in developing the education sector that is accessible to everyone today.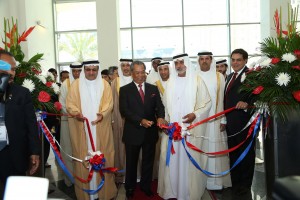 H.E. Sheikh Nahyan Bin Mubarak Al Nahyan stressed on the importance of education as a key cornerstone of human life. "The future of the country relies on the level of education it offers. That said, we commend the efforts made to organize this annual event which serves as an ideal platform to gather leading exhibitors from all over the world to raise student awareness about the latest academic, educational and occupational training programs. The overwhelming response from both visitors and exhibitors reflects the great success achieved by GETEX."
Anselm Godinho, Managing Director, International Conferences and Exhibitions (IC&E), said: "We have been organizing GETEX for close to three decades now and have garnered a progressively favorable response from both exhibitors and visitors who consider this show as a comprehensive, education & training focused platform. Education is among the key priorities for the UAE, as reflected by the AED 140 billion budget for 2014-16 where 21 per cent has been allocated for social development and education. AED 9.8 billion from this total budget will be spent on public schools and higher education, which increases the importance of exhibitions such as GETEX incredibly. We have been very successful so far in offering a common arena to global education providers as well as students from the region to network with each other and get the best value proposition they possibly can. We are confident that the add-on features and sections at this year's exhibition will live up to the expectations of the students and keep them up-to-date with prevailing global educational trends."
GETEX Spring 2014 is held under the patronage of the UAE Ministry of Higher Education and Scientific Research and is supported by the Knowledge and Human Development Authority, the Dubai Knowledge Village and the Dubai International Academic City. The Exhibition facilitates the interaction between students and more than 350 educational institutions from India, Australia, USA, Canada, UK, Malaysia, Turkey, Lebanon, Ireland, and all over the world. It enables over 35,000 students to make an informed decision while plotting their future. For more information, log on to: http://www.mygetex.com/.
Categories