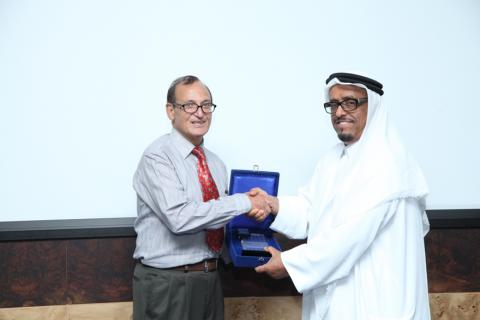 In the presence of H.E. Lieutenant General Dahi Khalfan Tamim
Unique lecture focusing on infrastructure and operations management of the NASA International Space Station
UAE, May 31, 2014 - A renowned senior scientist and technologist from the National Aeronautics and Space Administration (NASA), the agency of the United States government responsible for the nation's civilian space program and for aeronautics and aerospace research, Dr. Kumar Krishen, delivered a unique lecture on the emergence of new technology innovations and its potential for space applications, recently, at the Hamdan Bin Mohammed Smart University (HBMSU) Campus in Dubai Academic City. In the presence of H.E. Lieutenant General Dahi Khalfan Tamim, Chairman of HBMSU Board of Governors, Dr. Krishen spoke to a crowd of learners from HBMSU, other universities, schools as well as talented students from Dubai, on infrastructure and operations management of NASA's International Space Station and shared how some space missions are executed.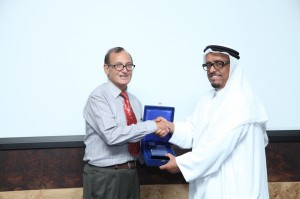 During his lecture, the NASA scientist detailed how space missions are deemed safe, reliable, cost-effective and highly productive—playing a significant role in the fields of research and space development. He also talked about the latest technologies that NASA has been utilizing, which includes ionic polymer-metal composite technology, solid state lasers, time domain sensors & communication systems, nano-technology, fuzzy logic and neural networks.
H.E. Lieutenant General Dahi Khalfan Tamim, said: "The speech given by Dr. Krishen today falls in line with HBMSU's continuing initiatives towards further development of smart learning. This gives us a better understanding of sophisticated solutions that we can use to serve the best interests of the UAE, as directed by His Highness Sheikh Hamdan Bin Mohammed Bin Rashid Al Maktoum, Crown Prince of Dubai and Chairman of the HBMSU. The success of this event affirms that the path that HBMSU has taken towards smart learning is correct and reinforces our leading position as a smart university across local, regional and international levels. We would like to thank Dr. Krishen for his inspiring talk and the valuable information that he has shared with us, especially in the field of space technology, aeronautics and future innovation."
Dr. Krishen said: "I am very honored to have given a presentation at HBMSU, a leading proponent of smart Learning in the Arab world. I look forward to being able to come back to HBMSU and continue to interact closely with the faculty and the learners and for further knowledge transfer."
The lecture, is part of HBMSU's continued initiative to feature some of the world's leading experts in the field of technology, science and research. The activity complements the university's vision of shaping the future of education and learning through the emergence and utilization of innovative solutions.
Categories