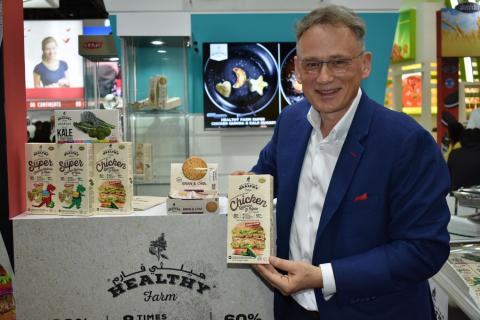 Healthy Farm's nutritious and delicious burger patties and nuggets contain 8 times less fat, 40 per cent less sodium and carbs, 60 per cent less calories, and 30 per cent more protein, than regular burgers and nuggets
Move demonstrates company's efforts to leverage Healthy Farm products across UAE's USD 1.25 billion health and wellness food product segment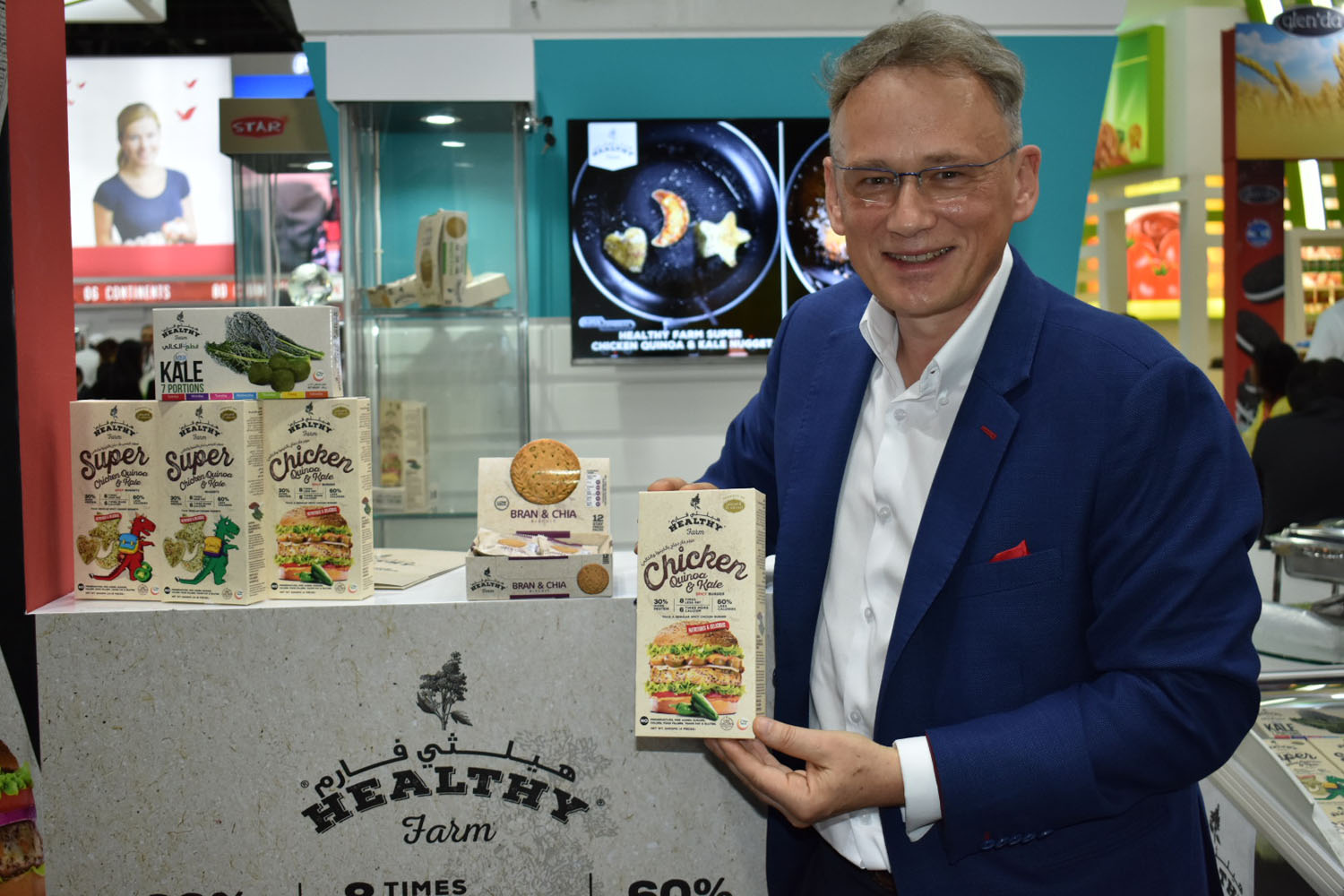 Jacek Plewa, General Manager of GFI
Global Food Industries (GFI), a world-class value-added frozen food manufacturing company and part of Albatha Holding, one of the largest conglomerates in the UAE, has announced its participation at this year's edition of Gulfood, the world's largest annual food trade show, which will be held from February 18 to February 22, 2018 at the Dubai World Trade Centre (DWTC). During their presence at the show, the company will be launching the Middle East region's first-ever healthy chicken burgers and nuggets, the 'Chicken Quinoa & Kale Burgers' and 'Super Chicken Quinoa & Kale Nuggets,' to the country's thriving retail and Hotel, Restaurant, Cafe (HORECA) segments.
'Nothing to hide, the choice is yours' epitomises Healthy Farm's philosophy of offering delicious, naturally healthy products, which directly communicates the benefits in the most transparent and honest way and thus empowering consumers into making the right choice.
The philosophy also relates to the products having no preservatives, no added monosodium glutamate (MSG), no mechanically deboned meat, no trans-fats, no sugars, no food fillers, no food colouring and no gluten.
Presented as ultimate nutritious and delicious food, the newly-launched range comprises a healthy blend of boneless halal chicken breast, red quinoa, kale, and seven other mixed vegetables. The products are high in protein and rich in fiber as well as offer only one gram of fat per 60gm of patty or nuggets.
According to the company's senior executives, 'Chicken Quinoa & Kale Burgers' and 'Super Chicken Quinoa & Kale Nuggets' are the latest products to be revealed under Healthy Farm, a newly-launched GFI brand offering a wide range of affordable superfood-based frozen foods that look towards playing a key role in the efforts to further promote healthy living, in a time when concerns for obesity, diabetes, child obesity, hypertension, cardiovascular diseases, are stronger than ever.
These products are deemed 'better for you'--unique, innovative offerings that have been developed to address the pressing need for healthy and balanced nutrition, without compromising on taste.
The release of the new healthy products complements GFI's continuing efforts to leverage its Healthy Farm products across the country's USD 1.25 billion health and wellness food product segment. The products have been developed based on the company's extensive research and development (R&D) efforts—resulting in the creation of a 100 per cent all natural and nutritious offerings that have 30 per cent more protein, 90 per cent more fibre, 40 per cent less sodium, 40 per cent less carbohydrates, 60 per cent less calories, 8 times less fat, 12 times less saturated fat and 6 times more calcium, when compared to regular chicken burger patties and nuggets.
"Over the year's Gulfood has served as a strategic platform to share insights and take part in activities aimed at helping the global F&B community grow. Being part of this year's show, we are throwing the spotlight on the launch of our latest offerings, 'Chicken Quinoa & Kale Burgers,' 'Super Chicken Quinoa & Kale Nuggets,' and 'Aqua Kale 7 Portions,' which demonstrate our commitment towards encouraging and promoting a healthy lifestyle for the UAE community," said Jacek Plewa, GM, Global Food Industries. "Our vision is to have more than 1,000,000 people try our Healthy Farm products in a year's time—reaching out to families, mothers and kids and sharing with them that they now have a healthier meal option without compromising on taste. We are originally launching this product in the UAE and the rest of the Middle East but will soon expand to other markets overseas."
GFI's Healthy Farm brand is driving the company's mission of improving the quality of life of its people, customers and society--placing strong focus on the true health and wellness needs of today's consumers.
The Healthy Farm range will soon be available across all hyper-markets and stores in the UAE and the region. GFI is committed towards educating and raising awareness about the benefits and advantages to be gained from Healthy Farm products, through its social media and marketing campaigns and extensive in-store engagement and product trials with live cooking demonstrations across various super markets. The launch of Healthy Farm's 'Chicken Quinoa & Kale Burgers' and 'Super Chicken Quinoa & Kale Nuggets' came simultaneously with the 'Aqua Kale 7 Portions' product unveiling, offering health-conscious consumers with a convenient way to enjoy the Aqua Kale health benefits found in juices, smoothies, salads and other products.
"GFI remains steadfast in its efforts to address the health and wellness needs and concerns of our society—providing innovative, quality and trusted products that offer a nutritious solution. In addition, we take great pride in the fact that these new healthy offerings are made in the UAE. Nothing to hide, the choice is yours." concluded Plewa.
GFI is part of the reputable Albatha Group, a Shariah-compliant organization that comprises of over 25 companies with over 7,000 employees spread across seven industry sectors i.e. automotive, consumer, engineering, home products, real estate, healthcare, household and personal care. Albatha has marked a strong presence in the Middle East and North Africa (MENA) region through a distribution network that expands from the Indian sub-continent to Europe. Albatha represents over 200 international corporations serving them with their business and branding needs in the most effective and professional manner.
About Global Food Industries
Global Food Industries (GFI), which is part of the reputable Albatha Holding, was established in 1992 to provide delicious value-added food products to its discerning consumers. Containing the finest halal raw materials from across the world, GFI brands enjoy a significant presence across all trade channels throughout the GCC region. The company guided by its principles of commitment, achievement, teamwork, and entrepreneurship fully adheres to innovation and stringent standards to deliver products that are highly regarded for their unique taste, nutritional value, and convenience. 
Categories