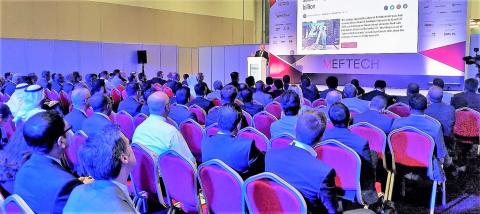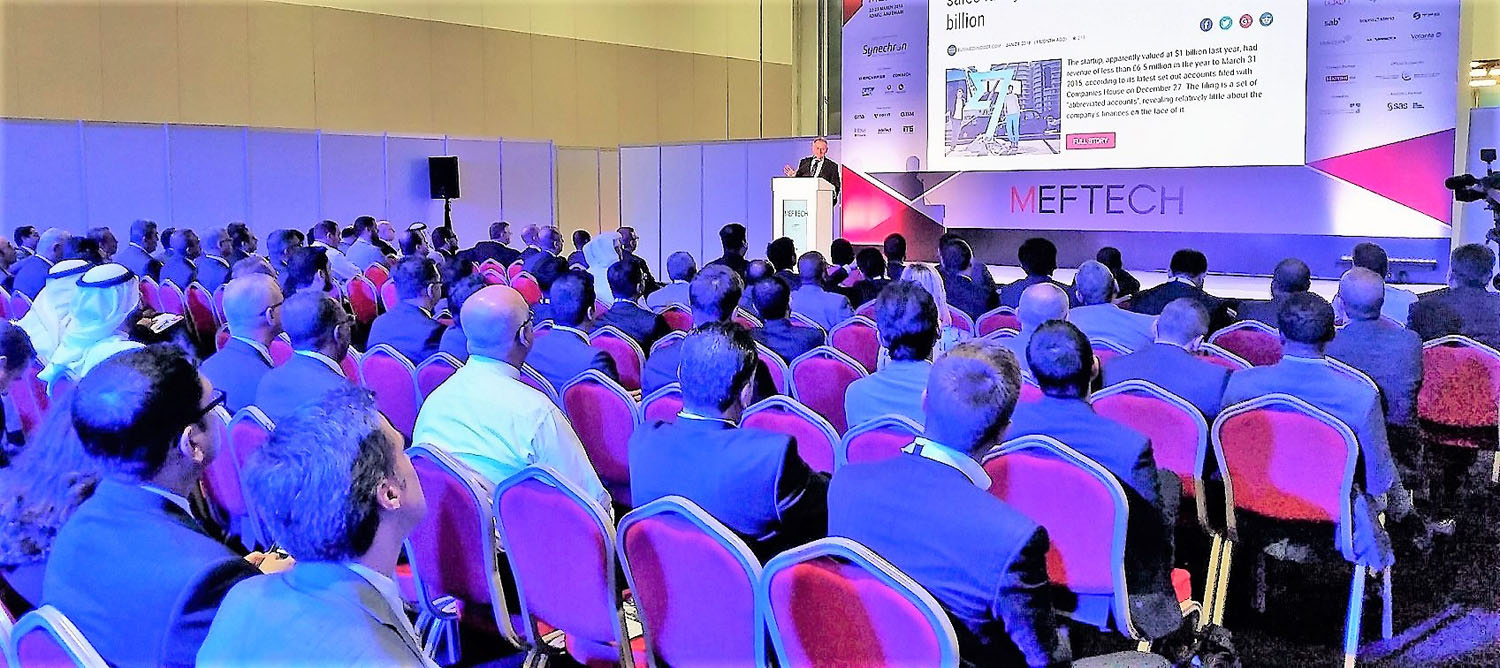 image from a previous edition of "MEFTECH Payments"
The future of digital payments in Saudi Arabia will be the focus of discussions next week as Banks and Fintech companies collaborate on technology innovations that will transform the digital payment landscape to address the fast-paced change in consumer and business requirements for mobile banking, easy access to payments, real-time payments and fluidity of international payments. The first MEFTECH Payments event in Saudi Arabia to be held at the Intercontinental Hotel from the 9th to 10th May initiated in partnership with mada, the national payment network and SADAD Payment System to drive the digital payment transformation in Saudi Arabia towards the Kingdom's Vision 2030.
With global FinTech investment in banking reported by statista to be $19.9billion by 2020 in the US alone and China as global leaders in non-traditional payment options with their mobile payments market valued at $5.5trillion last year the opportunity presented by collaboration between banks and fintech companies joining forces in Riyadh is enormous.
Omar Hashem, EVP Head of Digital Banking. National Commercial Bank sponsors of next month's event said: "Technology has made financial services more accessible and, indeed, more personal: Banking has now become about experience, convenience and satisfaction and the only way to achieve that is through the continuous nurturing and development of a healthy ecosystem where the lines of financial and technical services converge. To remain the leader in financial services, we must have the happiest customers. It is our duty as a Bank towards our customers and our country to realize the vision set by the 2030 initiative: continuously enabling financial products and services across the gamut consumers. From mega-government initiatives to SMEs & personal banking."
Esam Alnahdi, CEO of HalalaH a pioneer in Saudi Arabia Fintech added: "A huge challenge that remains in the Saudi Arabia market is the high dependency on cash transactions. HalalaH aims to provide individuals and merchants with user-friendly e-wallets to transform our daily payments experience in line with the Kingdom's 2030 vision. The Saudi Arabian Monetary Authority (SAMA) is being very supportive to Fintech and its ecosystem, including banks who are showing a lot of openness and collaboration and we look forward to contributing to MEFTECH Payments.'
MEFTECH Payments will be attended by Banks, Government Departments, Financial Institutions, and Enterprises for the two-day exhibition and conference which will address topics including: the real-time payments world and the impact on banking in the Middle East; review the mobile banking boom and how Apple Pay, Samsung Pay and Android Pay are changing the payment landscape; role of identity within security-identity management and information security; safeguarding measures financial institutions need to put in place for the advancement of mobile payments; looking to the future of transaction banking, from bank to bank, country to country; and consumer education on digital wallets and what the financial services sector can do to educate them.
MEFTECH Director, Oliver Bickell added: "MEFTECH is the longest running Banking & Financial Technology event in the MENA Region. Over the years MEFTECH has brought together more than 8,000 financial industry executives and over 1,000 technology providers in Bahrain, Dubai & Abu Dhabi. Building upon this rich pedigree of success, MEFTECH Payments will open for the first time in Saudi Arabia on the 9th May 2018 in Riyadh."
To find out more about the conference agenda showcase your company's products solutions or to participate in round-table discussions visit www.meftechpayments.com
About MEFTECH
MEFTECH Payments in partnership with mada & SADAD will highlight and support the rapidly developing Payments, e-commerce & retail industry in the Kingdom. MEFTECH Payments will bring new ideas, and industry-changing technologies together that will pave the way to the future methods used by banks, institutions, and individuals make, and receive payments in the Kingdom of Saudi Arabia. Attendees from Banks, Government Departments, Financial Institutions, Enterprises – large and small will come together to share knowledge, network, and do business.
About mada
The journey of SPAN goes back to quarter of a century where it has undergone several evolutionary leaps in its technical infrastructure, capacity, and distribution. From the time of its establishment in 1990, the network has been implementing noticeable developments to continuously improve the quality of its services in line with global payment systems.
mada is the new identity of SPAN (Saudi Payment Network), that represents the innovative generation of electronic payments in Saudi Arabia and is intended to boost POS growth with unprecedented dimensions of flexibility, speed, security, and acceptance.
Through a network of advanced global technical payment systems, mada currently connects all automated teller machines (ATMs) and point-of-sale (POS) terminals offered by local banks throughout the country to a central payment switch that in turn re-routes the financial transactions between a merchant's bank and the card issuer bank.
mada also permits regional and global acceptance through connecting with other payment schemes such as GCC Net, VISA, MasterCard, and American Express to provide mada cardholders with a wider acceptance locally and overseas. 
Today, mada, provides the following:
A seven-fold enhanced routing capacity in comparison to the previous generation.
An unprecedented standard of enhanced transactions performance and speed.
Widespread accessibility.
Instant SMS notifications to cardholders on any cash withdrawals or POS transactions.
Increased daily transaction purchase limit at POS terminals from SAR 20,000 to SAR 200,000. Upon cardholder request
Value-added services such naqd service that gives cardholders the convenience of withdrawing cash with their purchase at the merchant outlet.  
About SADAD
SADAD Payment System (SADAD) was established on October 3, 2004 by the Saudi Arabian Monetary Agency (SAMA) to be the national Electronic Bill Presentment and Payment (EBPP) "also known as SADAD Bills" as a system provider for the Kingdom of Saudi Arabia (KSA).
More than 20 million users around KSA trust SADAD for their Bill Payment and now for their new service SADAD Account. The core mandate for SADAD is to facilitate and streamline bill payment transactions of end consumers through all channels (ATM – Online Banking – Phone Banking – Bank Branches) of the Kingdom's Banks.
Now with SADAD new service SADAD Account that provides consumers with a secure, non-card based payment option (direct debit from the consumer's light account in the Issuing Bank) for online purchase.
SADAD Account will help in:
Increased revenues resulting for Banks from larger volume of e-Payment transactions.
Lower dependency on cash in the economy due to increased penetration of e-Payments in KSA.
Accelerated growth of e-Commerce economy in KSA resulting from increased SMEs and 'home-based' entrepreneurs.
Foundation to launch other electronic payment services.
And many more other aspects of the growth of the Saudi Economy.
VISION 2030 - Retail Sector Overview
Over the past decade, the retail sector achieved an annual growth rate in excess of 10 percent. It currently employs 1.5 million workers, of which only 0.3 million are Saudis. Traditional retail also still dominates 50 percent of the market in the Kingdom compared to 20 percent in a number of countries in the Gulf Cooperation Council (GCC), with our retail market suffering from limited penetration of modern trade and e-commerce. We aim to provide job opportunities for an additional million Saudis by 2020 in a growing retail sector that attracts modern, local, regional, and international brands across all regions of the country. We also aim to increase the contribution of modern trade and e-commerce to 80 percent of the retail sector by 2020. This will be achieved by attracting both regional and international retail investors and by easing restrictions on ownership and foreign investment. To this end, we will facilitate local and regional flow of goods and develop necessary sectoral regulations. We will also increase financing of small retail enterprises to stimulate their growth and development.
Categories