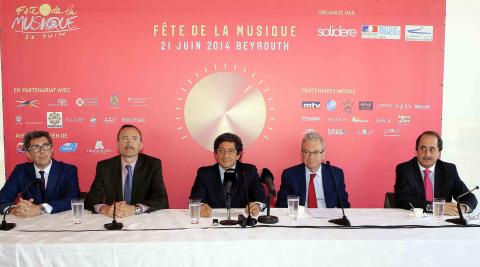 Solidere held a press conference on the 21st of May, at the Yacht Club in Zaitunay Bay, to launch the fourteenth edition of the "Fête de La Musique", which will take place this year on June 21st, in Beirut Central District.This festival has become an annual tradition, staged by Solidere in collaboration with the French Cultural Center in Lebanon and the Ministry of Culture and a number of embassies.
The conference was attended by Michel de Chadarévian representing the Minister of Culture, His Excellency Rony Ereijy, who reiterated the Ministry's support for this important annual event. The French ambassador, Mr. Patrice Paoli presented also, the most important historical milestones of this festival; including the launch of the Fête de la Musique in Lebanon in 2001. In addition, a detailed presentation about this year's rich program was given.
 
From their sides, the Romanian Ambassador Mr. Victor Mircea and the first counselor in the Swiss Embassy, Mr. Boris Richard highlighted their countries' participation in this art event, with local bands partaking from each country.
Mr. Mounir Douaidy, Solidere's General Manager, stressed that "Solidere was always keen to organize and support all activities, which promote cultural interaction. The Fête de la Musique is one of those events that turn the streets of the BCD, into an arena of art expression, and an interaction space between different generations." He went on to say: "It has become an important stopover, which is celebrated in Lebanon from among all Arab nations, a platform for bands and musicians from neighboring Arab countries, and longing to prove their artistic creativity, allowing Beirut to re-establish its role as a leading cultural beacon in this region."
The Fête de la Musique's 2014 edition, will host more than 60 local, Arab and international bands, and will witness a variety of concerts on theaters, distributed in eight different locations in the Central District of Beirut. The celebrations start at 7 PM, and continue until the early morning hours.
Categories