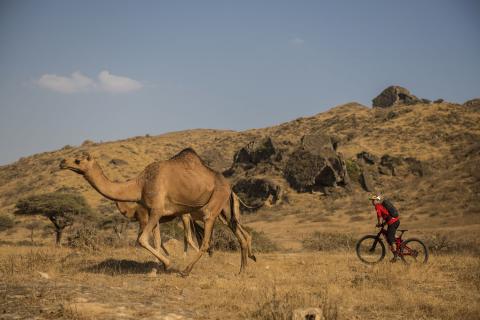 Swiss mountain biker René Wildhaber
conquer Dhofar's Salalah mountain trails
with the help of camels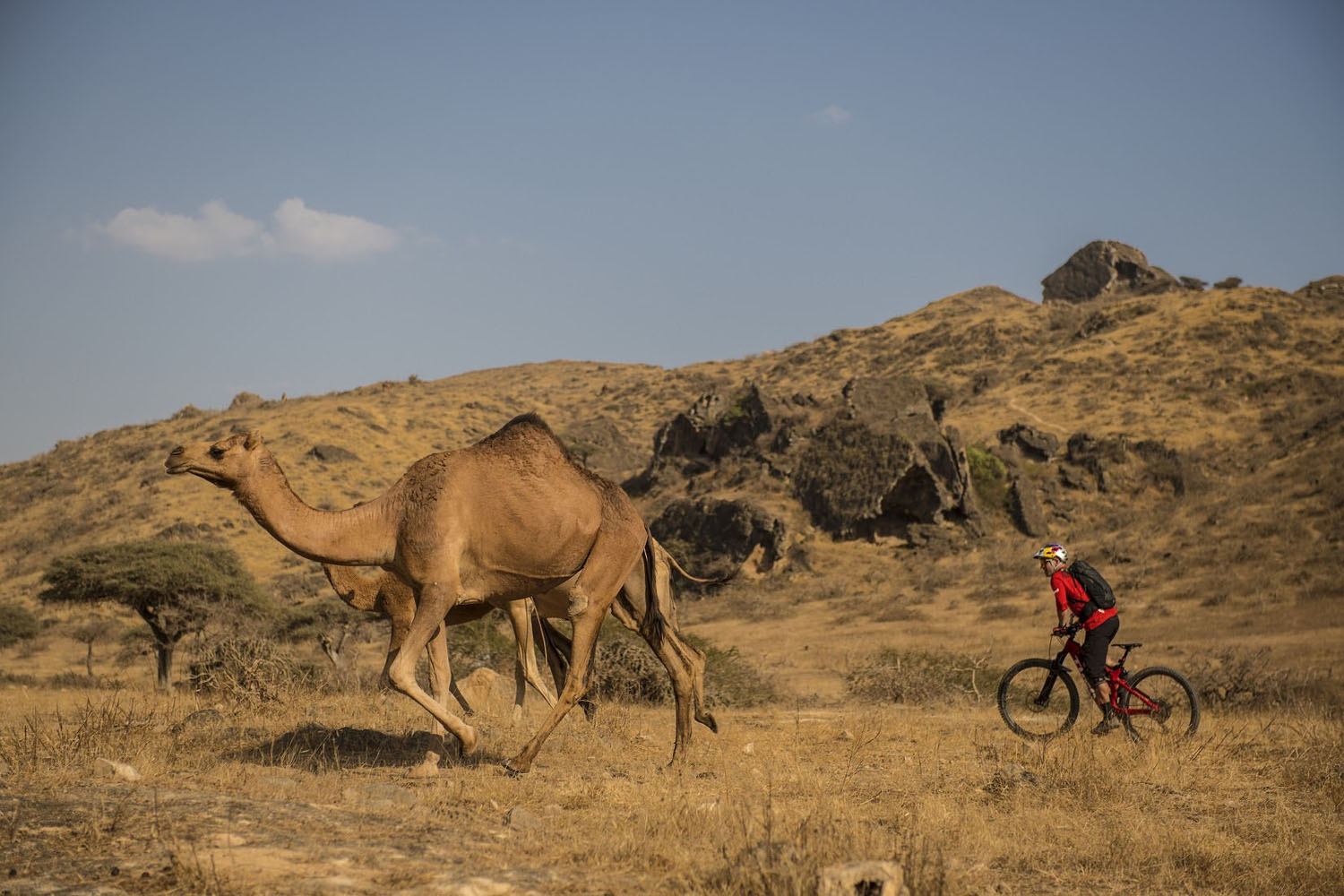 The Sultanate of Oman's Ministry of Tourism, in cooperation with Red Bull International Company, recently organized an exploration tour by Swiss mountain biker René Wildhaber to the mountains in Salalah, following the footsteps of camels, in one of the most fascinating routes in Dhofar Governorate. The legendary biker was charmed by Oman's unique geographical composition and the richness of its natural environment including the pristine beaches and pleasant weather.
René's tour lasted for a full week, filled with challenges and adventures as he allowed the camels to lead his journey amidst the beautiful landscape. He explained that the trail seemed easy at first, but it became increasingly difficult with unexpected twists and turns, while he was consistently being entertained by stunning views of the area, which is also one of the most attractive places in Oman.
René was biking for 7 kilometers for nearly 10 hours every day, in an average temperature of 26 degrees Celsius. He said: "I did not expect to see this richness and natural diversity in Dhofar, as I passed through the vast plains and high mountains interspersed with breathtaking views. I was expecting a sandy desert, but this beautiful land is lush green in autumn, while the governorate is affected by monsoons in the summer."
Wildhaber added: "The way to explore the perfect paths for the journey is by going through the beautiful passages and by tracing them, you see a lot of charm going on with the seasonal migration and you only have to follow it, and you'll find great paths."
Exploring ideal routes through nature using mountain bikes in Dhofar is set to introduce a new form of adventure for tourists visiting the governorate. The legendary mountain biker's journey was filmed to help promote Oman's natural beauty, through the eyes of a professional mountain biker. The film is broadcasted on social media channels of Red Bull International.
Categories