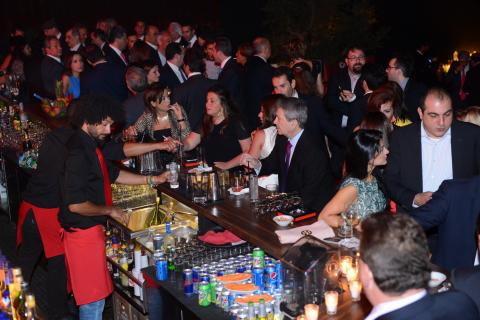 Beirut, June 12 2014 – On Wednesday June 4th, over 450 business leaders and entrepreneurs joined Endeavor Lebanon in its first annual gala, to celebrate High-Impact entrepreneurship in Lebanon and its three years of impact in the country. The event, which was held at Music Hall Waterfront in Beirut, gathered entrepreneurs, senior business executives, VIPs, government officials and Endeavor network members, including  Fadi Ghandour, Founder of Aramex and Board Member of Endeavor Global as key-note speaker. A milestone for the country's flourishing entrepreneurial sector, the Endeavor gala showcased the impact of Endeavor Entrepreneurs on the Lebanese economy and job creation.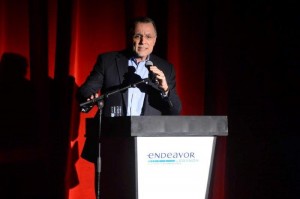 In his keynote, Chairman of the board of Endeavor Lebanon Mr. Sami Khouri underlined that high-impact entrepreneurship holds the key for Lebanon's economic gridlock and can help the country to overcome the social and cultural challenges impeding its development. Tarek Sadi, Managing Director of Endeavor Lebanon also commented that "Lebanon will need 300,000 jobs by 2020 and our best bet lies on the country's high-impact entrepreneurs, who have the capacity to create five times more jobs than similar companies". Sadi thanked Endeavor Lebanon's partners, its VentureCorps who mentor Endeavor entrepreneurs and Endeavor board members, for their commitment to Endeavor and their valuable efforts that facilitated the NGO's mission in developing the country's entrepreneurial ecosystem. "Seeing the outstanding entrepreneurial talent in Lebanon, we are full of hope in the future and we are here to expand opportunities for those entrepreneurs, hand in hand with our VentureCorps from the private sector who generously volunteer their time and knowledge to help guide and mentor entrepreneurs", he added.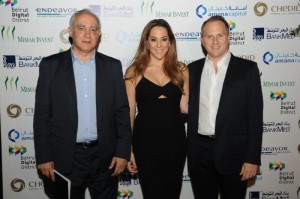 Fadi Ghandour, Founder of Aramex and Endeavor Global Board member spoke about the importance of supporting entrepreneurs as a powerful  game changer in the business culture of the economies of the Middle East. Mr Mouhamad Rabah, General Manager of ZRE the developer of Beirut Digital District and strategic partner of Endeavor Lebanon, said that the work Endeavor is doing is critical for the social and economic viability of the country. "They not only help the country's best entrepreneurs grow and create jobs, they also give young Lebanese hope in their country and their future.  This is why we are proud to be partnering with Endeavor Lebanon", said Rabah.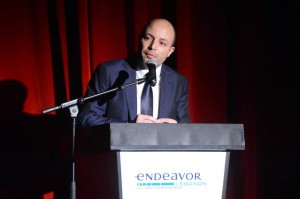 Since its establishment in Lebanon in 2011, Endeavor Lebanon has selected and helped grow 17 Lebanese entrepreneurs leading 13 companies from a range of sectors from over 330 companies it has screened. Endeavor Entrepreneurs have grown their revenues on average by 30% in 2013 through tough economic times, and created more than 275 jobs for young Lebanese over the past three years. Endeavor's efforts also reached university students through case studies, personal entrepreneurs' talks and the development of a talent pipeline with the American University of Beirut, presenting students with internship opportunities with the country's leading entrepreneurial businesses and superior work experience in their fields.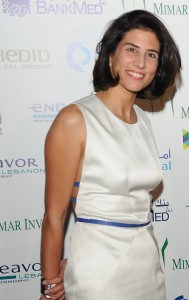 High-Impact Entrepreneur Mrs. Delphine Edde, co-founder of Diwanee, inspired the attendants with her speech about how they overcame the challenges of building the leading digital publishing business from the Middle East. She urged the leaders in the audience to break down the barriers that entrepreneurs face in Lebanon, by supporting them and working with them as clients and partners. Diwanee, which is visited by over 6 million unique viewers every month and has four websites, a Youtube channel and an e-commerce business, has recently been acquired by French media company Webedia, in one of the region's most acclaimed acquisition deals in recent history.
The dinner continued with exciting performances from the Music Hall shows.  The 2014 Endeavor gala was sponsored by Beirut Digital District, Chedid Re, Mimar Invest, Amana Capital and BankMed.  Endeavor was also supported by PrintWorks and its media partner Executive Magazine.
Endeavor Entrepreneurs in Lebanon include to date: Elie Habib and Eddy Maroun (Anghami), Brahms Chouity (At7addak), Mohamad Arayssi and Maha Arayssi Rifai (Beesline), Herve Cuviliez and Delphine Edde (Diwanee), Marc Dfouni and Nemr Badine (Eastline Marketing), Jean-Marc Ingea (Elcir), Rabih Nassar (Element N), Jamil Corbani (Green Studios), Labib Shalak (Mobinets), Taline Assi (Mosaic Marble), Nada Debs (Nada Debs Furniture and Design), Omar Onsi (Nymgo) and Jad Khoury (Print Works).
Established in Lebanon in 2011, Endeavor Lebanon is an affiliate of Endeavor Global, the non-profit organization leading the global movement supporting High-Impact Entrepreneurs in 19 countries around the world.
Endeavor breaks down barriers that prevent entrepreneurs from reaching their high-impact potential. Hailed by NYT columnist Thomas Friedman as the "mentor capitalist" model and "the best anti-poverty program of all," Endeavor identifies entrepreneurs leading high-growth innovative companies around the world.  These entrepreneurs are given world-class strategic advice, access to key networks and other tools that will catapult them to success.  With Endeavor's guidance they become "high-impact" – expanding employment, generating wealth and inspiring others to innovate.  Often overlooked, these local entrepreneurs are now jumpstarting private sector development in their countries.
For more information, please visit www.endeavorlebanon.org, or to request an interview with Mr. Tarek Sadi or one of the Endeavor Lebanon Entrepreneurs, please contact:
Tarek Sadi                                                                                                     Farah Bachacha
Endeavor Lebanon                                                                                    Weber Shandwick
+961 1 216 534                                                                                                  +961 1 428 428
tsadi@endeavor.org                                                           farah.bachacha@ws-mena.com 
Categories