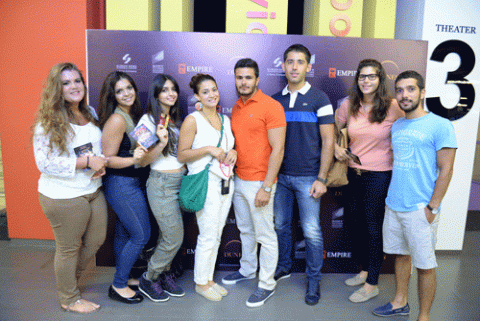 Beirut, June 26, 2014: For the second time this year, Dunes Center in partnership with Empire International and Sony Pictures Releasing International, hosted an Avant-Premiere at Dunes Center in Verdun. "Think like a Man Too" was premiered on June 25, 2014 gathering young adults and media representatives.
A pre-event campaign was activated, where several competitions were held online allowing participants to win tickets to the Avant-Premiere.
The event featured a roadshow prior to the Avant-Premiere by Radio One's very own host, Clint Maximus, who entertained the invitees with battle between the genders activities, which are also in the same spirit of the movie's theme and created a competitive atmosphere.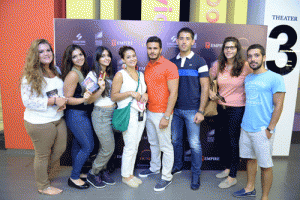 Mr. Ziad Dakroub, Executive Manager at Dunes Center, commented by saying "We chose to premiere this romantic comedy, as it is a reflection of the Lebanese society. Both women and men are increasingly becoming competitive in all fields of life; striving to achieve the unattainable in our tough times. This movie however, adds a pleasant twist to this matter which kept all viewers giggling and amused."
This highly anticipated sequel, directed by Tim Story, was inspired by Steve Harvey's best-selling book "Act like a Lady, Think like a Man". The romantic comedy tells the story where all the couples are back for a wedding in Las Vegas but, plans for a romantic weekend go askew thus, threatening to derail the big event.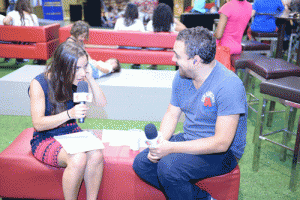 Dunes Center is comprised of five Empire Cinemas movie theatres, fully renovated and equipped with comfortable seats, cutting edge sound systems, proposing a state of the art viewing experience on large screens displaying the latest blockbusters.
About Dunes: DUNES was established in 1997 and is the First Commercial Center in Lebanon truly reflecting the concept of a Mall with an elegant interior and a spacious inner atrium.
DUNES includes various prestigious stores offering Designer Apparel (Aishti, Marina Rinaldi), Sportswear (Guess, Timberland, GS, Springfield), Gifts (Swarovski, TimeZone), cosmetics & fragrance (Beauty Concept & Make Up Forever) and a Beauty Salon by Tony Sawaya.
Also available are a Variety of Cuisines: The Shogun for Sushi Lovers, Casper & Gambini's for all-day Diner lovers, in addition to a rich Food Court including McDonald's,  Zaatar w Zeit, Urbanista & Dipn' Crunch.
DUNES currently has 5 fully renovated Circuit Empire movie theaters showing the latest blockbuster films with state of the art sound system and an exceptional overall viewing experience. Completing the fun package is an Amusement Arcade offering a virtual world of entertainment along with a laser tag room, a Strike Out world class Bowling alley, a Billiard room, and the coolest PS3 and XBOX360 Lounge; in addition to Frizzy the first edutainment center in Lebanon for kids.
Categories