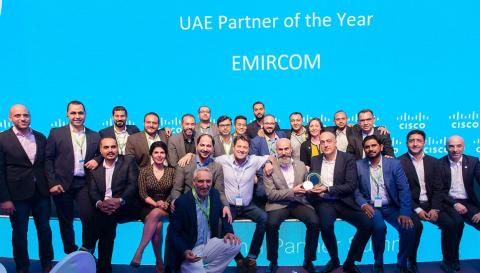 Latest string of awards reflects systems integrator's leadership in providing advanced services through strong partnership with Cisco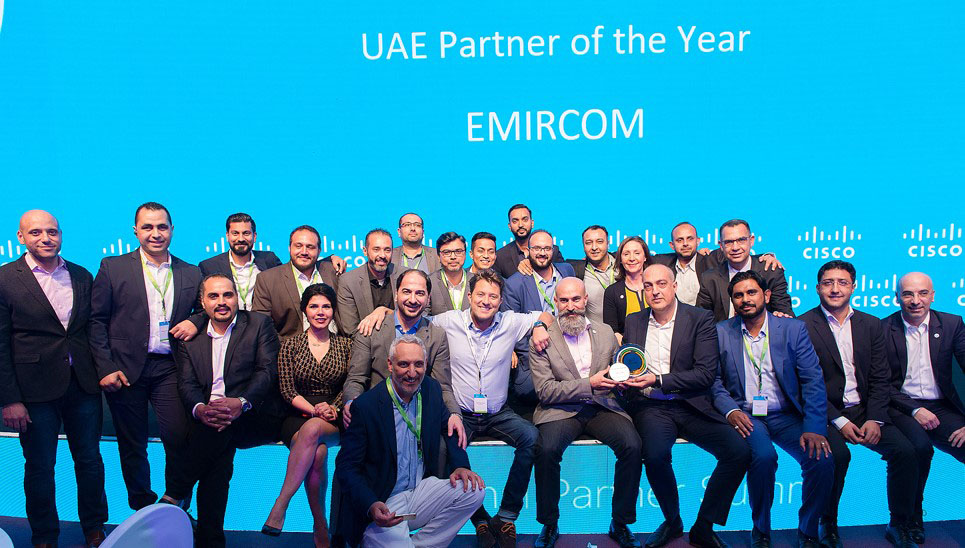 Emircom, one of the UAE's leading systems integrators, bagged new awards during the Cisco Regional Partner Summit held recently at The Ritz Carlton in Dubai. Being recognized as the 'Service Provider Partner of the Year,' 'Commercial Partner of the Year,' 'Highest Adoption at a Customer for Collaboration EA,' in UAE and 'Enterprise Partner of the Year' in Saudi Arabia, reflect the company's efforts as one of the leading channel partners to Cisco, a leading multinational technology conglomerate that develops, manufactures and sells networking hardware, telecommunications equipment and other high-technology services and products.
In addition to the four awards, Emircom received the most prestigious 'UAE Partner of the Year' award, distinguishing itself from the other Cisco partners in the country. The awards received have also prompted Emircom to continue in its commitment to provide customers with the latest Cisco technologies and leading services. Due to its breakthrough performance, including an impressive lineup of Cisco specializations and certifications, which resulted in the company's various client wins and has also led to an increase in its business for Cisco by 30 per cent.
Emircom was also able to provide specific market solutions and develop innovative technologies that catered to clients' unique needs. As per the awards that Emircom bagged, the company was recognized for its Revenue, Certification and specializations, commitment to grow a specific line of Cisco business, and the ability to provide innovative solutions.
The awards emphasize Emircom's reputation as a regional company known for its quality services and solid market performance. The company has been receiving prestigious awards from its vendor partners for its effective delivery of products and services to end-users in the region, an achievement that has been widely maintained over the years. The company has a long-term and strong partnership with Cisco, where it enables local customers to benefit from the latest innovation and creative technology solutions including the Internet of Things (IoT), a technological development led by Cisco that aims to connect people, process, data and things.
Mohamad Abou-Zaki, Chief Executive Officer of Emircom, said: "Emircom has proven once again its strong capability as a leading technology service provider in the region with the five major awards reflecting our constant efforts to deliver the best-in-class services and solutions to businesses in the UAE and the Arab Gulf markets. At Emircom, our team of professionals have a deep understanding of various technologies especially Cisco offering that we deliver and the value it provides to various businesses in UAE & KSA which gives us an edge in ensuring customers' satisfaction and maintaining our existing leading portfolio."
Emircom, a part of Al Nowais Investment Group, is proactively engaged in building its expertise in Fourth Industrial Revolution technologies such as IoT, Artificial Intelligence (AI), Big Data and Cloud Computing. The company has been providing cutting-edge integrated ICT solutions across the Middle East and Africa (MEA) region for more than 30 years, delivering the highest quality of System Integration and Managed Services. Its range of ICT products and services include data centers, cloud services, and security services, among others.
Categories