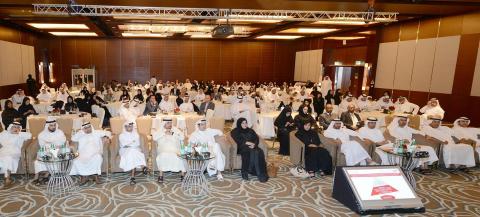 Strategy consists of 4 major themes and 20 strategic objectives that integrates with Dubai Smart City Project and Dubai Government Towards 2021 initiative. 
DSG Strategy aims for mAdoption rates of 60% and eAdoption of 80% by 2021. 
UAE, June 19, 2014 - Dubai Smart Government (DSG) Department announced its strategic plans at the 4th Dubai Smart Government Forum at the Intercontinental Festival City, in the presence of 120 senior government people including director generals, CEOs, IT directors and departmental directors.
The Forum was organized as part of DSG's ongoing bid for implementing the initiative of His Highness Sheikh Mohammed Bin Rashid Al Maktoum, Vice President and Prime Minister of the UAE and Ruler of Dubai, for shifting to the smart government stage and expediting the efforts for Dubai to become the smartest city in the world.
At the inaugural ceremony of the Forum, H.E. Ahmad Bin Humaidan, Director General of DSG, welcomed the representatives of Dubai government entities, stressing the need for integrating government efforts to be able to achieve smart transformation under a connected and integrated government, which is the basic requirement for completing the shift towards a smart government fulfilling HH Sheikh Mohammed's vision on future government. He stressed that Dubai's strengths should be employed for achieving Dubai Crown Prince and Chairman of the Executive Council HH Sheikh Hamdan Bin Mohammed Bin Rashid Al Maktoum's "Dubai Government Towards 2021" initiative by relying on the national qualified staff and Dubai's experiences to remain in the lead and maintain such an advanced position.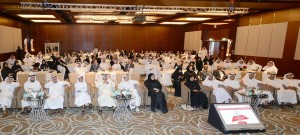 In the first part of the forum, the attendees listened to DSG's vision aimed at enabling Dubai Government to shift to a smart government that would occupy an advanced position worldwide and support "Dubai Government Towards 2021 Vision" by formulating the policies and initiatives related to the innovative and smart use of ICT to ensure Dubai's competitiveness and lead. The agenda of the forum included a detailed presentation of Dubai Smart Government's Strategic Plan
2014-2017, which had recently been presented and approved by Dubai Executive Council under the chairmanship of HH Sheikh Maktoum Bin Mohammed Bin Rashid Al Maktoum, Deputy Ruler of Dubai and First Deputy Chairman of the Executive Council.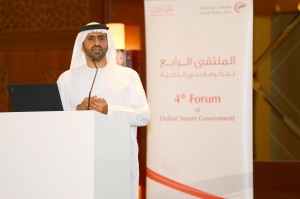 DSG's strategy consists of 4 major themes and 21 strategic objectives aimed at making customers happy and enhancing their confidence in the adoption of smart services. DSG's strategic plan calls for an increase in the uptake of services via smart devices (mAdoption) to 25% in 2017 and 60% by 2021, with eServices (eAdoption) to 60% in 2017 and 80% by 2021. The DSG Consultative Council also created 7 smart and distinctive strategic initiatives that should be implemented within three years; these being: smart systems, smart participation, smart adoption, empowerment of smart employees, smart reliable information, smart data, smart administration and smart services for the happiness of customers.
According to the strategy, DSG will work with government entities to formulate a methodology for the open data and will work with the HR departments of government entities to enhance human capital, develop and implement additional mechanisms for customer commitment through social networking and innovative channels and train government entities, share common marketing campaigns while working with its government partners to formulate regulations and legislation that will be finalized with Dubai Government's Legal Department.
In parallel with DSG strategy, the government entities were called upon to work together to formulate a roadmap for applying their own smart services by attending workshops, sharing their feedback and needs to ensure a high adoption of smart and shared services. The government entities in turn were asked to provide access to their data; take part in joint strategies for enhancing human capital skills; update the government database with the use of smart services; and participate effectively in marketing campaigns for increasing the adoption of electronic and smart services.
About Dubai Smart Government:
Dubai Smart Government is a pioneering initiative in the region to provide government online services across the spectrum of corporate and community life in the emirate. Dubai Smart Government officially directs and supervises the implementation of the process of eTransformation in over 30 government entities and is one of the world's only governments to have established an official eGovernment branch in the capacity of an independent department.
Dubai Smart Government utilizes multiple innovative electronic channels to facilitate interaction and transaction with government services for citizens, residents, visitors and businesses with the goal of making the life of people much easier in their dealings with the government. The official Dubai Government public portal (www.dubai.ae) highlights government initiatives and facilitates the customers' access to more than 2000 service from the services of several government departments, while the official corporate portal of Dubai Smart Government (www.dsg.gov.ae) provides information on the strategy, goals and achievements of the department.
Categories