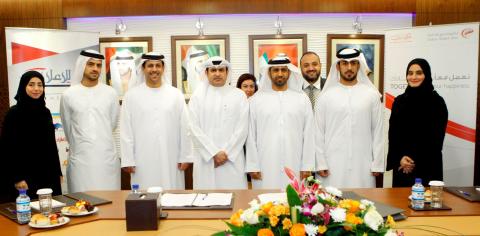 DSG committed to harness all potentials to support government corporate development strategies: Ahmad Bin Humaidan
Latest innovations and scientific studies relying on the best technological practices & apps: Sami Al Qamzi
UAE, June 9, 2014- Dubai Smart Government (DSG) and Dubai Media Inc. (DMI) signed an agreement on June 9, 2014 under which DSG will provide electronic and smart shared services to DMI. The agreement was signed by H.E. Ahmad Bin Humaidan, Director General of DSG, and H.E. Sami Dhaen Al Qamzi, Deputy Chairman and Managing Director of DMI, in the presence of a number of directors and senior officials from both sides. The agreement is aimed at upgrading Dubai government services and ensuring high-quality results and optimal use of government resources in its quest to transform to a smart government.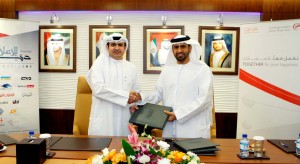 The agreement is aimed at documenting the mutual understanding of the support to be provided by DSG to DMI including shared services such as Government Information Network (GIN), eComplain, eSuggest, SMS Dubai and eSurvey. It stipulates levels and channels of customer support, training, maintaining data, and the use of DSG's ICT services and apps to improve or add new support services to DMI.
Commenting on the signing of the agreement, H.E. Ahmad Bin Humaidan said: "This agreement is in line with our strategy and as per the directives of His Highness Sheikh Mohammed Bin Rashid Al Maktoum, Vice President and Prime Minister of the UAE and Ruler of Dubai, which calls for the electronic and smart services of Dubai government entities to be available round the clock to ensure a high degree of happiness and assurance to all the residents of the emirate."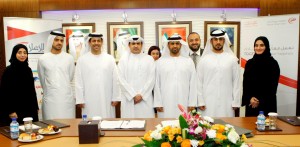 Bin Humaidan pointed out that DSG has a sophisticated infrastructure and shared service systems that all government departments and authorities can benefit from; underlining that signing this agreement will open new prospects for future cooperation with DMI for using more of the shared services that DSG provides. He stressed DSG's commitment to harness all its potentials to support the government corporate development strategies with a view to providing an infrastructure that would support transformation to smart government and contribute effectively to Dubai becoming a smart city.
Bin Humaidan added: "We underscore DSG's keenness on continuing to provide its various electronic and smart shared services to Dubai government entities including the government resources planning (GRP) systems, which run all Dubai Government's basic back-office operations. Such electronic and smart services also includes GIN and the electronic service bus, our electronic infrastructure which connects 50 high-speed points of contact with government entities for the smooth and secure transfer of information in smart city Dubai. Our support underscores our commitment to provide sophisticated channels with the aim of consolidating the shift to smart government where DMI plays a key role in ensuring continuous provision of its services to society via smart and innovative channels."
H.E. Sami Dhaen Al Qamzi, Deputy Chairman and Managing Director of DMI said:  "Signing the memorandum of understanding (MoU) with DSG comes as part of DMI's bid to keep pace with Dubai Government's strategic objectives in line with the initiative of His Highness Sheikh Mohammed Bin Rashid Al Maktoum, Vice President and Prime Minister of the UAE and Ruler of Dubai, for switching to the smart government model. The MoU also underlines the importance of continuous co-operation and communication among the various government entities in Dubai in line with the directives of His Highness Sheikh Maktoum Bin Mohammed Bin Rashid Al Maktoum, Deputy Ruler of Dubai and Chairman of DMI, for supporting and encouraging innovation and creative partnerships and taking part in all activities."
Al Qamzi pointed out that the shift to smart government in DMI would incorporate new smart electronic projects to be announced shortly in the field of productivity management and general performance of DMI's multiple departments. These projects are aimed at implementing all the phases and making all the necessary steps before the end of 2014, enabling all DMI's internal services to become smart for the purpose of consolidating customer satisfaction and adopting the world's best practices as per the highest quality and excellence criteria, by relying on the latest innovations, scientific studies and implementing the best technological practices and apps.
 According to the agreement, DSG will strive, when providing support services, to achieve the key performance indicators (KPIs) and operating objectives as agreed by the two parties through the supervision of the Customer Services Section at the Communication & Business Development Department and its follow-up of the commitment to the agreement with DMI.
About Dubai Smart Government:
Dubai Smart Government is a pioneering initiative in the region to provide government online services across the spectrum of corporate and community life in the emirate. Dubai Smart Government officially directs and supervises the implementation of the process of eTransformation in over 30 government entities and is one of the world's only governments to have established an official eGovernment branch in the capacity of an independent department.
Dubai Smart Government utilizes multiple innovative electronic channels to facilitate interaction and transaction with government services for citizens, residents, visitors and businesses with the goal of making the life of people much easier in their dealings with the government. The official Dubai Government public portal (www.dubai.ae) highlights government initiatives and facilitates the customers' access to more than 2000 service from the services of several government departments, while the official corporate portal of Dubai Smart Government (www.dsg.gov.ae) provides information on the strategy, goals and achievements of the department.
Categories