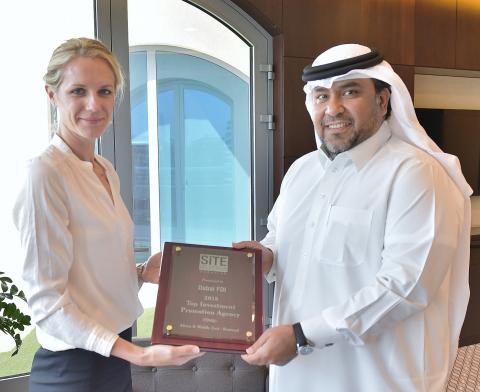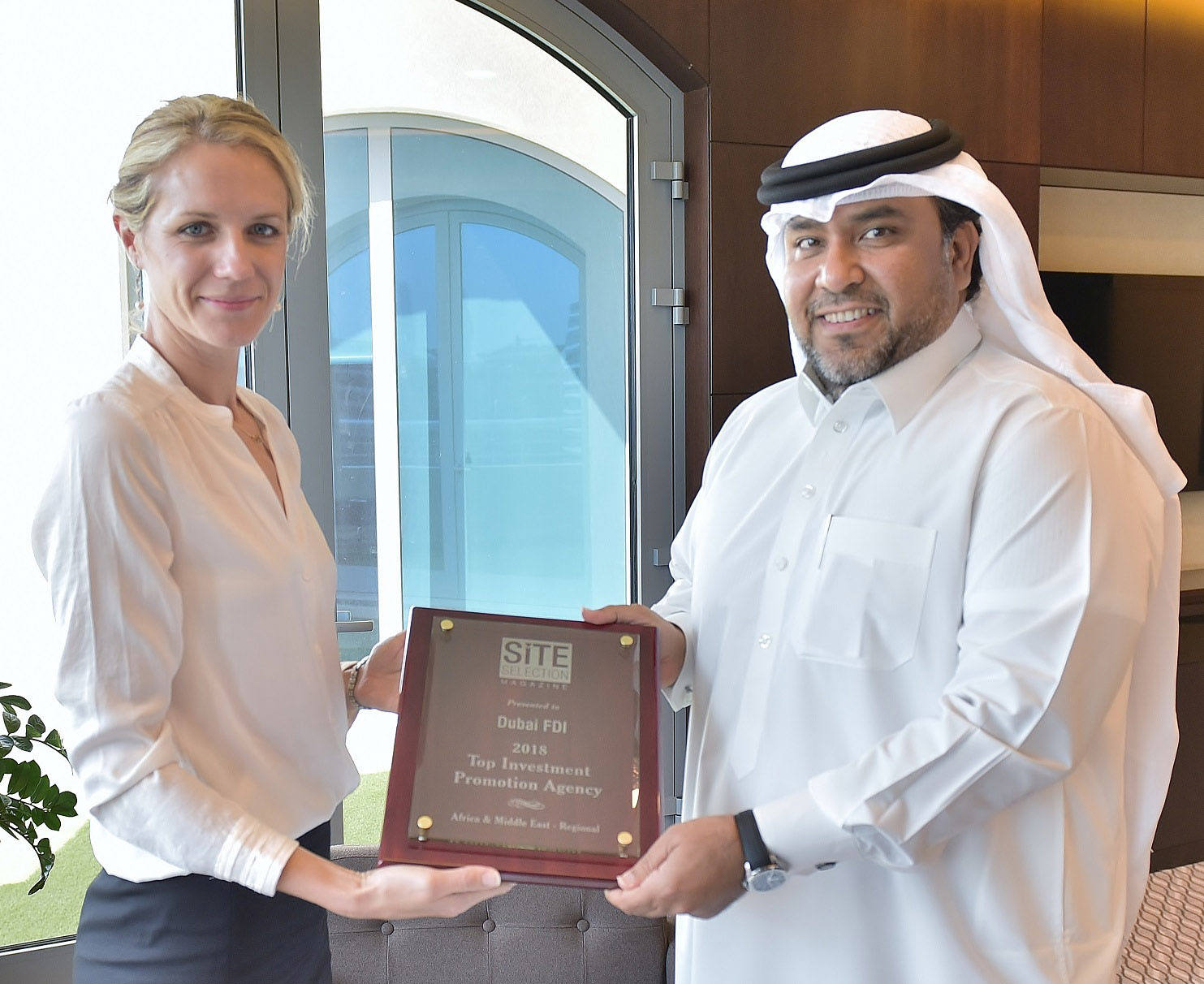 Deputy CEO khalid Al Boom receives award from Site Selection for Dubai FDI as 'Top Investment Promotion Agencies Africa & Middle East – Regional'
Dubai FDI has been recognized recently for its leading role in attracting foreign investments to the UAE and the region. Site Selection, a global investments publication based in the United States named Dubai FDI as the region's first-ever 'Top Investment Promotion Agencies Africa & Middle East – Regional.' The award was received by Khalid Al Boom, Deputy CEO of Dubai FDI at the agency HQ in Dubai. The main metrics for evaluation are focused only on corporate investment facts and figures, economic growth and job creation.
The award has further strengthened Dubai's reputation as an ideal global investment destination – highlighting once again its competitiveness and attractiveness as an investment haven. Dubai and the UAE has continuously been attracting investors worldwide for its high quality of investment opportunities it offers, supported by advanced infrastructure, updated policies, laws and services that enable investors to facilitate business growth.
Dubai FDI, a non-profit partner for overseas companies and investors offering comprehensive business advisory and networking assistance services in Dubai, has been instrumental in driving foreign investments into the emirate and enabling sustainable growth for businesses through initiatives that emphasize Dubai's features as a preferred business destination such as world-class infrastructure, strategic location and business-friendly environment.
"It is major achievement for Dubai FDI to receive this award from global industry experts and we thank Site Selection for their initiatives and for underscoring the vital role of investment agencies in attracting foreign investments into the country, as well the region. Dubai continues to enjoy the respect of investors worldwide, considering it as a leading investment hub in the region for its conscious efforts at establishing a business environment that is conducive for capital investments to grow," said Khalid Al Boom, Deputy CEO of Dubai FDI.
Dubai FDI provides a development and expansion platform for global companies, which is essential in the successful implementation of its economic diversification strategy focused on manufacturing, logistics, information technology, retail, travel, tourism, healthcare and education, and green technologies. The agency has been effectively promoting key incentives for investors such as tax-free business growth, ease-of-business free zones and unlimited profit repatriation.
Along with other investment agency awardees, the US magazine is also publishing in its May 2018 the annual rankings of the 'Global Best to Invest' locations in the world, to highlight the countries as well as national and regional economic development offices that have remarkably attracted capital investment projects in 2017.
Conway Inc, owner of Site Selection and organizer of the award, reviews the investment performances in key regions as well as the major players which facilitate the entry of these foreign investments into their respective countries following a rankings' methodology based on an index of data from the proprietary Conway Projects Database. The database tracks private sector facility projects worldwide, including other global economic data sources.
About Dubai FDI:
Dubai Investment Development Agency (DUBAI FDI) is an agency of Dubai Economy – Government of Dubai. DUBAI FDI develops, promotes and supports Foreign Direct Investment (FDI) opportunities to facilitate investors' success, growth and expansion in Dubai, the United Arab Emirates and across regional and international markets.
Categories