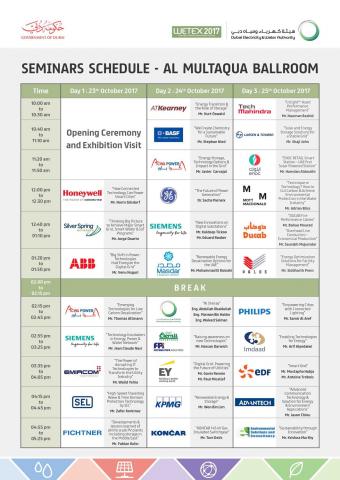 Saeed Mohammed Al Tayer: I invite the public and professionals to participate actively in these special seminars to learn about the latest sustainability, environment, renewable energy and green economy issues around the world
HE Saeed Mohammed Al Tayer, MD & CEO of Dubai Electricity and Water Authority (DEWA), Founder and Chairman of WETEX, called on the public, specialists, and stakeholders to participate in the distinguished seminars organised by DEWA, on the most important issues of sustainability, renewable energy, green economy and sustainable cities. These are being held at the Water, Energy, Technology, and Environment Exhibition (WETEX) 2017, and the second Dubai Solar Show, from 23 to 25 October, at the Dubai International Convention and Exhibition Centre.
DEWA organises WETEX, under the theme 'At the forefront of sustainability', in line with the directives of HH Sheikh Mohammed bin Rashid Al Maktoum, Vice President and Prime Minister of the UAE and Ruler of Dubai; and under the patronage of HH Sheikh Hamdan bin Rashid Al Maktoum, Deputy Ruler of Dubai, Minister of Finance and President of DEWA.
"Under the directives and vision of HH Sheikh Mohammed bin Rashid Al Maktoum, and as part of DEWA's on-going efforts to make Dubai a global hub for sustainability and green economy, and promoting a culture of sustainability and conservation, we have organised these seminars to inform the public and stakeholders about sustainability, the environment, renewable energy and the challenges facing cities in their journey towards sustainability. These seminars will be attended by leading experts, professionals, and representatives of major companies and institutions working in these vital fields from all over the world. Through these seminars, we aim to transform WETEX and the Dubai Solar Show, and their related activities into an integrated and comprehensive platform to achieve the desired goals of creating global momentum on sustainability and environmental conservation issues, particularly in the fields of energy, renewable energy, green technologies, desalination, and technology in general. This comes in line with our vision of being a sustainable innovative world-class utility," said Al Tayer.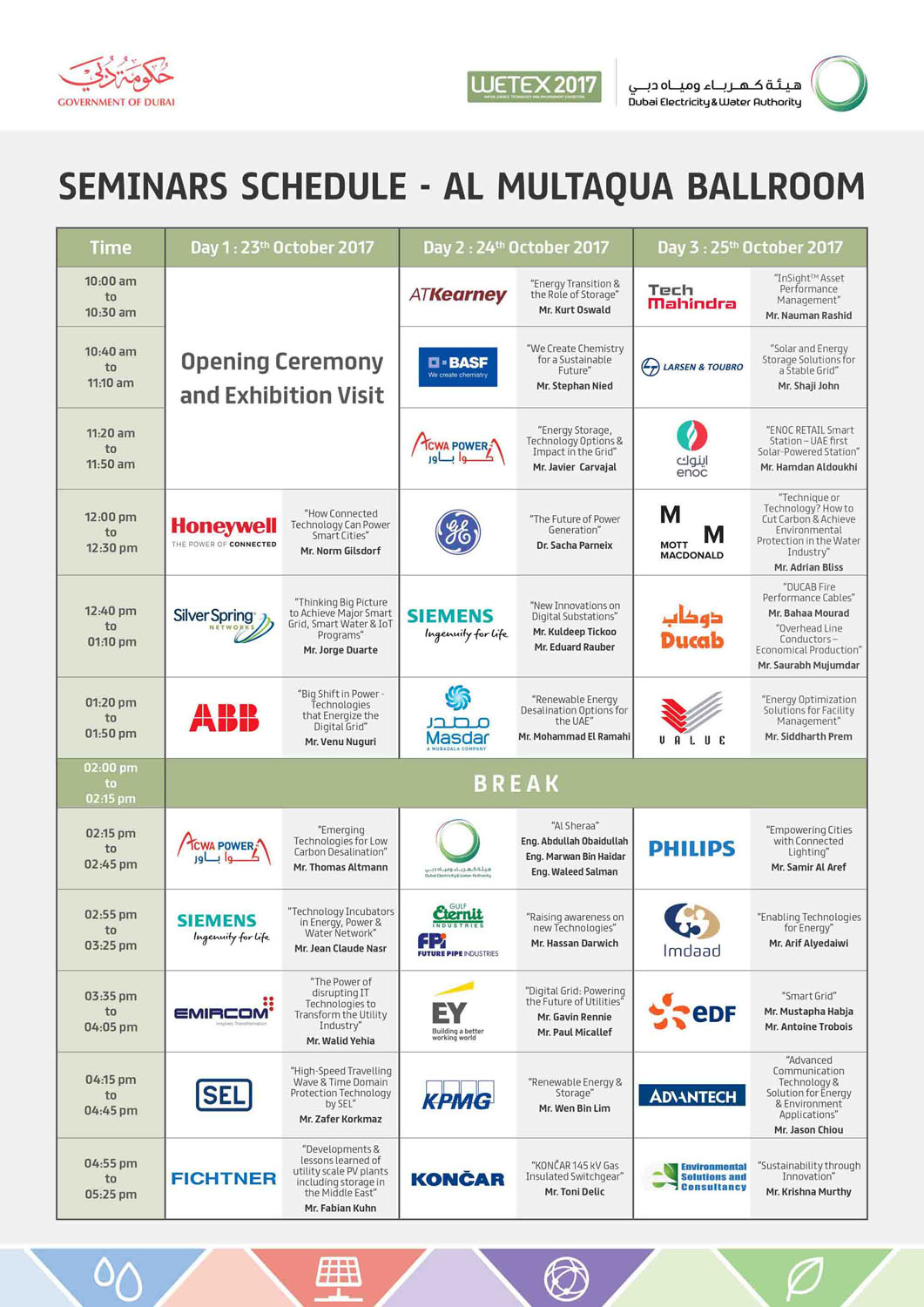 "In three days, the public can take advantage of world-class seminars and panel discussions, with experts and senior officials from local and international companies and institutions, such as Siemens, Philips, Honeywell, InnoviMobile, ABB, Aqua Power, the United Nations Framework Convention on Climate Change, Carbon Tanzania, the EU-GCC Clean Energy Network, the UAE Ministry of Climate Change and Environment, the Emirates Wildlife Society in association with WWF (EWS-WWF), the Clean Energy Business Council, Regulation & Supervision Bureau (RSB), the International Renewable Energy Agency (IRENA), Emirates National Oil Company (ENOC), Masdar, Ducab, Imdad, and others. There are excellent opportunities to meet with worldwide experts and decision-makers, hear them, discuss issues of mutual interest, and maximise the benefits of raising awareness and educating the community about the environment and sustainable lifestyles for a bright future, for us and for generations to come," added Al Tayer.
Seminars and panel discussions will start from 10:00 am to 5:30 pm, with 8 consecutive sessions throughout the day. Topics include climate change, energy transformation, the future of the energy sector, the implementation of the Paris Climate Convention, the role of the MENA region in implementing it, the importance of energy efficiency to meet its objectives, and the best global practices in energy efficiency programmes, as well as financing renewable energy projects and regulatory frameworks, current challenges to enhance reliance on renewable energy in the region, solar energy technologies such as thin-film PV panels, and thermal energy storage applications. The seminars will also address the role of cities in tackling climate change, Dubai's sustainability initiatives, solar energy projects, and electric vehicle (EV) charging stations, as well as topics related to smart networks, low-carbon desalination technologies, digital networks, and facilities management solutions. On the other hand, the panel discussions will address power transmission lines, cables, distribution networks, asset management, sustainability and innovation, among others.
For more information on the schedule of the seminars and discussions, please visit: https://www.wetex.ae/ar/seminar/SeminarRegistration#
WETEX 2017 is held under the umbrella of the fourth Green Week, covering a surface area of over 70,000 square metres, with 2,000 exhibitors from 50 different countries. In addition, Dubai Solar Show, which will be held on a total surface area estimated at around 14,000 square metres, with 28 sponsors, will be attended by 90 exhibitors from around the world. The two events coincide with the fourth World Green Energy Summit (WGES), during which over 60 speakers from all over the world will focus on key topics, such as Smart Cities, Green Economy, Innovation, and Sustainable Development.
Categories