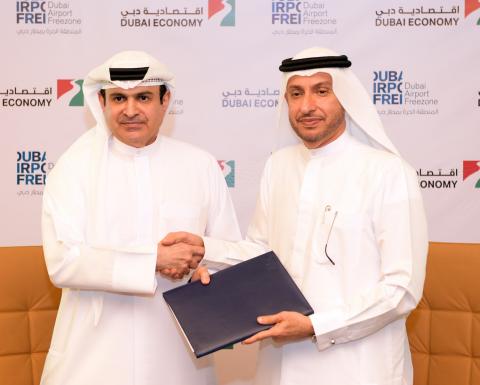 Move in line with MoU with DED to strengthen Dubai's position as global economic hub, increase investment flows to Dubai & UAE
The Dubai Airport Freezone Authority (DAFZA), Dubai's premier freezone aims at attracting local and national foreign direct investments (FDIs), recently signed a Memorandum of Understanding (MoU) with the Department of Economic Development (DED) in Dubai to allow DAFZA's hosted companies to obtain dual licenses to operate across Dubai. The MoU is in line with intensified efforts between DAFZA and DED to support the Dubai Government's goal of establishing a diversified and flexible knowledge-based economy driven by innovation and investment.
The agreement aims to strengthen cooperation on initiatives targeting all aspects related to providing economic support for DAFZA's main services. It will also facilitate collaboration on areas of common interest that help achieve the strategic objectives of both parties. H.E. Dr. Mohammed Al Zarooni, Director General of DAFZA, and H.E. Sami Dhaen Al Qamzi, Director General of DED, were the official signatories.
The MoU aims to enhance coordination through the licensing and activities of companies operating in DAFZA. Applicants must obtain the approval of the freezone first, in accordance with the stipulated conditions.
Under the terms of the agreement, DED may modify or add any activity related to the licenses of companies subject to the approval of DAFZA. Both parties will work closely to improve the levels of governance, compliance and transparency for businesses working within DAFZA. They will also monitor and inspect licensed companies to ensure their compliance with the applicable laws on various commercial activities, particularly the Law on the Suppression of Fraud and Deception in Commercial Transactions, the Consumer Protection Law, the Commercial Transactions Law and Commercial Agencies Law.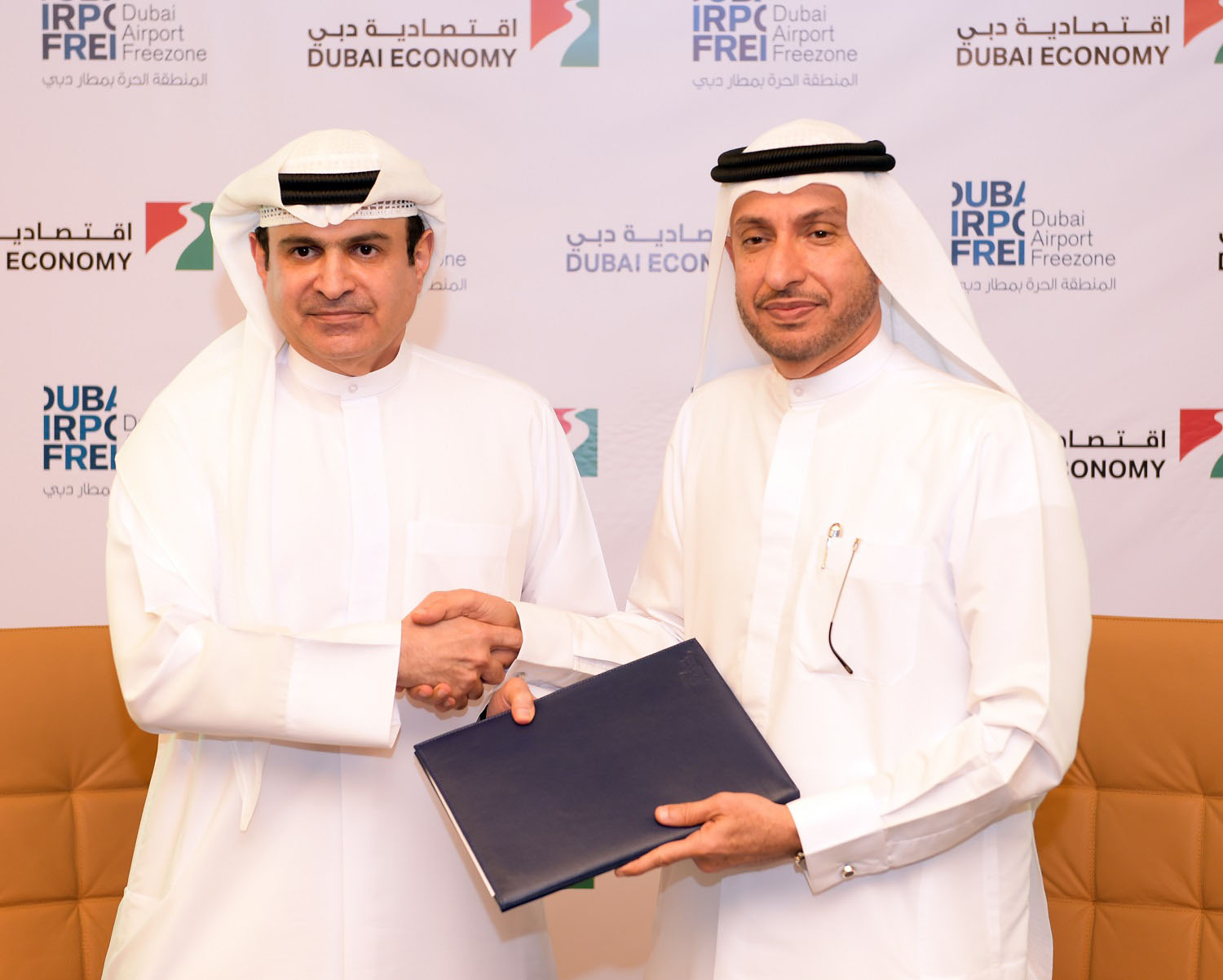 H.E. Dr. Mohammed Al Zarooni, Director General of DAFZA, and H.E. Sami Dhaen Al Qamzi, Director General of DED, during the MoU signing
H.E. Dr. Al Zarooni said: "The MoU complements DAFZA's leading role in increasing the flow of FDIs, and is in line with our Strategic Plan for 2017 to 2021 which sets goals that support the national and economic objectives of our wise leadership as well as the ambitious strategic targets of the Dubai Government. We are confident that this new licensing agreement will add significant value to the economy of Dubai and the UAE in general, as it will help attract international investors and offer a unique business experience serving the best interests of companies operating within the freezone."
H.E. Sami Al Qamzi, Director General, Department of Economic Development, said: "We at the Department of Economic Development are committed to improving our services to achieve sustainable economic development and enhance competitiveness as well as convenience so that businesses in Dubai can cope with continuous changes and concentrate their time and efforts on growth. The agreement with DAFZA aims to streamline procedures by diversifying the service channels of our Department and enhancing transparency in licensing free zone entities. In order to implement the principle of transparency in the retail sector, the DED will supervise and inspect the licensed institutions to ensure compliance with the laws related to commercial activities especially federal laws, particularly the Anti-Commercial Fraud Law, Consumer Protection, Commercial Transactions and on Commercial Agency."
H.E. Al Qamzi added that DED will continue to develop Dubai's business environment to remain competitive in line with the emirate's world-class infrastructure. "We are guided by the vision of His Highness Sheikh Mohammed Bin Rashid Al Maktoum, UAE Vice President and Prime Minister and Ruler of Dubai, to make Dubai a preferred place to live, work and visit as well as a smart and sustainable city and a pivotal hub of the global economy by 2021," he said.
The MOU signing ceremony concluded with a tour of the DAFZA Square for the DED delegates. The group visited the Square's modern facilities such as the new Business Center and Auditorium equipped with state-of-the-art technology and equipment to provide a unique quality experience for the freezone's investors.
At the end of the tour, H.E. Dr. Al Zarooni and H.E. Al Qamzi visited GE Aviation's Middle East Aerospace Technology Center which provides data analysis, bandwidth and software capabilities to increase productivity and reduce downtime for dealers using 'Predix,' the cloud-based software platform for all of GE's industrial Internet applications. Launched in November 2015, the Center, is contributing to upgrades on General Electric systems and engines from DAFZA and plays a major role in supporting GE's customers and products in the region.
Categories