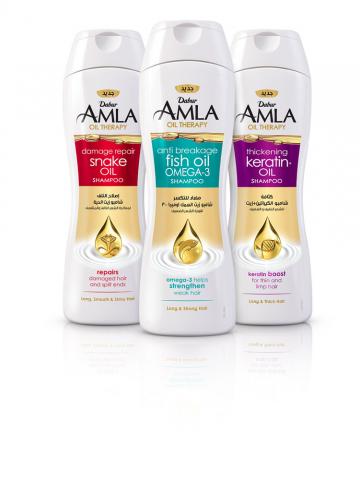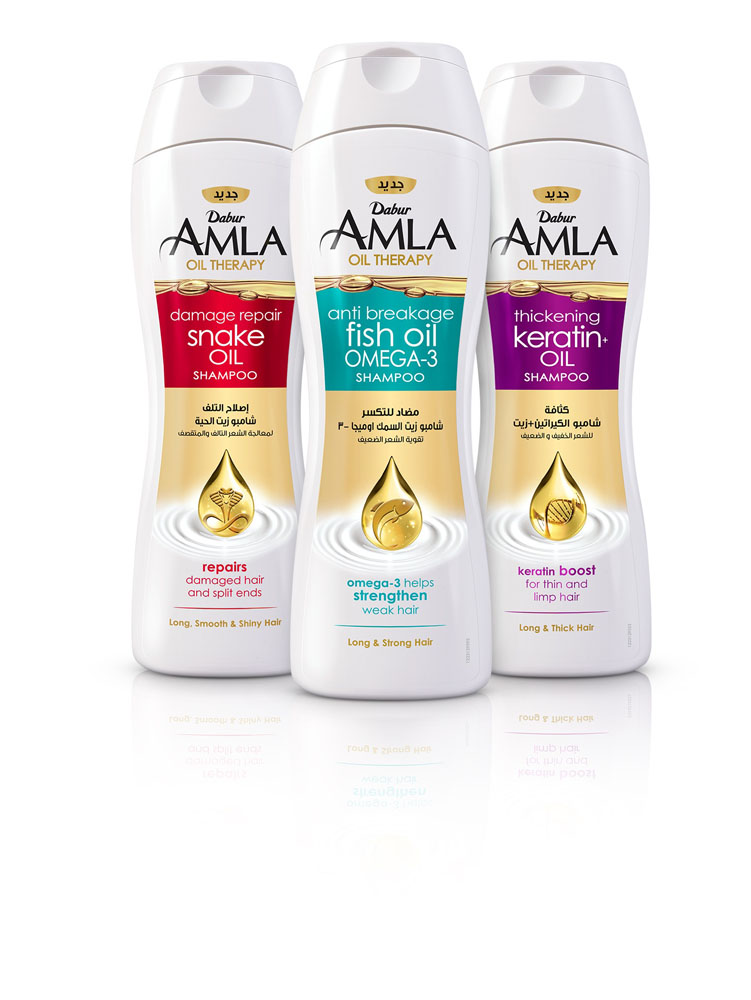 Latest range aims to address pressing hair concerns such as dullness, split ends & hair fall
Dabur International recently unveiled its new Dabur Amla Shampoo product line that now comes in a more vibrant and attractive packaging to carve a deeper market niche in the Middle East's rapidly growing shampoo segment. The three new variants are a combination of oil and shampoo designed to strengthen hair and make it shinier, fuller, and healthier with the help of its unique formulation.
The new range consists of Keratin Oil, Fish Oil Omega-3, and Snake Oil. Dabur Amla Thickening Keratin Oil Shampoo is packed with keratin to repair and rebuild damaged hair. The special oil shampoo is formulated to help improve hair thickness and hair volume.
The new shampoo range also effectively helps in strengthening the roots, thereby promoting hair growth of up to three centimeters within three months.
Dabur Amla Anti-Breakage Fish Oil Omega-3 Shampoo effectively addresses hair fall. Thanks to its main ingredient fish oil omega-3, this variant helps nourish hair follicles, prevents scalp dryness, and strengthens hair roots to prevent hair fall.
Lastly, Dabur Amla Damage Repair Snake Oil Shampoo replenishes lost oils and revitalizes hair. Consumers can now say goodbye to split ends through this special shampoo range.
Mohit Malhotra, CEO, Dabur International, said: "The new and enhanced Dabur Amla Shampoo range is testament to our relentless efforts to discover essential ingredients that will help us develop innovative products with wide-ranging benefits for our TG. This new range of Dabur Amla Shampoo is fortified with proven ingredients known for their wide-ranging benefits. We have incorporated keratin, fish oil omega 3, and snake oil into our new range of shampoos to offer solutions for hair fall problems, split ends, dullness and bring new life and confidence to our consumers."
"Many customers attest to how combining oil and shampoo has made a big difference to their hair, and this is clearly visible in the remarkable growth in this segment. We are certain our oil shampoo range will build the same strong following and warm reception from the market as our Dabur Amla Hair Oil, the world's number one hair oil brand," Malhotra added.
The CEO also noted that Dabur Amla Shampoo's new packaging design aims to make it stand out among other brands and help loyal customers easily identify the brand. Keratin Oil, Fish Oil Omega-3, and Snake Oil are available in convenient packs of 400ml at SAR 12 and 200 ml at SAR 7.
Dabur International, a wholly owned subsidiary of Dabur India, has an overall turnover of more than USD 1.3 billion and a market capitalization of around USD 8 billion. Dabur's International Business Division headquartered in Dubai is the cornerstone of its growth strategy, reaching a milestone of AED 1 billion within only eight years of its existence.
Categories