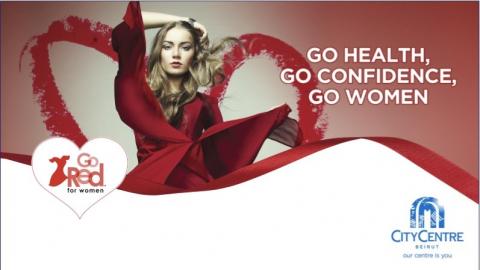 Increased awareness about heart disease, by promoting Health and Confidence for all women! 
Beirut, June 16th,2014: City Centre Beirut, the city's fashion and entertainment destination, reaches out to Lebanese women to help save their lives.
During the month of May, and for the second year in a row, City Centre Beirut partnered up with AUBMC, the leading reference in medical care. Together the two parties have launched the "Go Red for Women" initiative founded by the American Heart Association; aimed at creating awareness around the need of conducting regular tests to prevent and minimize any risks of heart and other related diseases.
Commenting on this occasion, Sleiman Mallat, Senior Mall Manager at City Centre Beirut stated: "Because women are the pivotal backbone of the community and the family, Majid Al Futtaim Properties has committed to a comprehensive initiative to empower women in the Arab World. Go Red for Women reflects a regional approach from Majid Al Futtaim Properties, adopted by City Centre Beirut to promote women's health and educate them on the importance of regular testing to avoid any health risks."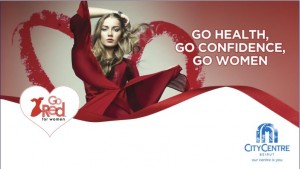 The program was launched in light of the fact that heart disease and stroke is the number one cause of death among women worldwide; killing more women than cancer, tuberculosis, HIV, aids and malaria combined. A staggering 64% of women who succumb to cardiovascular disease do not even know they had it.
City Centre Beirut, under the patronage of the American Heart Association and AUB Medical Center, offered free CPR trainings, free testing and consultations for BMI (body mass index), Blood Pressure, Blood Sugar and Cholesterol along with consultations from physicians and health educators.
With the right information, education and care, heart disease in women can be treated, prevented, and even ended. Together, with our joined forces combined, Beirut City Centre aims to stand against the number one cause of death among women today through awareness and continuous testing. Join the movement and help spread awareness, #GRFWLebanon by City Centre Beirut.
About Majid Al Futtaim
Founded in 1992, Majid Al Futtaim is the leading shopping mall, retail and leisure pioneer across the Middle East and North Africa (MENA).
A remarkable business success story, Majid Al Futtaim started from one man's vision to transform the face of shopping, entertainment and leisure, and to create great moments for everyone, every day. It has since grown into one of the United Arab Emirates' most respected and successful businesses spanning 12 international markets, employing over 26,000 people, and achieving the highest credit rating (BBB) among privately-held corporates in the Middle East.
Majid Al Futtaim owns and operates 17 shopping malls, 11 hotels and three mixed-use communities in MENA, with further developments underway in the region. This includes Mall of the Emirates, City Centre malls, and also 4 community malls which are in joint venture with the Government of Sharjah. It holds exclusive rights to the Carrefour franchise in 19 markets across MENA and Central Asia, operating a portfolio of over 50 hypermarkets and over 50 supermarkets in 12 countries.
Majid Al Futtaim operates 92 VOX Cinema screens and 17 Magic Planets across the region in addition to iconic leisure and entertainment facilities such as Ski Dubai and iFly Dubai among others. Majid Al Futtaim is parent to the consumer finance company issuing 'Najm' credit cards, a fashion retail business and a healthcare business. In addition, it also has a joint venture operation with Dalkia and has recently expanded into food & beverage in partnership with Gourmet Gulf.
Categories