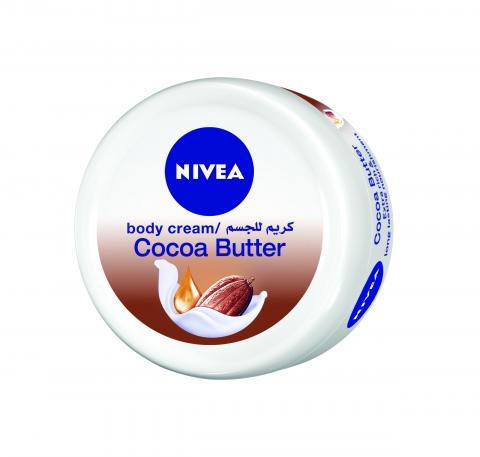 NIVEA launches Cocoa Butter Lotion & Cream for intensively nourished skin all day long
Dubai UAE, May 2014: Every woman wants silky, glowing skin that looks healthy, and smooth to the touch. Introducing new NIVEA Cocoa Butter Body Lotion and Cream which not only makes your skin feel well moisturized, but provides richest care and cocoa indulgence.
The irresistibly scented range instantly smoothes away dry skin for intensive and long-lasting moisture which keeps skin soft and radiant.
According to NIVEA skincare experts, to lock in moisture, you need ingredients that boost the skin's natural moisture and improve its moisture-retaining capacity.  The non-sticky innovative formula combines NIVEA's exclusive Hydra IQ technology with nature identical mositurining ingredients of Cocoa Butter and Vitamin E. All of which gives you irresistibly soft skin, long-lasting skin and a natural healthy glow.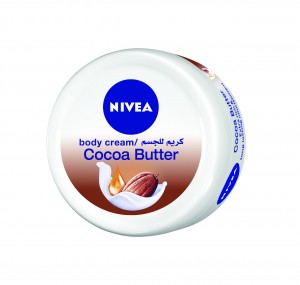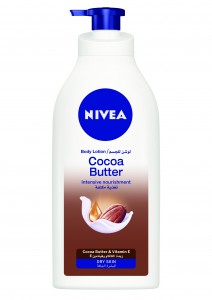 Cocoa Butter, a favored body care ingredient of women in the region, is indulgent and intensively nourishes your skin with deep, long-lasting moisture to smooth away dullness. A derivative of the cacao bean, cocoa is commenly used in making chocolate but is also the pefect natural ingredient to use in body lotions, due to its glourious sweet scent, moisturizing properties and skin-smoothing benefits. It remains one of the most popular natural skin moisturising ingredients because it easily melts into the skin and effectively soothes and restores the skin's natural protective barrier.
Due to the high concentration of natural fats within the cocoa bean this ingredient melts easily at body temperature and is rapidly absorbed to retain invisible moisture. When Cocoa Butter lotion is massaged into the skin, it also provides an aroma therapy experience, as the delicious feminine scent envelopes the senses with notes of ylang-ylang, jasmine, warm sensual vanilla and cocoa which further promotes the feelings of relaxation and well-being.
Vitamin E, a natural skin-conditioning vitamin with both antioxidant and anti-ageing benefits also enhances the moisture retaining function of the product which can easily be worked into the skin.
The NIVEA Cocoa Butter Body Lotion is ideal for many of the skin care needs as it is the perfect solution to deeply nourish dry skin.
The NIVEA Natural Cocoa Butter Body Lotion is available in all leading supermarkets
About Beiersdorf AG
Cosmetics company Beiersdorf AG is based in Hamburg, Germany, and has around 16,500 employees worldwide. Its sales in 2012 amounted to €6 billion and it has been listed on the DAX since December 2008. Beiersdorf's NIVEA is the world's No.1 skin care brand*. Other names in its successful international brand portfolio include Eucerin, La Prairie, Labello, 8x4, and Hansaplast/Elastoplast. Subsidiary tesa SE is one of the world's leading producers of self-adhesive products and system solutions for industry, craft businesses, and consumers. Beiersdorf has more than 130 years of skin care experience and is known for its innovative and high-quality products.
For further information please contact:
Beiersdorf Middle East
Email: Shaima.Tahboub@Beiersdorf.com
Categories