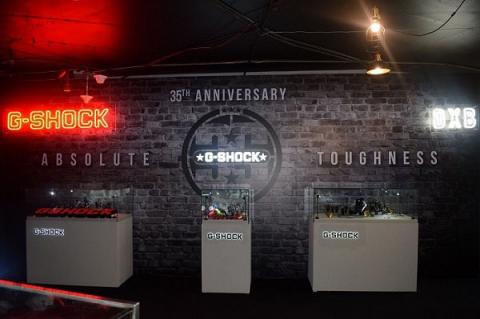 CASIO to convey 'real toughness' in shock-resistant timepieces to young Arab consumers and brand fans
 Globally, Casio is celebrating the 35th anniversary of G-SHOCK brand that was first introduced in Japan back in 1983 and since then relentlessly delivered real toughness to G-Shock enthusiasts around the world. In commemoration, Casio Middle East had kicked-off with a long road-show style tour in the Middle East and North Africa (MENA) covering major Arab countries starting from the UAE as a kick-off market. From the Emirates, the tour will make a stop in other markets in the GCC, Levant, and North Africa to highlight the ''real toughness'' of shock-resistant timepieces to all young Arabs, and to G-Shock fans and enthusiasts.
Top executives from Casio Middle East and Casio Japan, led by Managing Director Koji Naka, graced the kick-off celebration held at On42 in Media One Hotel on February 28, 2018 alongside influencers, personalities and rappers, namely, Moh Flow, Freek, Majeed and Menon; DJ's AY and DJ Liutik; MC Big Hass; BMX rider Muhammad Abdulmajeed and Calligraphy artist Diaa Alam. Timepiece Sr. Product Marketing Manager, Mohammed Deiki and Timepiece Deputy General Manager Mahmoud Jabsheh also joined Naka as two distinguished speakers who emphasized the evolution of the brand over the years and its legacy during the event.
Naka said, "Casio is all geared up for its MENA celebration, which will be highlighted by tours from our team to throw the spotlight on G-SHOCK's shock-resistant structure based on the 'real toughness' concept and how this suits the fast-paced and dynamic lifestyle of many young Arabs today. The tour will start here in the UAE, which is our kick-off market, followed by other markets in the GCC, Levant Arabia and North Africa. This roadshow aims to drive up awareness on why G-SHOCK has maintained industry leadership over the last three decades and a half—showcasing how each timepiece is packed with Casio innovations and technologies, the iconic timepiece consists of fundamental elements that the MENA region will find highly functional and essential."
The UAE event came on the heels of a memorable anniversary festivity in New York City where G-SHOCK executives and friends honored the brand's legacy. Celebrities, actors, and influencers were present during the New York gathering.
Since the launch of its very first model, G-SHOCK has continued to raise the bar high by leveraging Casio's commitment to innovations and modern technologies. It has evolved over decades with improved functions and performance in keeping with the needs of contemporary times.  The shock-resistant watch enjoys a wide and loyal following in the UAE and different parts of the globe and the number is growing steadily mainly thanks to its absolute toughness and innovative features.
  The development of G-SHOCK began in 1981 with an engineer's passion to create a rugged watch that would not break even if dropped. Two years and over 200 prototypes later, the first G-SHOCK model, the DW-5000C, featuring an all-new shock-resistant construction, was released in April 1983. It overturned the accepted notion that wrist-watches were inherently fragile and susceptible to shocks, paving the way for a new product category called the "tough watch."
The G-SHOCK Red Out Limited edition watches are available at Virgin Megastore, Mall of the Emirates.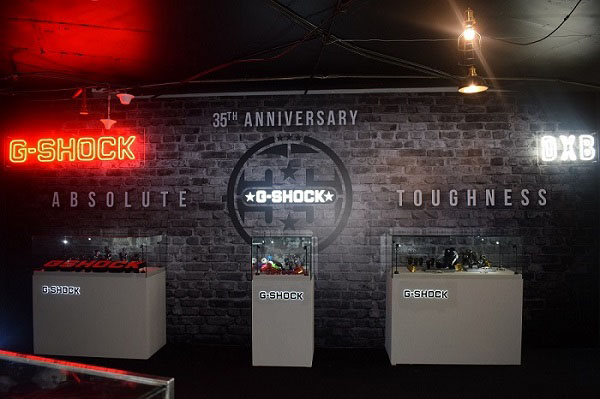 About CASIO Middle East FZE
CASIO Middle East FZE is the regional subsidiary of CASIO Computer Co. Ltd., overseeing sales and marketing activities across the Middle East & Africa. CASIO has been supplying products to countries in the Middle East & Africa through sales agents since the mid-1970s. Beginning in October 2013, CASIO Middle East FZE has been working in tandem with sales agents in each of the countries and carrying out sales and marketing activities tailored to these countries. By promptly supplying products and services suited to local tastes and lifestyles, the company intends to popularize CASIO products and expand its business in the region.
About Virgin Megastore
Virgin Megastore is a global entertainment brand, and the leading lifestyle retail destination in the Middle East & North Africa region, with 43 stores in 9 markets. Since its establishment in the UAE in 2001, Virgin Megastore set a constant target of establishing and expanding its Middle East presence as well as its product offering to fulfill growing trends and expectations in the region.
A one-stop shop for all entertainment needs, covering cultural entertainment products such as music, movies, and books, as well as other product categories including electronics & accessories, gaming, fashion & accessories, gifts & toys, and much more. Virgin Megastore has created a whole new experience in entertainment retail by balancing international trends while catering to local cultures across the region. This is done through continuous evolution in the brand experience and range, as well as constant support for the regional art scene. Virgin Megastore is truly a global brand with local flavor. With its unique shopping experience, Virgin Megastore is an innovative entertainment destination for trendsetters and technophiles.
For more information, please visit:
www.virginmegastore.ae
Categories