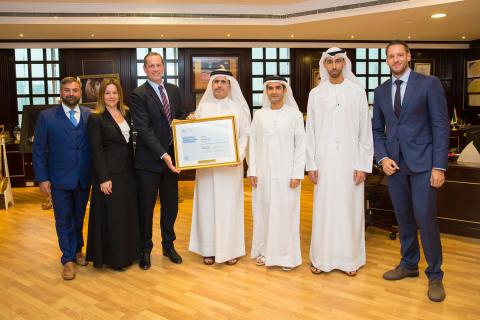 Dubai Carbon marks a green-economy milestone through the inaugural sale of CERs to Farnek Total Facilities Management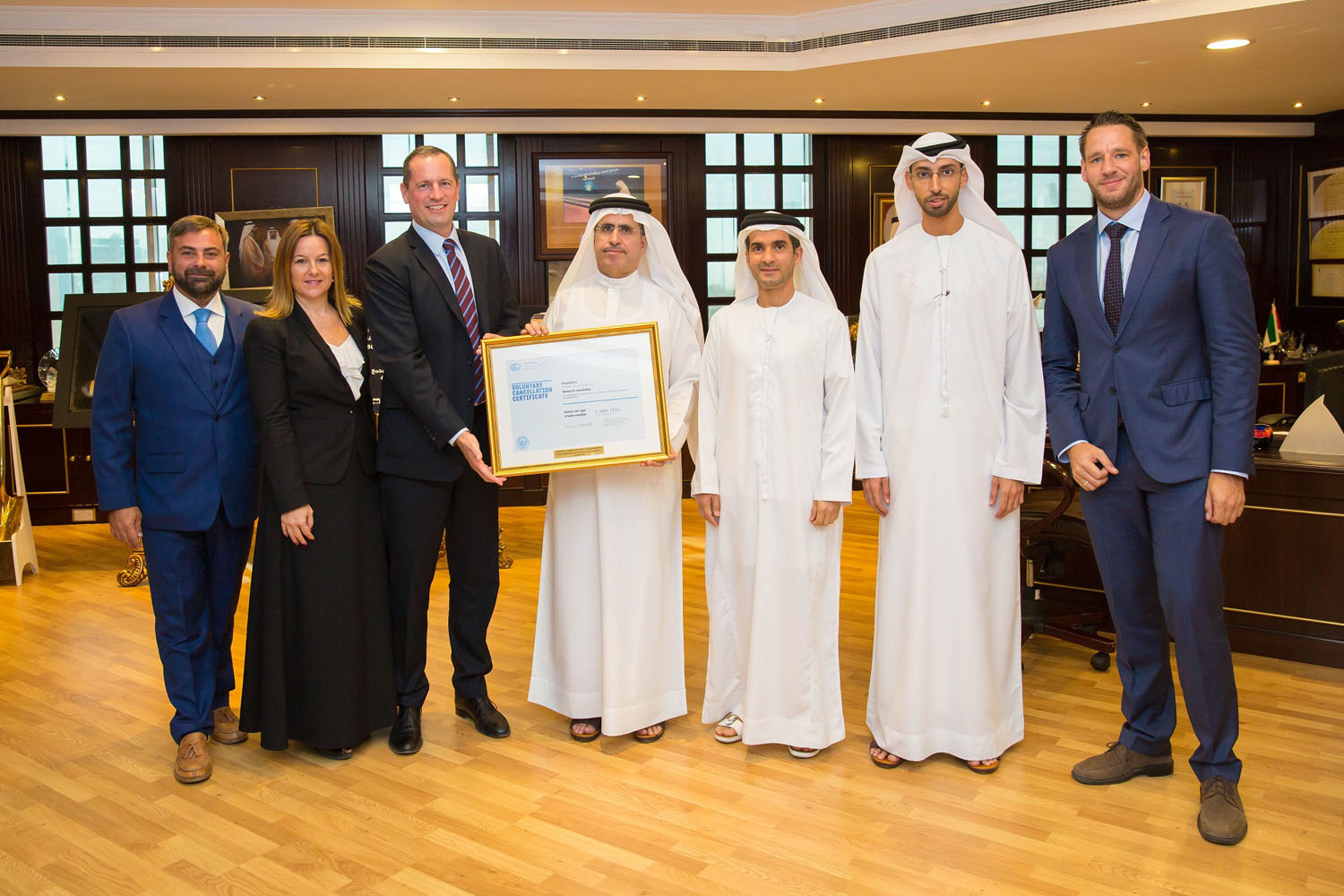 Dubai Carbon announced its first carbon credit transaction, with the sale of the resulting Certified Emission Reductions (CERs) from DEWA Chiller Station L Project through adopting the Clean Development Mechanism (CDM) to Farnek Total Facility Management. This initial sale paves the way for expansion of the green economy in Dubai, inviting further investment in Clean Development Mechanism (CDM) Projects in the Emirate. This inaugural sale of locally issued CERs contributes to the growth of green projects, and is a breakthrough in Dubai Carbon's efforts as a green economy enabler.
The sale which depends on locally produced CERs, enhancesthe development of Green Projects in Dubai, since it is considered as a major achievement in investin in CDM in the Emirate.
The sale will also aid the efforts of Carbon Dubai in reducing the greenhouse gas emission footprint, and augment Dubai's green economy ambition, as it reflects the growing demand for CERs in a diligent pursuit of sustainable development.
The project contributes to the isolation of 1,000 CERs (equal to 1,000 tonnes of CO2) achieving  Farnek Total Facility Management's emission reduction targets, highlighting the organisation's commitment to social and environmental projects in Dubai.
HE Saeed Mohammed Al Tayer, MD & CEO of Dubai Electricity and Water Authority (DEWA) said: "DEWA is committed to support the vision of His Highness Sheikh Mohammed bin Rashid Al Maktoum, Vice President and Prime Minister of the UAE and Ruler of Dubai, and the Dubai Clean Energy 2050 strategy, and Dubai 2021 plan, to make Dubai a smart environmentally clean sustainably healthy city, and for that, we support CDM projects".
"Our environmental strategy focuses on reducing carbon emissions based on the best integrated green practices at all levels of our operations to ensure protection of natural resources, and creating a sustainable carbon market is an important part of our vision, which is to build sustainable financing for green projects, and bring best practices into the market.
We are pleased that Farnek was able to offset their CO2 emissions through our Chiller Station L Project and wish them success for further adoption of clean and and renewable energy sources in the future, We are confident that Farnek will benefit from these units to reduce the effects of global warming on our planet for future generations." said HE Saeed Al Tayer, MD & CEO, DEWA.
Dubai Electricity and Water Authority (DEWA) is a key supporter of carbon reduction programs and is constantly recording new CDM projects with Dubai Carbon to reduce carbon emissions. The Chiller Station L Project , which is the source of the sale of recently sold CERs, also records high rates of reduction of 26,800 tonnes of carbon dioxide per year, one of the few CDM projects in the Gulf region producing carbon credit units, where 95,197 carbon credit units have been issued so far.
"Farnek chose to invest in the local economy in line with their corporate culture and expertise, thus aligning themselves to the country vision and ambition." commented Eng. Waleed Salman, Chairman of Dubai Carbon. "We hope this will inspire other organisations in the Emirates to follow suit to mitigate the negative impacts on the environment," he added.
Markus Oberlin, CEO, Farnek, commented: "Being a leader in providing innovative and bespoke solutions in the facility management sector, we are keen to invest in offsetting our emission footprint and reducing the impact of our businesses on the environment. We are proud to be the first to purchase CERs from the maiden project generating carbon credits in the GCC. It also gives us the opportunity to support the efforts of the Dubai Government in creating an environmentally responsible economy."
About CERs:
A CER is a carbon certificate issued when an organisations prevents one tonne of CO2 equivalent being emitted through a registered carbon project. A carbon credit is a generic term for tradable certificates, used to mitigate the growth in concentration of greenhouse gases. The CER is the unit of issued emission reductions developed by the United Nations Framework Convention on Climate Change (UNFCCC) and is equivalent to 1000kgCO2. CERs are designed to reward investors in clean-energy projectsand allow investors in emission-reduction projects to earn carbon credits that governments and companies can use to offset emissions.
 About Dubai Carbon Centre of Excellence (DCCE):
 Dubai Carbon Centre of Excellence (DCCE), the first-of-its-kind centre in the region, under the Supreme Council of Energy, promotes Dubai's transition to a low-carbon green economy and is responsible for monitoring the levels of carbon emissions in the emirate. DCCE was established in January 2011, as an agreement between the Supreme Council of Energy and the UNDP. The DCCE offers advisory and carbon aggregation services to facilitate Dubai's transition to a low-carbon economy. Visit: www.dcce.ae
About Farnek:
Farnek is the leading provider of sustainable and technology driven Total Facilities Management in the United Arab Emirates. Established in the UAE since 1980, Farnek Services LLC is a Swiss owned independent total facilities management company. With a skilled workforce of more than 4000+ employees, Farnek delivers professional Facilities Management services to across several sectors; Aviation, Hospitality, Banking, Retail, Shopping Malls, Telecom, Residential, Commercial, Infrastructure, Government, Education, Leisure and Entertainment. For more information log on to www.farnek.com
Categories