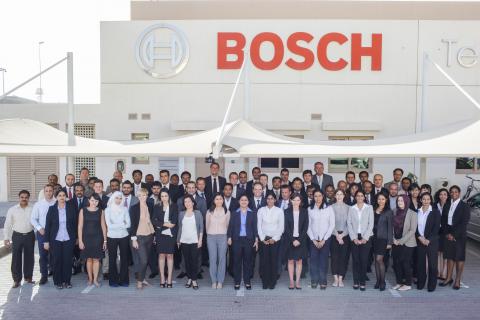 Company aiming to spread core values across Middle East markets to be successful in various industries
Bosch, a global supplier of technologies and services, one of the world's largest automotive suppliers, has expressed confidence in spreading its core values across the Middle East markets. Consistent values help to overcome changing challenges. The company is looking towards leveraging its diverse portfolio of automotive parts and services, power tools, security systems, thermotechnology and its drive and control technologies.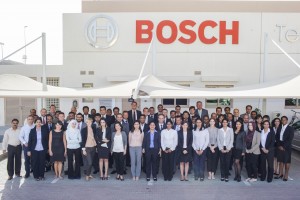 According to Bosch senior executives, the company's success over the last 128 years can be attributed to its guiding values. They clearly reflect the manner in how to run the business and the professional ethics that have successfully strengthened ties with their business partners, investors, employees and society as a whole. Bosch's seven core values are:
Future and Result Focus

- Bosch plays a major role in shaping the changes in markets and technologies, which in turn allows the company to provide its customers with innovative solutions.

Responsibility

- All of the company's actions are in line with the interests of society, placing its products and services in the interests of the safety of people, the economic use of resources and environmental sustainability.

Initiative and Determination

- Bosch acts on its own initiative with an entrepreneurial and accountable spirit demonstrating determination in pursuing its goals.

Openness and Trust

- The Company constantly updates its associates, business partners and investors of important developments - which has been the best basis for a trustful relationship.

Fairness

– Bosch observes mutual fairness as a condition of its corporate success.

Reliability, Credibility and Legality

- The company promises only what it can deliver, accepts agreements as binding and respects the law in all of its business transactions.

Cultural Diversity

- Bosch regards diversity as an asset, as well as a precondition of its global success. In Dubai they are proud of having 20 nationalities among their associates.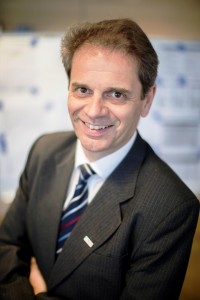 "The Middle East's various markets remain vibrant and on the path to constant growth. Remaining true to our companies' values helps us to grow along. We offer automotive parts & services as well as the best solutions for the region's thriving construction industry like security systems, thermotechnology and power tools. In addition, Bosch Rexroth is one of the leading specialists in the field of drive and control technologies representing a one-stop source for controls, electric drives, hydraulics and mechanics." concluded Volker Bischoff, General Manager & Vice President, Bosch Middle East.
About Robert Bosch Middle East
Robert Bosch Middle East is a fully-owned subsidiary of Robert Bosch GmbH, which has been operating in the Middle East for over 90 years. Robert Bosch Middle East sells automotive parts & equipments, power tools, thermotechnology, security systems and electric drive & control technology to a broad customer base in the Middle East countries. 
Additional information can be accessed at www.bosch.com or write to info@ae.bosch.com
About the Bosch Group
The Bosch Group is a leading global supplier of technology and services. In 2013, its roughly 281,000 associates generated sales of 46.1 billion euros. (NB: Due to a change in accounting policies, the 2013 figures can only be compared to a limited extent with the 2012 figures). Its operations are divided into four business sectors: Automotive Technology, Industrial Technology, Consumer Goods, and Energy and Building Technology. The Bosch Group comprises Robert Bosch GmbH and its more than 360 subsidiaries and regional companies in some 50 countries. If its sales and service partners are included, then Bosch is represented in roughly 150 countries. This worldwide development, manufacturing, and sales network is the foundation for further growth. In 2013, the Bosch Group invested some 4.5 billion euros in research and development and applied for some 5,000 patents. This is an average of 20 patents per day. The Bosch Group's products and services are designed to fascinate, and to improve the quality of life by providing solutions which are both innovative and beneficial. In this way, the company offers technology worldwide that is "Invented for life." 
The company was set up in Stuttgart in 1886 by Robert Bosch (1861-1942) as "Workshop for Precision Mechanics and Electrical Engineering." The special ownership structure of Robert Bosch GmbH guarantees the entrepreneurial freedom of the Bosch Group, making it possible for the company to plan over the long term and to undertake significant up-front investments in the safeguarding of its future. 92 percent of the share capital of Robert Bosch GmbH is held by Robert Bosch Stiftung GmbH, a charitable foundation. The majority of voting rights are held by Robert Bosch Industrietreuhand KG, an industrial trust. The entrepreneurial ownership functions are carried out by the trust. The remaining shares are held by the Bosch family and by Robert Bosch GmbH. 
Additional information is available online at www.bosch.com, www.bosch-press.com and http://twitter.com/BoschPresse
Categories