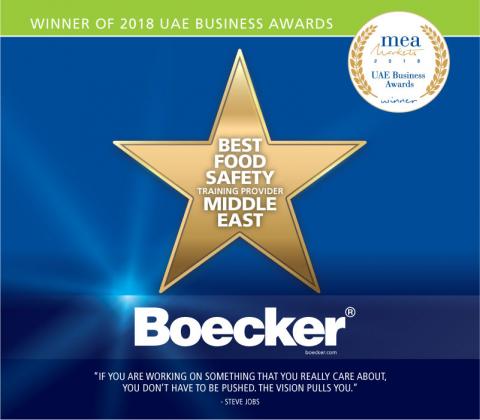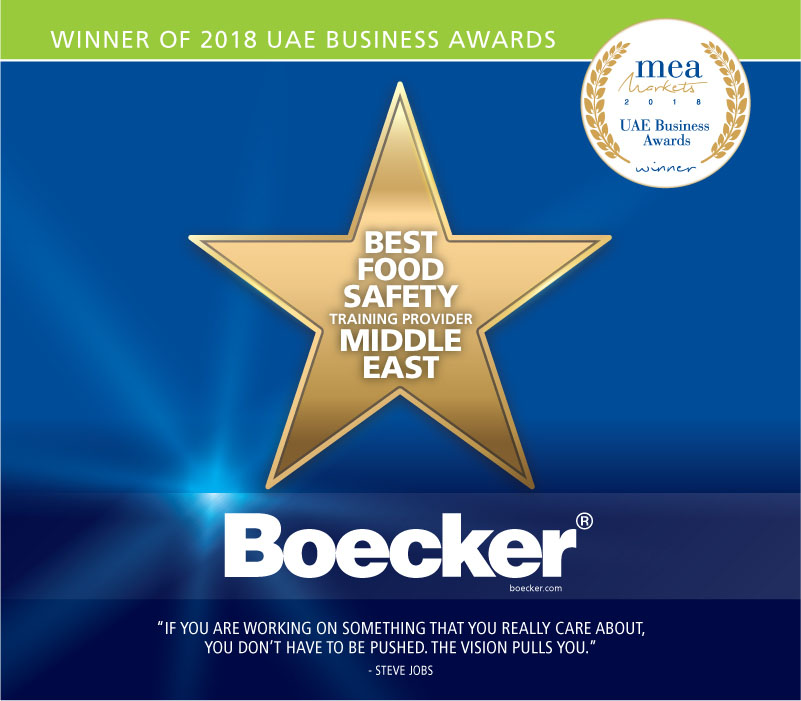 Middle East Markets announced Boecker® the winner of The Best Food Safety Training Provider in the Middle East for 2018.
The MEA Markets Awards have been launched to bring some much needed recognition and exposure to firms in the Middle East's vibrant and far-reaching business arena who are shaping not only their industries and regions, but the global corporate community.
Boecker® was selected following a rigorous and in-depth nomination, voting and judging process, carried out by a network of global industry experts and in-house team. Today, receiving the UAE Business Award for the Best Food Safety Training Provider in the Middle East is an honour for Boecker® and a result of 20+ years of expertise in the field.
Boecker® is considered today a key player in the Food Safety in the region as it has the largest number of full-time professional and certified consultants spread over 8 branches a solid background in the industry. Providing workers with appropriate training has a direct impact on the business, this is where we take the lead of training 10,000 food handlers every year, using the most up to date audio-visual and interactive methods. These internationally certified trainings have been described as the best in the Middle East for following international standards that are equally recognized by local authorities, available in various languages, for all levels, and delivered with practical cases. These trainings aim at providing food establishment workers with the knowledge and expertise to safeguard the business' reputation.
Boecker® is a registered training centre with the Royal Society of Public Health, UK; the Chartered Institute of Environmental Health, UK; and the Highfield Awarding Body for Compliance, UK. In 2017, more than 10,000 individuals received Boecker® food safety training of different levels: Basic, Intermediate and Advanced (L2, L3, L4) food hygiene training courses as well as hygiene awareness sessions, the exclusive ISO 22000 and HACCP Implementation training courses, the innovative PIC (Person in Charge) and EFST trainings.
Boecker® is also proud to carry the biggest consultancy portfolio while assisting and preparing large-sized businesses to be certified in ISO22000, HACCP and Yum management systems. Boecker® is also a pioneer in Research & Development offering some of the most specialized programmes starting with its renowned Q-Platinum Award™, that is a unique internationally accredited audit programme for SMEs, as well as highly specialized certifications like Global GAP (Good Agricultural Practices) and BRC (British Retail Consortium) standards.
Boecker® is also proud to have contributed in writing some of the region's Food Safety Laws and Legislation and to be at the forefront of the advocacy for simpler and more effective food safety laws and enforcement initiatives that guarantee the production of safe food throughout the Middle East.
About Boecker®
Boecker® is the Middle East's largest Public Health Company providing a holistic range of products and services covering Pest Management, Food Safety, Biosecurity and Occupational Health & Safety.
Founded in 1994, Boecker® provides Integrated Pest Management with the highest international standards for business and residential clients, as well as Food Safety consultancy, trainings, tools, Biosecurity and Health & Safety services across the United Arab Emirates, Lebanon, Saudi Arabia, Kuwait, Qatar, and Jordan.
All Boecker® services are ISO9001:2015 certified and use products that are approved and licensed by local authorities. Boecker® is affiliated to the National Pest Management Association (NPMA), the British Pest Control Association (BPCA), the Chartered Institute of Environment Health (CIEH-UK), Highfield Awarding Body for Compliance (HABC) and the American Biological Safety Association.
Categories