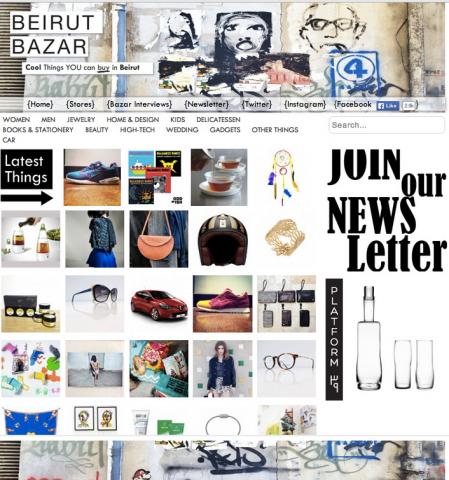 March 2014 - Launched in December 2013, BeirutBazar.com is a website which selects and showcases the trendiest products and the coolest gift ideas to be found in Beirut's boutiques.
All sorts of products can be found on the website; from design objects, fashion accessories, toys and items for children, high-end deli products, high-tech items, and even original and unique artwork!
It offers consumers an easy and accessible platform where they can find inspiration and save time simultaneously. Visitors can window-shop on the site and choose their "coup-de-coeur" online, before heading to the boutiques. It's a simple idea which facilitates shopping in Beirut, where driving, or even just parking, has become increasingly painful.
It's by wandering around the city that Nada Hennaoui discovers these small, must-see boutiques and stores. To share them, she decided to create BeirutBazar.com. "You can't imagine the number of funky or unique boutiques that exist in Beirut," says Nada. "Even when you know they exist, it's impossible to keep up with the latest arrivals in-store."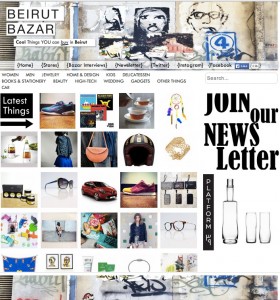 Boutiques to Discover
BeirutBazar.com is first and foremost a collection of carefully selected items and boutiques, which offer a varied range of products. A mix of products can be found there: the creators of Bokja furniture, the essential address for sneakers "The Good Life," jewelry from Alia and Walid Mouzannar and Christina Debs, fashion from Green and Glam, the children's offerings of Dodo les bobos, the artistic space of Minus 1, the fashion creations of Bird on a Wire, the perfume makers Ideo parfumeurs and their taylor-made fragrance bar, the Aziz cellar and their selection of fine wines, the Mini Cooper Lifestyle and Accessories boutique, and many more. BeirutBazar.com also highlights the owners and artists behind these selections in their personal, one-on-one Bazar Interview.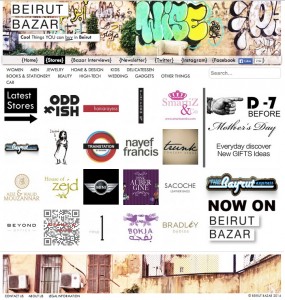 A Website Inspired by Beirut
At BeirutBazar.com there is also, and even primarily, Beirut: its boutiques, its designers—be they of fashion, furniture, or design objects—as well as the unusual and colorful side of Beirut which inspires the design of the site and which Nada photographs as she wanders the city.  Also to be found on the site is the Beirut of artists, painters, photographers, and illustrators, which BeirutBazar.com invites to embellish the site with works of art for a week. The "Art Week" at BeirutBazar.com was in fact launched recently with the painter Jean-Marc Nahas, and others will soon be invited to participate.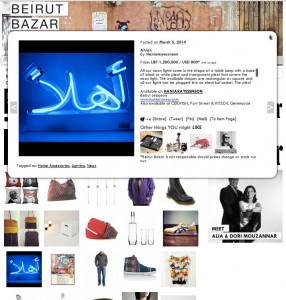 The Internet In Place of Traditional Shopping
On BeirutBazar.com there is something for everyone, with both clients and store owners benefiting from the site. Some visit the site to discover one-of-a-kind products, while others take advantage of this platform to showcase a selection of their products or artistic creations. BeirutBazar.com is the epitome of a modern approach to a traditional service; a website where visitors can window-shop "online", before taking their desires "offline" directly to the boutique, and rediscover the charm of neighborhood boutiques. It's an innovative site which promotes local businesses and acts as a meeting point for owners and consumers, marrying the online and offline approach to increase traffic to these boutiques.
To further marry these two approaches, BeirutBazar.com is planning to organize events where the site will be recreated in "real life"; a true bazaar where every item selected from the boutiques will be showcased, and put up for sale, in an unexpected location, for a weekend.
For more information:
Categories