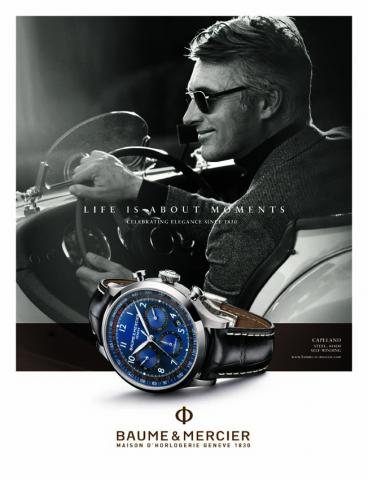 Life is about moments
Baume & Mercier revisits great celebrations with a new advertising campaign. Under Peter Lindbergh's sensitive eye, Baume & Mercier reveals intimate, universal photographic stories which seal the decisive and festive moments in each individual life.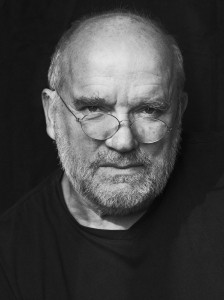 Baume & Mercier, watchmakers since 1830, has always been a generous Maison that expresses watchmaking excellence in all its creations and through a simple, consistent motto devised by its founders: "Accept only perfection, only manufacture watches of the highest quality".
This iconic Swiss brand with a rich history that began in 1830 pursues its engagement in the realm of the Celebration by revealing another facet of its "Life is about moments" signature.
For Baume & Mercier, time is far more than a succession of seconds, minutes and hours: time is marked by rare moments with which the brand associates, like a living witness. Life is made of these special, solemn, exceptional moments filled with emotion, that we enjoy celebrating and that we remember forever.
Baume & Mercier envisions watches as "gifts that contain feelings". In 1869, Louis-Victor Baume, co-founder of the Maison Baume in 1830, thus gave a richly decorated gold pocket watch to his daughter, Mélina, for her first communion, with the following words engraved on it: "To our beloved child".
The symbolism of the gift transcends its material reality. This is how the bond that unites a person to those he loves is sealed, through the promise of an eternal union, the birth of a child, a wedding anniversary, the achievement of a degree or a promotion. Baume & Mercier invites us to remember all these celebrations and to carry them within ourselves, in the same way one wears a cherished object.
And to turn these emotions into images, both intimate and universal, one could dream of no better artist than Peter Lindbergh, with his sensitive and distinctly cinematographic touch through careful composition with purely emotional truth.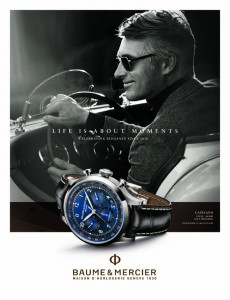 1. Celebrating commitment
A loving commitment is captured like a stolen moment of affection that is both discreet and solemn. Sheltered from prying eyes, the couple, forgetful of the lens pointing at them, is wrapped up body and soul in the promise that unites them. 
2. Celebrating a wedding
Here, the joy of marriage is snapped from a car window. The picture gives the person looking at it a sense of being both witness and actor. During this moment of extreme emotional intensity, the photographer brings out with great sincerity the unique joy shared between two beings who love each other. 
3. Celebrating a birth
The maternal bond is captured, with simplicity and clarity, in an instinctive, natural gesture: a mother cuddling the child that she already loves and is holding in her arms. Bathed in summer light, the delicacy of this skin on skin experience records this moment in the universal story of life and maternal love.
4. Celebrating a personal achievement
The image expresses the individual pleasure of a moment of freedom. The smile of a man driving an exceptional car, his face turned towards the light. It is a man who has a fulfilled life, who has experienced successes and encounters, a man who knows the value of all things.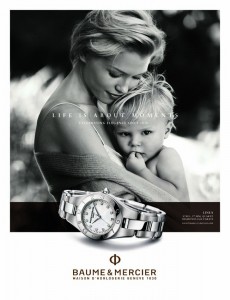 5. Celebrating a birthday 
The big Three Zero has been reached. This is a perfect occasion to bring one's special friends together and mark the passing with a special occasion. A moment to reflect spontaneity and shared friendship around a man brimming with happiness. 
6. Celebrating Christmas
In approaching the emotion-filled period of the end of year festivities, Peter Lindbergh has opted for intimacy and restraint. A couple giving each other a joint gift without any onlookers. All the intensity of the moment and their relationship is perceptible in this image.
For each of these stories, the photographer makes himself invisible and celebrates the sparkle of these moments in life. He captures the high point in a relationship and simultaneously tells the story of the occasion for the gift, the intensity of the ties binding us to those we love.
Peter Lindbergh's biography
Photographer of Baume & Mercier's new "Life is about moments" campaign 
"Photographs are truly magical when they enable moments that cannot be seen with one's eyes to be captured".
Peter Lindbergh (interviewed by Jérôme Sans, Paris, March 2011)
Born in 1944, he began his career as a photographer in Paris in 1978.
He has worked with the most famous art and lifestyle magazines in the world such as Vogue, Vanity Fair and The New Yorker.
His photo-reportages told in story-form were the first of their kind.
He has photographed some of the most beautiful women in the world and launched the supermodel phenomenon with breathtaking portraits of Christie Turlington, Linda Evangelista, Naomi Campbell, Tatjana Patitz and Cindy Crawford. He regularly works with several luxury brands such as Cartier, Dior, Tiffany, Bottega Veneta, David Yurman, Guerlain and Lancôme.
A reference on the international scene since the Eighties, his instantly recognisable signature combines narration, elegance and emotion. His work has been strongly influenced by the beginnings of German cinema and includes references to the work of producers such as Fritz Lang and Jim Jarmusch.
These works, which have become legends, have been the subject of many exhibitions around the world and the deeply artistic dimension of his work has opened the doors of prestigious international museums to him.
More a photographer of women than a fashion photographer, his work Images of Women is a demonstration of his unique talent as a portraitist with a rich selection of exceptional images.
An interview with Alain Zimmermann, CEO, Baume & Mercier
Why did you choose the realm of Celebration?
It all started with a long term piece of research into the company archives. Baume & Mercier has a rich heritage, and with the help of the Baume & Mercier Museum collection, we have identified the strong emotional capital of the brand. A Baume & Mercier watch is often associated with a highly symbolic celebratory occasion like a wedding, a birth, etc. Watches were associated with an individual story. It is this festive, universal dimension that guided us in the repositioning of the brand. We have collected stories so that we can tell them. 
How did you choose Peter Lindbergh?
For us, it was an obvious choice. We wanted a photographic style in black and white, strong and elegant, intimate, universal and emotional.
We had Peter Lindbergh's portraits in mind which breathe great intensity into every face and every situation. His way of telling stories, seeing models as actors, his proximity to the cinema, all of that corresponded perfectly to what we were trying to get across. It goes without saying that the authentic, generous person that Peter is also greatly influenced our choice … 
What is your best memory of the campaign shoot?
The "birth" visual shoot was particularly moving. The baby fell asleep in its mother's arms. It was a real moment of truth. The baby woke up after Peter's first clicks. He looked at the lens with great surprise. He realised that he was at a shoot and not in his room. He started wriggling all over the place which made the scene even more realistic. Fortunately, we had already immortalised the moment.
How will you integrate your collections to this new advertising campaign?
Obviously, Baume & Mercier watches are the centre of this campaign. The models presented (both feminine and masculine) have the qualities of the great Baume & Mercier classics: urban lines, elegant, harmonious, timeless colours … displayed in colour, the watches fir perfectly into the composition, while contrasting with the black and white photo, which they appear to be outside of, like witnesses to the moment being celebrated. 
What form will this campaign be in and where can we see it?
Produced by an agency called Mazarine Mlle Noï, the campaign will be broadcast internationally, in print and video with
-      5 campaign visuals
-      13 additional images which will be visible on the print and digital platform elements
-      1 X 60 second mood film which describes the moments captured in print
-      6 x 15 second video clips (one for each of the moments filmed)
-      1 making-of the shoot
Categories