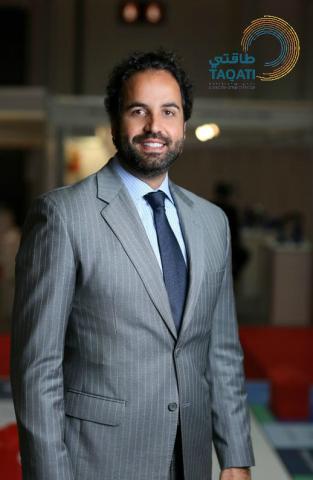 Written by Aref Abou Zahr, Executive Director of TAQATI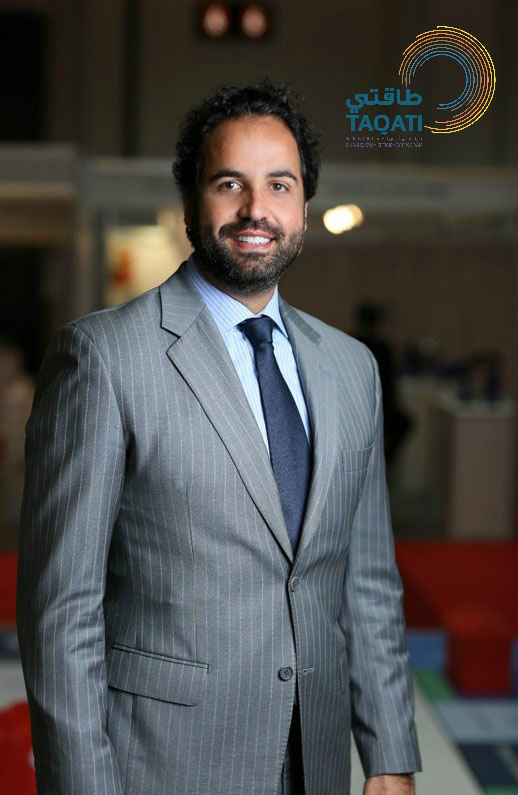 Awareness enhancement is a key impetus for the achievement of the Dubai Demand Side Management (DSM) targets. Behavioral changes are only possible when people and organizations are aware of their energy consumption, and of measures and practices they can adopt to reduce their consumption. Even small changes in seemingly insignificant everyday practices can go a long way in contributing to the reduction of energy consumption, decrease operating costs and increase their livelihood. Though we are optimistic that the strong results achieved by the Dubai Government so far in terms of implementation of energy efficiency measures will gradually impact community behaviors, there is still vast room for improvement in terms of awareness creation among stakeholders and general public.
A recent survey commissioned by TAQATI - the dedicated Program Management Office for the Dubai DSM strategy - as part of its mandate to improve awareness on energy efficiency, shed light on the current awareness levels and the extent to which energy-conscious practices are applied by communities in Dubai. The survey covered all key demand-side target segments for electricity and water with a total sample size of 1,900 respondents from the different sectors and subsectors, incl. government, industrial and commercial sectors, as well as residential sectors for both national and expat population.

To initiate behavioral changes, one needs to understand how much he/she is consuming, along with the impact of the consumption. The survey, which prompted respondents to share their perceived levels of consumption of water and electricity, found that awareness amongst respondents is generally low. Actual consumption is more than double the perceived consumption for water (207 vs. 450 L/capita/ day respectively), while for electricity actual consumption is almost 60 per cent higher than perceived consumption (22 vs 35 KWh/ capita/ day respectively).
The survey also revealed that overall, general community respondents have a good understanding of the highest energy consuming components in their households. 75 per cent of respondents believe that air conditioning is the highest energy consuming appliance. In fact, air conditioning accounts for approximately 50 per cent of total electricity consumption in Dubai.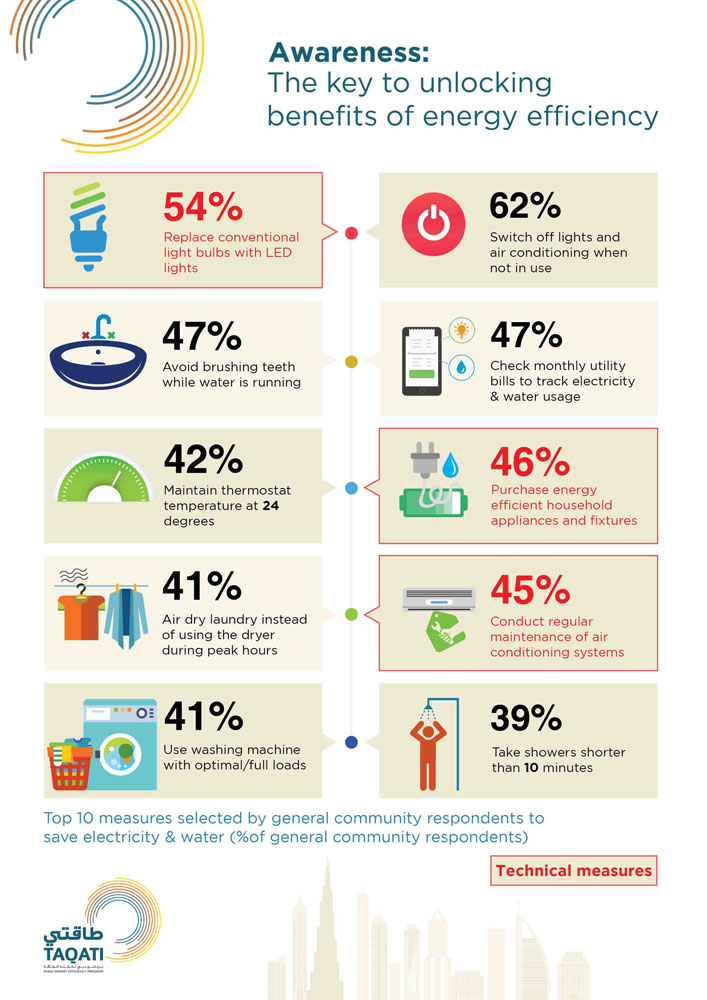 When respondents were presented with a list of behavioral and technical measures and practices and asked to select the ones they believe might help in lowering their energy bills, top 10 measures and practices chosen by respondents were mostly behavioral, with the exception of some basic technical measures namely changing conventional light bulbs to LED and purchasing energy efficient household appliances and fixtures. Technical measures that contribute to significant electricity and water savings such as insulation of windows, ceilings, walls and floors as well as installation of smart or water-efficient irrigation systems were selected by less than 30 per cent of respondents. These results further highlight the need for awareness creation on such measures and on their impact on energy consumption.
While Dubai Government is leading by example on the energy efficiency front, awareness on some of the key initiatives such as district cooling, energy audits and green building regulations is still low and shows significant room for advancement. Understanding on retrofitting and energy efficiency labels on appliances is very low amongst general community respondents. In light of the findings of this survey, TAQATI launched the DSM Integrated Awareness Strategy 2022 in 2017. The strategy sets awareness targets and aims to identify key priorities and initiatives along the decision-making journey of consumers and across all DSM Programs, while ensuring streamlining and consolidation of efforts between different entities to avoid duplications and provide consistent messaging.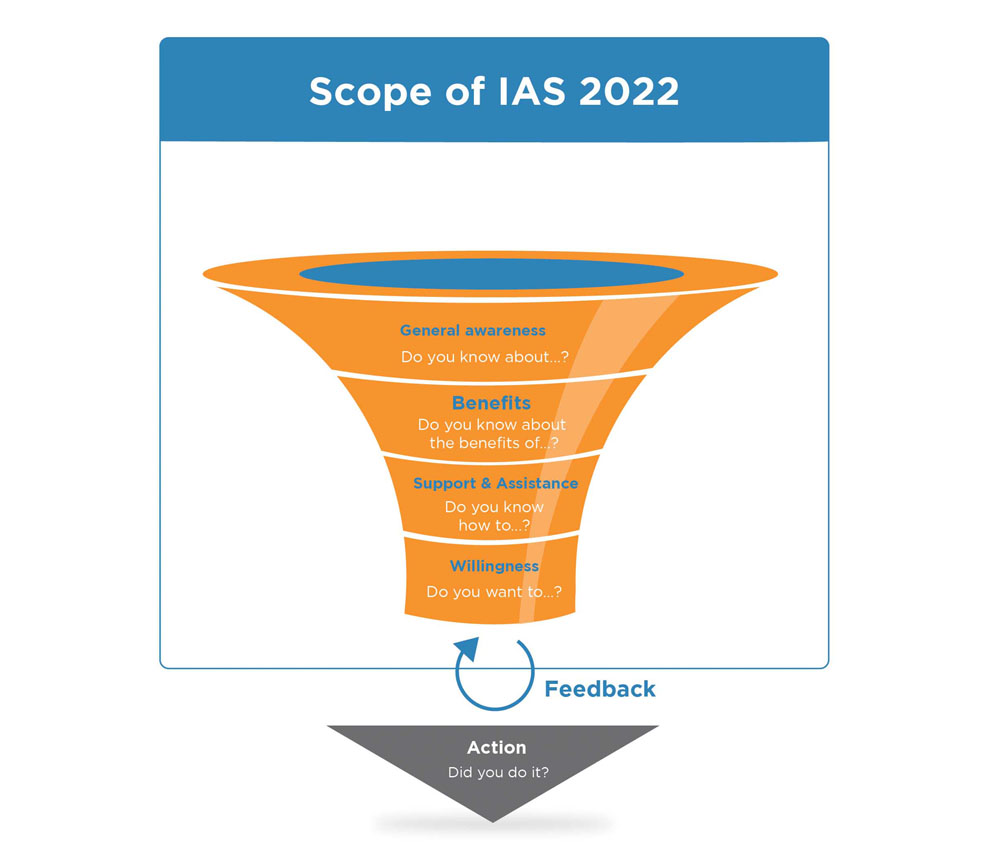 The DSM Integrated Awareness Strategy 2022 has been developed as a joint and collaborative effort between all DSM Program Owners under the guidance and direction of a dedicated committee, the DSM Integrated Outreach and Awareness Committee (IOAC), chaired by DSCE. The Committee includes members from all the DSM Program Owner entities, namely DEWA, Dubai Municipality, RTA, RSB Dubai, Etihad Energy Services Company, ESMA and TAQATI.
Conservation of our precious energy resources is one of the greatest challenges in our journey towards sustainable development and any form of progress is futile if not sustainable. This is only possible if all communities and stakeholders in our society adopt energy conservation principles as part of their core values. Economic growth and environmental responsibility should go hand in hand, to preserve the energy sources for our future generations and creating more opportunities for sustainable development.