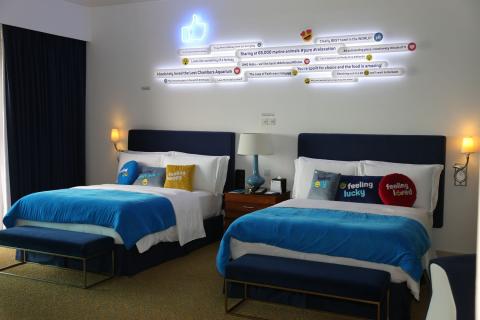 In celebration of reaching one million fans on Facebook, the resort will reward followers with free stays in the specially created 'Atlantis Fan Suite'
In celebration of reaching one million Facebook fans, Atlantis, The Palm will reward followers with the launch of the world's first social media suite. Launching on 18th March 2018 at the destination resort in Dubai, Facebook fans will be invited to book a free one night's stay in the Atlantis Fan Suite with bookings being taken every day until December 2018.
The unique room will offer breathtaking views of The Palm Island and will be specially adapted to suit a social media users every desire. Upon check in, guests will enter their Facebook log in at the door of the suite to unlock the room and can sit back and tune into the special Facebook Fan channel on the in-room TV. For those that need a little help during their stay, guests can 'poke' their personal butler using a special in room intercom system. For those who want to share every moment of their stay with their friends and family, the suite comes with a special Facebook Live Lounge, where guests can place their handset on a stand and relax on the thumbs up shaped chair to record their messages.  Exciting additions extend to the bathroom, where a social media mirror is in prime position to message friends as you put your make up on and even the amenities from bath soaps to flip flops and shaving kits, depict catchy social media slogans.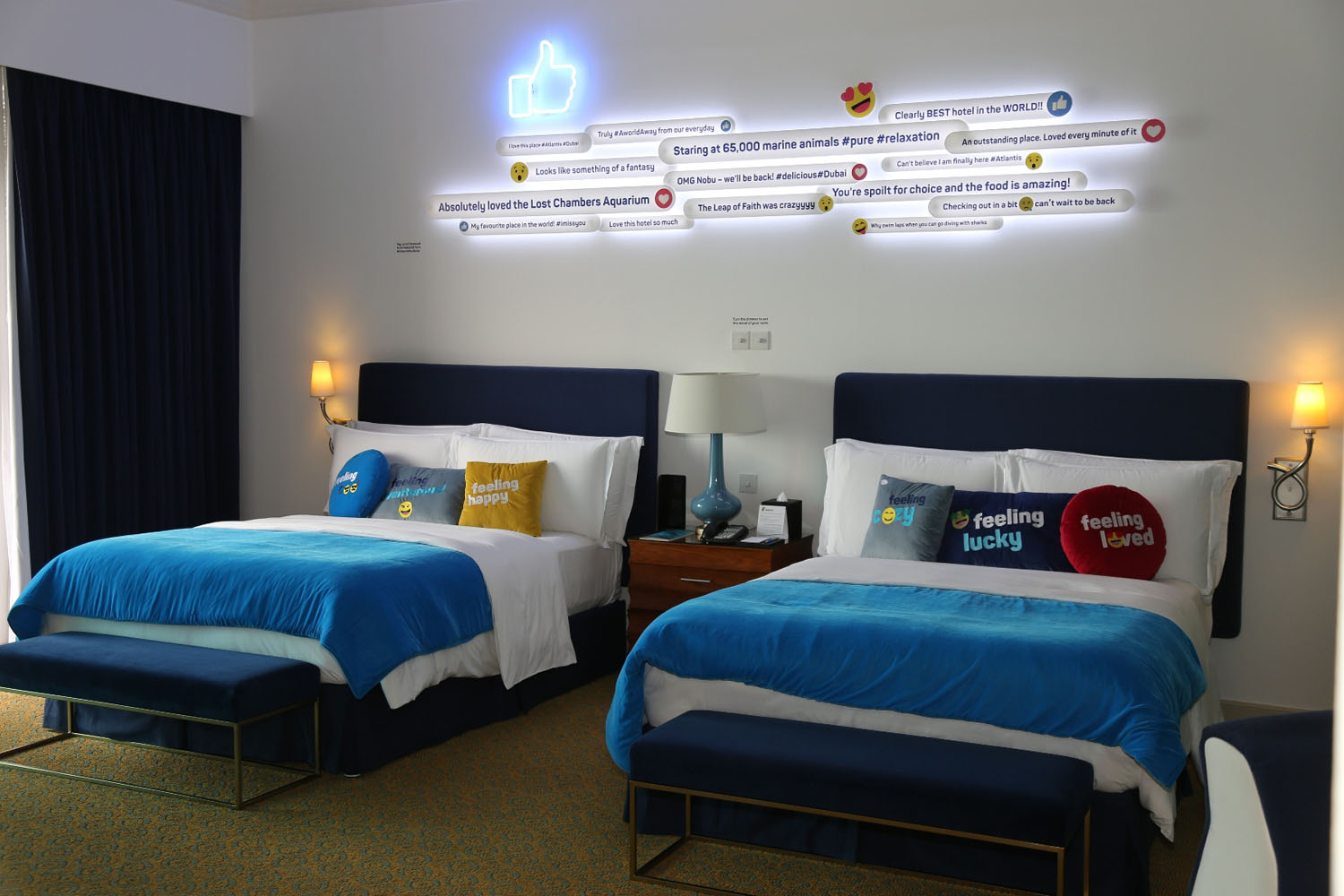 In addition to the complimentary stay, all guests to the Atlantis Fan Suite will receive a host of additional VIP amenities and experiences including unlimited complimentary access to The Lost Chambers Aquarium and Europe and The Middle East's number one waterpark, Aquaventure.  Guests will also receive Atlantis Imperial Club benefits worth over AED 3000 per day, including VIP check in, breakfast, access to the Imperial Club lounges for daily afternoon tea and evening drinks and canapes, as well as a personal Concierge service, Kid's Club entry, use of the exclusive Imperial Club Beach, plus much more.
Ravini Perera, SVP, Sales, Marketing and PR comments "It has been such an achievement to reach the one million fan mark on Facebook and we felt now was the time to give back and say thank you to all of our fans for their continuous support and for sharing their content with us over the years. Atlantis, The Palm's social media platforms receive an average of 2,500 posts tagging the resort every week and 147,762 uses of #AtlantisThePalm every year, and the variety of imagery and videos depicting every part of our resort in beautiful and creative ways is overwhelming. We hope that our fans enjoy the Atlantis Fan Suite as much as we've enjoyed and valued their content and ongoing support".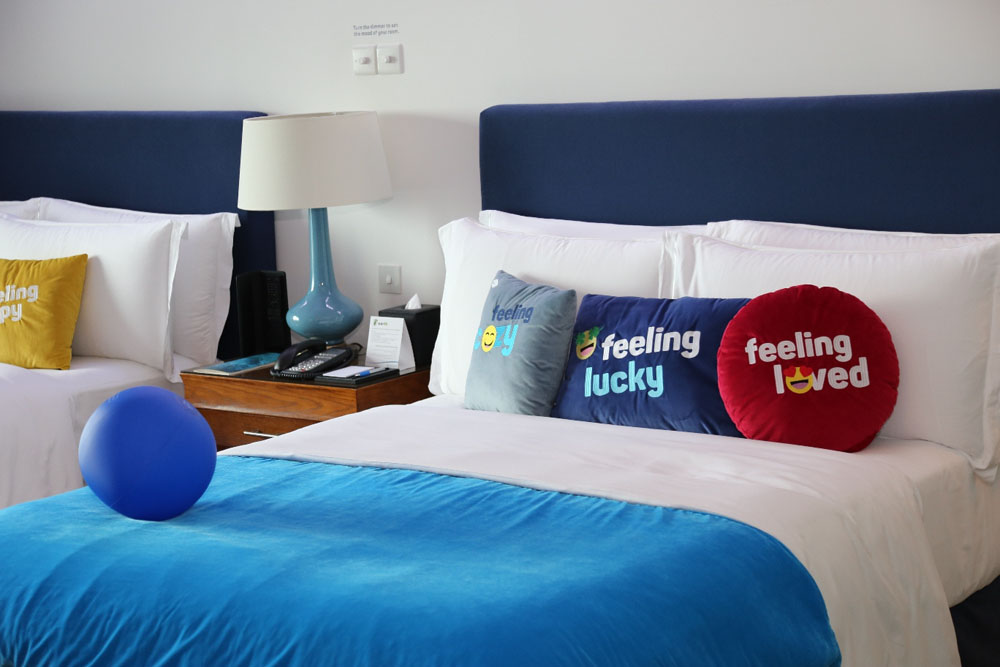 Atlantis, The Palm is no stranger to excellent social media content, in 2017, the iconic destination resort situated on The Palm Island in Dubai took the official title as Instagram's most photographed hotel in Dubai and The Middle East and fourth most snapped hotel in the world. On average, the resort receives 350 images posted on Instagram every day, 4,500 posts tagging the resort on Facebook and Instagram every week and 147,762 uses of #AtlantisThePalm.
With social media fans across the world, the top 10 counties to interact with the resort include
UAE
India
Pakistan
UK
USA
Egypt
Saudi Arabia
Australia
Philippines
Germany
To book a stay in the Atlantis Fan Suite, Facebook fans can visit www.atlantisfansuite.comfrom March 1st.  All entrants must have 'liked' the Atlantis, The Palm Facebook page to be eligible to book a free stay in the suite.
About Atlantis, The Palm, Dubai
Atlantis, The Palm is the first entertainment resort destination in the region and located at the centre of the crescent of The Palm in Dubai. Opened in September 2008, the unique ocean-themed resort features a variety of marine and entertainment attractions, as well as 17 hectares of waterscape amusement at Aquaventure Waterpark, all within a 46-hectare site. It is home to one of the largest open-air marine habitats in the world, with over 65,000 marine animals in lagoons and displays including The Lost Chambers Aquarium, a maze of underwater corridors and passageways providing a journey through ancient Atlantis. Aquaventure features 18 million liters of fresh water used to power thrilling waterslides, a 2.3-kilometer river ride with tidal waves and pools, water rapids and white water chargers. Dolphin Bay, the unparalleled dolphin conservation and education habitat, and Sea Lion Point were created to provide guests a once in a lifetime opportunity to learn more about one of nature's most friendly mammals.  Atlantis, The Palm is also known as the culinary destination in the region with a collection of world-renowned restaurants including Bread Street Kitchen & Bar, Nobu and Ronda Locatelli. The resort boasts an impressive collection of luxury boutiques and shops as well as extensive meeting and convention facilities.
Categories