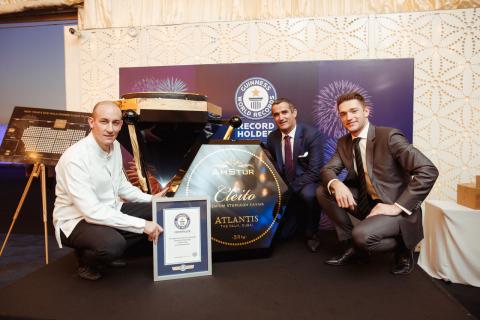 The world's largest tin at 50kg was unveiled on New Year's Eve 2017 at the resorts famous Gala Dinner
Atlantis, The Palm teamed up with luxury US caviar company AmStur this New Year's Eve to create the impossible and break the Guinness World Record™ for the world's largest caviar tin. The 50kg serving of caviar was presented to guests at the resorts' Gala Dinner and smashed the previous Guinness World Record™ for the world's largest caviar tin, which was recorded in 2016, weighing in at 17kg.
The 50kg serving was presented to guests in a custom-made, diamond shaped caviar tin coined 'Cleito' after the famous goddess known as the 'Mother of Atlantis'. The 98cm x 74cm tin was created using the finest R16 Stainless Steel and had special compartments to store frozen ice gel to ensure the appropriate temperature of the deliciously flavourful AmStur Premium Select caviar.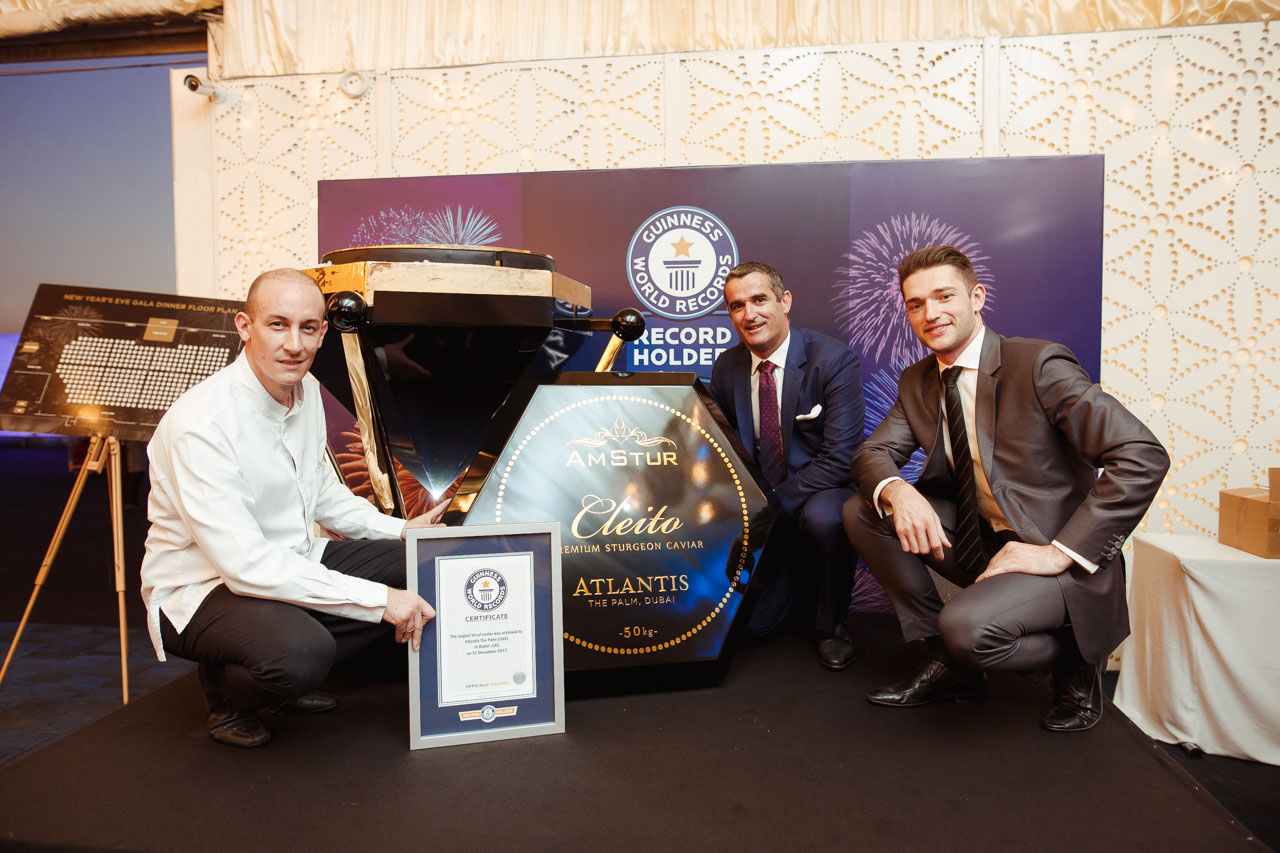 Atlantis F&B senior officials with Nicholas Narsavidze from AmStur
Alongside an official Guinness World Record™ adjudicator, who judged the attempt live from the New Year's Eve Gala Dinner, over 5,000 lucky guests enjoyed taking part in this unforgettable event, snapping pictures with the tin and consuming the entire 50kg amount over the course of the evening, using custom-engraved mother-of-pearl spoons, produced to commemorate the occasion.
After checking that the attempt was verified and the team adhered to the guidelines the Guinness World Record™ adjudicator commented; 'It was exciting to see another Guinness World Records title being broken here in Dubai – you are Officially Amazing!"
Serge Zaalof, Chief Operating Officer for Atlantis Resorts & Residences comments 'We have thoroughly enjoyed this project we have embarked upon with our esteemed partner, AmStur Caviar and we are extremely proud to have achieved the impossible with the 50kg tin. Our New Year's Eve Gala Dinner is a very special location in our city to welcome in the new year and we were thrilled to share this record breaking experience with our most valuable and loyal guests'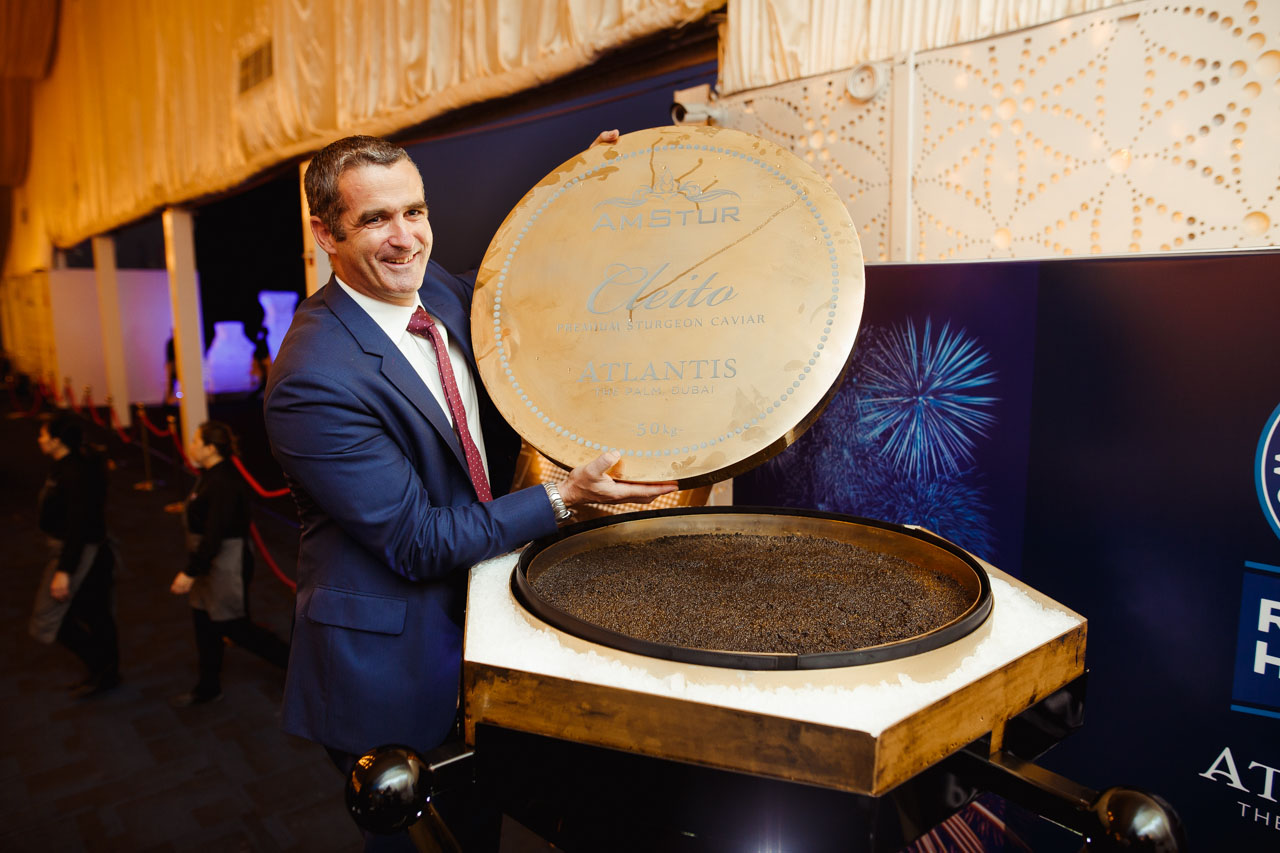 Sascha Triemer, Vice President for Food & Beverage at Atlantis, The Palm
Sascha Triemer, Vice President for Food & Beverage at Atlantis, The Palm added 'At Atlantis, The Palm we pride ourselves on creating amazing experience and everlasting memories for our guests and we welcomed this opportunity to introduce the luxury taste of AmStur – The World's Finest Caviar. By breaking the Guinness World Record™title for Largest Tin of Caviar, we continue to wow our guests and allow them to experience the unforgettable and seemingly impossible'.
AmStur Caviar partner, Nicholas Narsavidze adds "We were very proud to partner with Atlantis, The Palm in this unique undertaking, and are extremely excited to introduce our AmStur to the esteemed guests of the New Year's Eve Gala Dinner. AmStur's native-raised, white sturgeon, caviar has been acclaimed by renowned chefs and discerning consumers throughout the world for its exquisite flavour and perfect texture. Our success demonstrates that culinary excellence and sustainable practices can go hand-in-hand, and we look forward to bringing AmStur caviar to everyone who not only appreciates fine quality, but cares about protecting the environment." 
Held annually on the shore of Atlantis, the New Year's Eve Gala Dinner is the only place to celebrate the new year. Guests can enjoy fantastic views of The Palm and the Dubai skyline with an evening complete with welcome drinks in Asateer before entering onto a specially built deck complete with a 30-piece live band, open bar and luxury buffet.
To find out more about Atlantis, The Palms New Year's Eve Gala Dinner 2018, please visit www.atlantisthepalm.com/special-offers/new-years or call +971 4 426 2626
 The top 10 facts you didn't know about caviar:
Caviar comes from one of the oldest fish in the world Often described as "living fossils," the sturgeon are one of the oldest groups of living vertebrates, with records dating back more than 200 million years.
Caviar is one of the oldest delicacies in the world, dating back to the 13th century. Before raw oysters, before Champagne, before even truffles were deemed a delicacy, caviar was coveted by kings and the aristocracy. Ancient Greeks, Romans and Russian tsars were all known to splurge on caviar
The salmon roeon your sushi is not caviar! The term "Caviar" refers to unfertilized salt-cured eggs harvested exclusively from one of the twenty-five different species of sturgeon, most-commonly including White Sturgeon, Ossetra, Sevruga and Beluga.
Caviar is judged on its flavor, texture, size, and maturity. The finest, most expensive caviars have the most 'buttery' flavor, possess a firm yet satisfying pop, have larger diameter eggs with a unique color, and are harvested from older sturgeon. Lower quality caviar is pasteurized or contains preservatives, possess unpleasant fishy or muddy flavor, and is very soft.
Caviar lasts more than a day. Because fresh caviar is cured for at least 90 days using ancient techniques, it has a two-month shelf-life, but once it's opened fresh caviar should be consumed within one week.
Caviar is like wine. Caviar collectors will seek out the best tasting caviar produced from sturgeon raised in their native habitat, commonly referred to as "Native-Raised." In the Middle Ages, all sturgeon species were native-raised and many kingdoms had laws that required the finest caviar to be reserved for the monarchy.
Caviar was thought to relieve depression. Historically, caviar was prescribed to alleviate depression. Recent studies show that high doses of omega-3 fatty acids – caviar is rich in omega-3s – may alleviate symptoms of depression and bipolar disorder.
Caviar is audible. When fish eggs rub against each other, the friction can be heard. The sound of good caviar when it's packed is distinctly recognizable as something similar to a cat's purr.
Sustainable caviar is the future. Aquaculture – the farming of fish, seaweed, shellfish and crustaceans – is therefore one of the most promising innovations for providing the world with a safe, healthy and sustainable supply of high-quality seafood. The production of AmStur caviar represents the gold standard in aquaculture. Certified as a "Best Choice" by the Monterey Bay Aquarium Seafood Watch.
Caviar isn't as Russian as you think. The word "caviar" didn't originate from Russia. The word caviar originates from the Turkish khavyar, first appearing in English print in 1591.
Categories