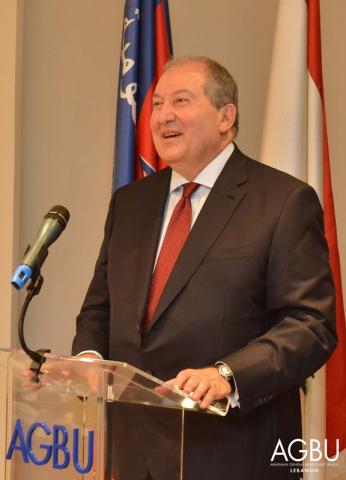 AGBU Lebanon, under the leadership of its president Mr. Gerard Tufenkjian, hosted an intimate dinner in honor of Mr. Armen Sarkissian, Armenia's former ambassador to the United Kingdom, and Armenia's ruling party nominee for the upcoming presidential elections.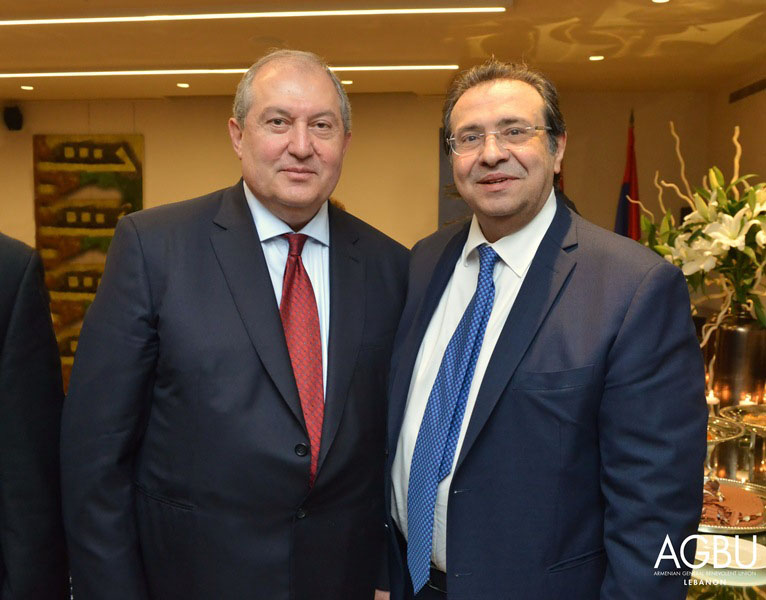 Mr. Sarkissian met with the benefactors and leadership of AGBU and AGBU-AYA Committees. Present were HE Ambassador Samvel Mkrtchyan – Ambassador of Republic of Armenia to Lebanon, Benefactors Sarkis and Seta Demirdjians, Avedis and Rita Demirdjians, Vatche and Tamar Manoukians, Arthur and Tamar Nazarians, President Gerard and Pascale Tufenkjians and members of the of AGBU Lebanon District, AGBU-AYA Central, AGBU Lebanon Education, Knights, Ladies, Young professionals and Veterans.
On behalf of the AGBU Lebanon District Committee and its president, Mr. Hampig Mardirossian, the editor in chief of AGBU-AYA Khosnag Monthly, welcomed Mr. Sarkissian and the guests. He then introduced Dr. Armen Sarkissian who has been the Prime Minister of Armenia and the founding President of Eurasia House International, which fosters critical dialogue and cooperation among political and business leaders. Dr. Sarkissian has also been Senior Executive Advisor to the Board of Directors and Chairman of a host of global companies, including BP, Alcatel, Telefonica, Finmeccanica and Bank of America Merrill Lynch. Dr. Sarkissian has served as Special Advisor to the President of the European Bank for Reconstruction and Development (EBRD) and as a Governor of the EBRD from 1999 to 2000. In 2000, Dr. Sarkissian established the Eurasia Research Programme at the Judge Business School, University of Cambridge. Dr. Sarkissian is a Member of the Euro-Atlantic Security Initiative (EASI) Commission. He serves as a Board Member of the International Economic Alliance; an Honourable Professor of the Armenian Academy of Science; an Advisory Board Member of the EU-Ukraine Business Council and an Advisory Board Member of the Kennedy School of Government, Harvard University.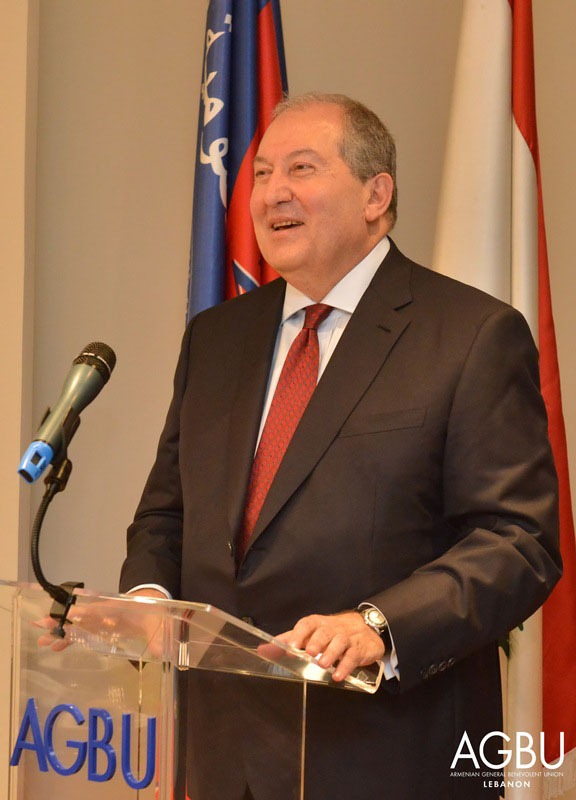 Mr. Sarkissian, in his speech addressed the members saying he has the honor to serve as a member on the AGBU Central Board. Furthermore, he added that he is a firm believer of national dialogue.  He continued, "Regardless of who becomes the president of Armenia, whether it is me or someone else, the president should be the figure who launches that conversation both inside and outside the country so that we do not have lines that divide between an Armenian from Armenia and an Armenian from the diaspora."
The AGBU Lebanon leadership wished Mr. Sarkissian success in the upcoming elections and support in his future endeavors of making a "Young Armenia" vision come true.
Categories